Wind Turbine Syndrome' Blamed For Health Issues In Cape Cod Families; Sick Resident Sues Turbine Company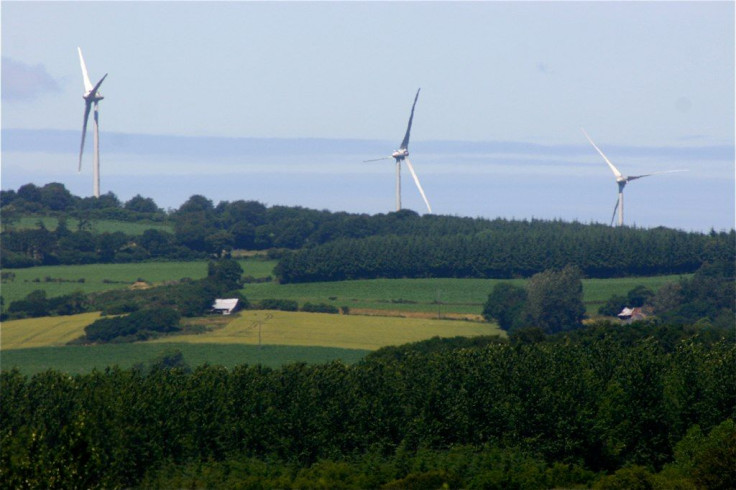 For the longest time, only the stars twinkled at night above the Lowell Mountain Range in Vermont's Northeast Kingdom. But last year, the pristine hills—overlooking muddy and meandering streams and a crystal clear glacial lake—took delivery of the first of 21 towering off-white wind turbines, a clean energy revolution bringing cheap electricity to customers far afield.
Warning aircraft with red nighttime pulses of light, the towers followed similar erections elsewhere in the country, including Massachusetts, bringing eruptions of protest from neighboring residents, an expected Not In My Back Yard reaction from Americans grown accustomed to energy projects damning someone else's river—maybe in Connecticut or Quebec—or threatening the oceanfront view somewhere with surreal-looking nuclear reactors, like Seabrook Station in New Hampshire.
Yet, countryside residents from Vermont to Massachusetts, and elsewhere, now claim not only environmental degradation but personal health problems from the imposing wind towers, which fans praise as emblematic of America's clean energy future. Mike Nelson, of Albany, Vt., told WCAX-TV last November the resulting noise from the wind tower installments had cost him lost sleep and that neighbors were reporting headaches, symptoms of so-called "wind turbine syndrome."
"I was shocked to hear them this far, especially that loud," Nelson said, describing the sight and sound of the wind turbines from Green Mountain Power's 63-megawatt operation. "I was about here and it sounded like a rushing, loud—like an airplane type of sound. And then you had the sounds of helicopters laid over that."
Now, residents in Massachusetts say they're suffering similar health effects from towers first installed in the summer of 2010. Sue Hobart, a 57-year-old bridal florist from Falmouth, Mass., told ABC News on Monday she first ascribed her health symptoms to anything but the turbines. "I thought I was just getting older and tired," she said. "I didn't put anything to the turbines—we heard it and didn't like the thump, thump, thump and didn't like seeing them, but we didn't put it together."
Yet, the disappearance of her symptoms during out-of-town trips in the ensuing months convinced her it might be the turbines. "Sometimes at night, especially in the winter, I wake up with a fluttering in the chest and think, 'What the hell is that,' and the only place it happens is at my house," Hobart said. "That's how you know. When you go away, it doesn't happen."
Hobart has since joined dozens of her neighbors to sue the owners of the wind turbines, including the town of Falmouth, which owns two, and Notus Clean Energy, which owns one. A fourth, smaller turbine, owned by Woods Hole Research Center, has received fewer complaints, according to ABC News.
Brian Mannal, Hobart's lawyer, said he'd at first been skeptical about so-called wind turbine syndrome. The noise from the turbines "goes all day and night," he said. "My initial take was that she was being a hypochondriac, but I went to their house two years ago with a little skepticism and within 10 minutes of being in the house, I could feel it and hear it."
Buttressing Hobart's claim, a Harvard-trained physician diagnosed her last year with wind turbine syndrome, a suspected condition not recognized by the U.S. Centers for Disease Control and Prevention, or any other world health body for that matter.
To date, only dubious evidence supports the existence of the condition beyond anecdotal claims from suffers. The term was coined in 2009 by Nina Pierpont, a pediatrician trained at Johns Hopkins University, whose husband rails against the wind industry as an activist. The author of the self-published "Wind Turbine Syndrome," which includes cases studies of wind tower neighbors, Pierpont conducted a study on the subject criticized for methodology, including small sample size, no control, and a failure to examine the medical records or interview subjects in person. Moreover, Pierpont's study was not truly peer-reviewed, given that she selected reviewers herself.
Only one peer-reviewed study even touches the subject, a small study published in March in the journal Health Psychology, which began with the hypothesis the syndrome might be psychosomatic in nature. In the study, investigators exposed 54 participants to 10 minutes of infrasound followed by silence. Participants who'd beforehand viewed television footage priming them for a bias against wind towers—interviews with residents recounting the harmful health effects of Wind Tower Syndrome—scored higher for anxiety following exposure to either infrasound or the control.
Investigators said the "results suggest psychological expectations could explain the link between wind turbine exposure and health complaints" about the so-called syndrome, they concluded.
However, Hobart says she's asking owners of the wind turbines in her small Cape Cod town for $150,000 to $300,000 in damages.
Source: Crichton, Fiona, Dodd, George, Schmid, Gian, Gamble, Greg, Petrie, Keith J. Can Expectations Produce Symptoms From Infrasound Associated With Wind Turbines? Health Psychology. 2013.
Published by Medicaldaily.com