Wish-Bone Recalls More Than 8000 Cases Of Ranch Dressing For Being Blue Cheese In Disguise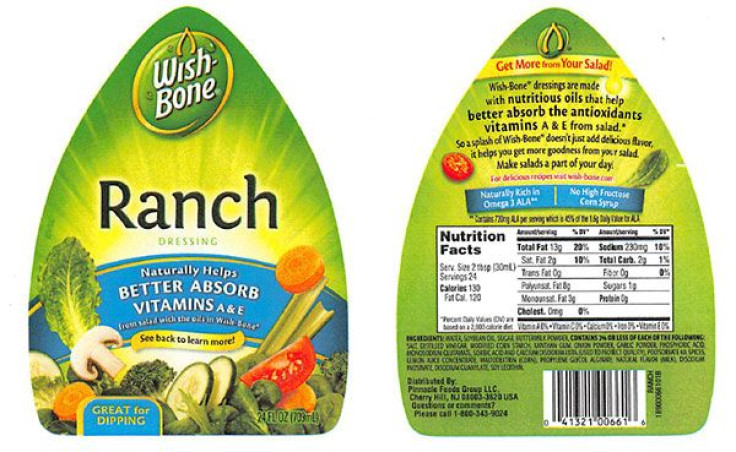 It's the sort of mistake that's liable to make anyone who regularly enjoys buffalo wings shudder in disgust: Confusing ranch dressing for blue cheese dressing.
Unfortunately for fans of Wish-Bone ranch dressing, that's a nightmarish scenario that's become a terrifying reality, and it's forced its parent company to voluntarily recall nearly 10,000 cases of its product.
As the company, New Jersey-based Pinnacle Foods Group LLC, reported in a press release on its website this Tuesday, the dressing snafu was brought to their attention by a valiant consumer. Apparently, one of their contracted manufacturers accidentally placed Wish-Bone Blue Cheese Dressing into 8,678 cases of the Ranch variety, produced April 23 and which was distributed nationwide.
Flavor violation aside, the mix-up could be potentially disastrous for those allergic or sensitive to egg, which the blue cheese dressing contains and the ranch dressing doesn't. Luckily, as of yet, there have no reported incidents of illness and the company assures its egg-capable customers that, otherwise, the product is safe to consume. The Food and Drug Administration (FDA) as well as the Food Allergy and Anaphylaxis Network (FAAN) have been made aware of the incident.
For those wondering if their salads are cheesier than they should be, the only affected products are the 24 oz. Wish-Bone Salad Dressing bottles that have a "Best-By" date of February 17, 2016, and contain the UPC code, 0-41321-00661-6. They can be returned to the original place of purchase for a full refund.
And for anyone with questions about the abomination they've released onto the world, you can call the company at 1-888-299-7646 Monday through Friday, 9 to 5 eastern standard time.
Bafflingly enough, it's not even the first time that blue cheese has been at the center of an accidental food contamination this year. In January, B&M, Inc. of Mount Vernon, Mo, was forced to recall its Harris Teeter Blue Cheese Jalapeno Seasoning after a batch was potentially laced with peanut. There was no reported cases of illness there as well.
But still, it seems someone up there really has a thing against naturally enjoying the taste of blue cheese.
Published by Medicaldaily.com