Woman Uses The Healing Power Of Art To Convey Pain Of Eating Disorder, Raise Awareness Of Bulimia
Overcoming an eating disorder is never an easy feat. On the road to recovery, many patients will rely on treatment centers, therapists, and the support of loved ones, as they take strides towards better physical and mental health.
For 29-year-old Jenna Simon, art has played a key role in her healing process. The New Jersey native, who developed bulimia at 18 years old, began drawing as a child; however, it wasn't until she was receiving professional help that she began to express her emotions through drawing.
"I showed it to my therapist, and she was like, 'This is amazing. ... People would relate to this,'" Simon told CNN.
Read: In Honor Of National Eating Disorders Awareness Week, One Survivor Shares Her Journey Into Recovery
About two years later, the detailed images she shared on Facebook began to go viral. She also now boasts a large following on her Instagram account, which is mainly filled with black and white portraits, accompanied by captions that capture the emotion of the image.
From a young age, Simon endured a number of tough situations.
"As a child, I suffered trauma, physically and sexually, by people I shouldn't have had any reason to fear," said Simon.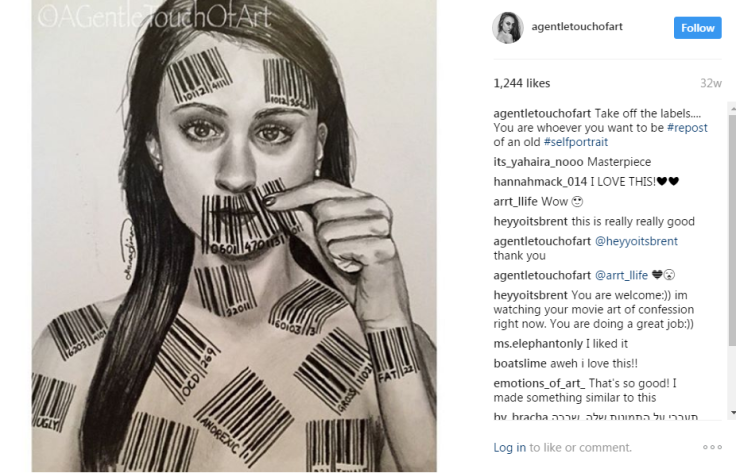 In high school, the pressure to be a slender dancer led Simon to watch her diet and count calories, which eventually escalated into binge eating, vomiting, and abusing laxatives. She started therapy, but shortly after, she headed off to college. During those 4 years, she was able to successfully hide her struggles from her family.
However, upon graduation this quickly changed as she began working as an actress in North Carolina. One day Simon's concerned roommate called her parents, and 48 hours later she was back in New Jersey, admitted to Princeton University Hospital's eating disorder unit.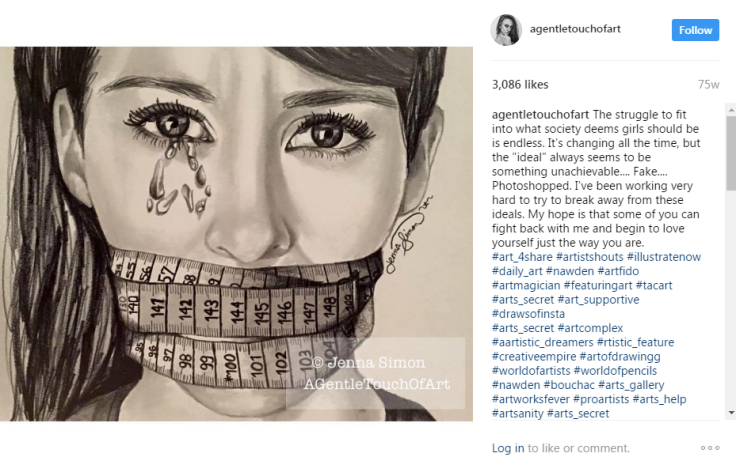 Although her days of abusing laxatives and skipping meals are over, Simon is still working through her issues.
"I'm definitely still in progress," Simon told CNN. "I don't always feel great in my own skin, and I do pay some attention to what I eat."
She recently published a book, "Unbroken: An Art Book", with the hopes of inspiring others. Simon's book contains 20 of her concept art pieces, the stories behind them, drawing activities, and journaling space for the reader.
See also: Using Instagram To Share Her Battle With Anorexia, Show The Reality Of Eating Disorders
Women With Celiac Disease Twice As Likely To Also Be Diagnosed With Anorexia, Study Finds
Published by Medicaldaily.com