Woman Who Thought She Was Obese Discovered She Had A 140-Pound Cancerous Ovarian Tumor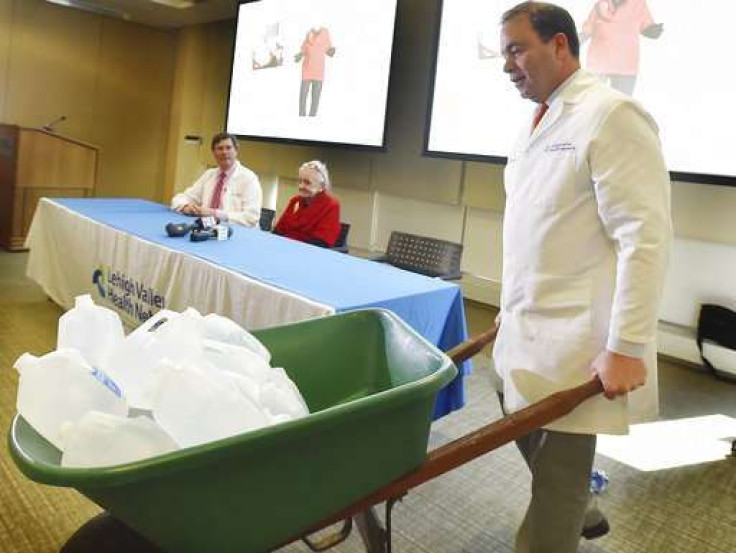 Imagine being obese and trying to lose weight, only to find out that almost half your body weight is a cancerous ovarian tumor. For one Pennsylvania woman, this was a reality.
At 365 pounds and about 5 feet tall, 71-year-old Mary Clancey thought she was destined to remain overweight, according The Morning Call, a daily newspaper in Allentown, Pennsylvania. She thought of herself as a "plump little old lady," she told the paper. But as her health began to get worse, she went to the doctor and soon learned she had a cyst in one of her ovaries that had grown into a 140-pound tumor.
Read: Cancer Treatment: Doctors Stop Deadly Tumors By Dripping Cells Into Man's Brain
After a five-hour operation, the once 365-pound woman now weighs less than 150 pounds. The tumor was primarily water, and was "slippery and nasty," Dr. Richard Boulay, a gynecologic oncologist, said, according to the Morning Call.
One of the most difficult parts of the procedure was figuring out how to remove the tumor. To complete the operation, an extra table was needed to assist the team of 10 doctors, nurses, and other staff.
The removal of the malignant ovarian mass was successful and tests indicate she is cancer-free, according to The Morning Call.
After spending a month in the hospital recovering, Clancey is now back home. She is working to regain her balance and walk again.
Despite having to use a walker for the meantime, Clancey feels "like a million bucks," she told The Morning Call.
See also: Cancer Stages: What They Mean About Survival Prognosis And Why Doctors Use Them
Glioblastoma Treatment Breakthrough: 'Untreatable' Brain Cancer Tumor Stabilized With Malaria Drug
Published by Medicaldaily.com