Women Tend To Get Risky On Stairs; Researchers Identify Behaviors In Young Adults That Result In Fall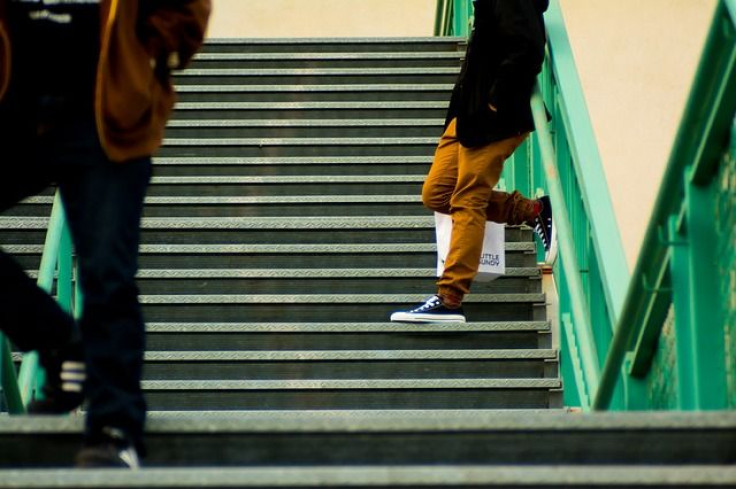 Women tend to get risky on stairs compared to men, according to a recent study that identified risky behaviors in young adults associated with falls and stair-related injuries.
As per a 2017 study by the American Journal of Emergency Medicine, around 1 million people suffer injuries and 12,000 people die every year in the U.S. due to fall from stairs.
Although children under 3 years old and adults over the age of 85 are the two most common age groups generally associated with such falls, the latest study has identified a third risky group — young adults in their 20s.
Earlier studies have shown that the use of electronic devices and texting while descending stairs caused a high injury rate in young adults.
In the latest study, HyeYoung Cho and Shirley Rietdyk from Purdue University and colleagues evaluated 2,400 young adults by videotaping two indoor staircases on their university campus to identify risky behaviors that increased the risk of falls from stairs.
These are the eight risky behaviors they observed:
Not using handrail
Not watching the stairs while descending
Wearing unsafe footwear, such as sandals, flip-flops and high heels
Talking over the phone or in person
Using an electronic device
Putting hands in pockets
Holding something in hand
Skipping steps
As per reports, young women sustain more stair-related injuries than young men. The latest study reveals that this is because women tend to have more average number of risk behaviors on stairs than men (2.3 in women vs. 1.9 in men).
"Risky behaviors observed more frequently in women include: less likely to use the handrail, more likely to be holding something in their hands, more likely to be engaged in conversation, more likely to wear sandals and heels and demonstrating a higher number of co-occurring risky behaviors," the researchers said.
Certain risky behaviors such as keeping hands in their pockets and not using the handrail were more prevalent in men (19%) compared to women (9%). Researchers observed that women, however, tend to multitask while navigating stairs, which makes them distracted and prone to falls.
"The young women we observed demonstrated more risky behaviors than the young men; future studies should also examine physiological differences that may lead to greater injury risk, such as differences in strength or reaction time," the authors said.
Published by Medicaldaily.com