Women Who Freeze Their Eggs: Growing Trend Or Rare Decision For Few?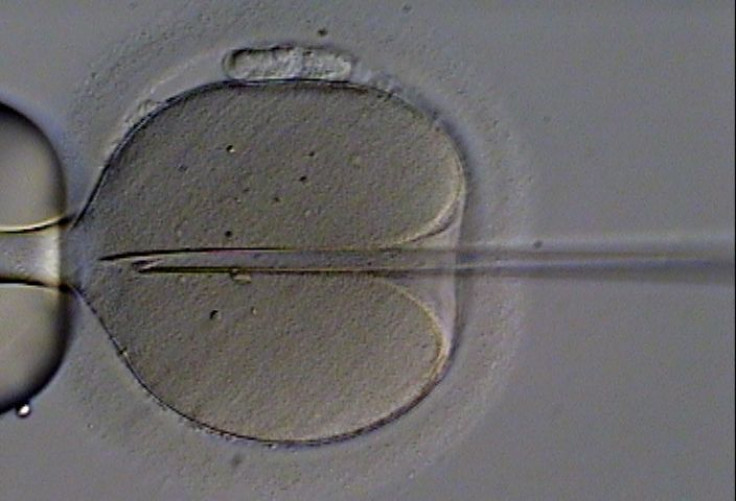 A recent article from Reuters reports on a new Taiwanese 'trend' whereby women are increasingly choosing to freeze their eggs at fertility clinics in the wake of postponing marriage and motherhood. The director of e-Stork Reproduction Center, Lai Hsing-hua, put two and two together when his patients began asking for egg donations after a late marriage. "We thought if they had frozen their eggs earlier, maybe they wouldn't need to use donated eggs," he told Reuters. "That's why we combined in-vitro fertilization with the idea of prevention — prevent them from using others' eggs after their fertility has deteriorated."
Five years ago, the clinic performed 20 'oocyte cryopreservation' procedures (as egg freezing is officially known) and now it receives more than 100 phone calls a month to learn more about it. With advances in technology, an embryo based on egg freezing now has a higher survival rate than in the past, according to Lai, who also mentioned to Reuters that freezing eggs at his clinic costs roughly 80,000 Taiwan dollars (about $2,680).
Whether or not the numbers warrant this being called a 'trend' may be debatable, but a similar trend could be said to be occurring in the U.S., where the prevalence of oocyte cryopreservation is also increasing. A recent study explored this theme.
Acceptance
Researchers conducting a study in 2010 contacted 442 centers, of which 282 from 49 states responded.
Of these centers, just over half (51 percent) offered oocyte cryopreservation, with the balance tilting in favor of western-located clinics. Of all the programs, 36 percent made oocyte cryopreservation available only for cancer patients or as an alternative to embryo cryopreservation after in vitro fertilization (IVF). A majority (64 percent), though, offer the procedure electively for 'women of advancing maternal age.'
Among the elective programs, 87 percent accepted patients aged 35–37 years, 49 percent consider women 38–40 years old as acceptable, and only 26 percent of programs would cryopreserve eggs beyond age 40 years.
Across all the centers, 337 live births resulted from 857 thawed cycles — this translates to a 39.3 percent pregnancy rate.
"Oocyte cryopreservation is offered in more than 50 percent of ART clinics in the United States," wrote the researchers in their paper. "These data suggest a growing acceptance for this technology within our field."
Some might disagree with that conclusion. To better understand the motivations behind these decisions, another study surveyed 183 women who actually chose this birth technology.
Who and Why
Of these patients, half learned about oocyte cryopreservation from a friend, while others became aware through a medical provider, the media, or the Internet. More than 80 percent were 35 or older, white, with no partner at the time of oocyte cryopreservation. The survey found that these women chose to undergo oocyte cryopreservation 'after an optimal reproductive age,' and they felt empowered by the process and believed they had improved their reproductive future. Aware of age-related infertility, these women at the same time sensed a falsely portrayed upper age limit for natural conception rampant in the popular media.
What was their primary reason for not yet starting a family? Lack of partner. Nineteen percent of respondents added that workplace inflexibility contributed to their reproductive dilemma. Meanwhile, the overwhelming majority of patients (93 percent) had not yet returned to use their frozen oocytes before participating in the survey while 11 percent stated they had. Overall, 20 percent reported a successful conception after oocyte cryopreservation.
"Oocyte cryopreservation technology may prove to bridge the gap between reproductive prime and when a woman is realistically "ready" to have children," wrote the authors in their published paper. Use of this technology, though, may strike many people as somewhat extreme.
Other Views
What may possibly be considered a more general 'survey' of American attitudes is a quick perusal of the comments section attached to an article, entitled "Why I Froze My Eggs (And You Should, Too)," published earlier this year in the Wall Street Journal. The majority of comments — there are 405 listed at the moment — seem to suggest the author, Sarah Elizabeth Richards, is 'narcissistic,' 'self-absorbed,' or 'calculating.' One reader writes that she is "just plain crazy—which might be why no man has wanted to father a child with her!!" Another reader dislikes 'feminists' who believe their work is 'more important' than having children.
But is this 'trend' — a hyperbolic term, let's face it, considering the small numbers involved — of freezing eggs a matter of feminism or possibly something else?
The article in Reuters notes the average marriage age in Taiwan is now 30 (as opposed to 24 as it was in the 1980s) and one of the factors driving the decision to postpone both partnership and motherhood may be the economic slowdown, which makes it more risky to leave a job. Economics — or should we say survival? — may be the most pressing factor, then, behind a woman's decision to freeze her eggs.
Sources: Hodes-Wertz B, Druckenmiller S, Smith M, Noyes N. What do reproductive-age women who undergo oocyte cryopreservation think about the process as a means to preserve fertility. Fertility and Sterility. 2013.
Rudick B, Opper N, Paulson R, Bendikson K, Chung K. The status of oocyte cryopreservation in the United States. Fertility and Sterility. 2010.
Published by Medicaldaily.com