World Blood Donor Day 2014: Save The World's Mothers By Donating Blood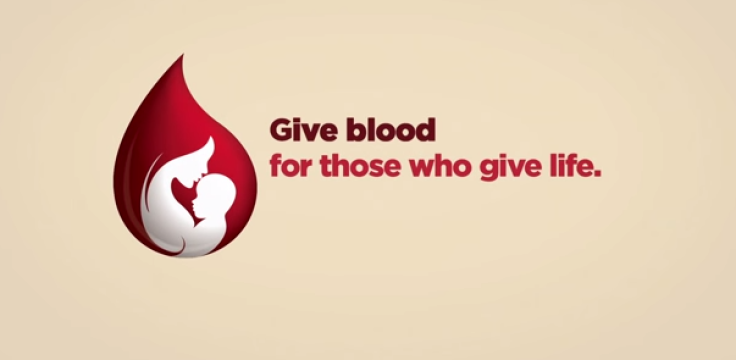 Someone needs blood every two seconds, and there is enough blood in each pint of donated blood to save three lives, experts say. Today Is Work Blood Donor Day, and this year's focus is "safe blood for saving mothers," which emphasizes the need for safe blood banks to prevent maternal deaths from blood loss. All it takes is a few minutes to give blood to those who give life.
A Little Bit Goes A Long Way
According to the World Health Organization, every day, 800 women die from childbirth-related complications. One of the biggest causes of death is severe bleeding during delivery and after childbirth. This year's campaign is aimed at helping women, but the blood you donate will go to those in need, no matter their sex or condition. Blood banks don't just serve for emergencies; some individuals have conditions that require regular blood transfusions. The 70,000 Americans living with sickle cell disease, and a large portion of the 1.6 million Americans who were diagnosed with cancer last year, will need regular, if not daily blood transfusions, according to the American Red Cross.
This Year's Host: Sri Lanka
Throughout the world people are showing their enthusiasm for World Blood Donor Day 2014 by volunteering at their local blood drives. This year, Sri Lank is the host country for the global event, and in the Buddhist nation, blood donations are taken very seriously. "Because most Sri Lankans follow Buddhism, blood donation is religiously and culturally accepted and very much a valued concept," said Dr. Namal Bandara, senior registrar of the National Blood Transfusion Service, the WHO reports. This year the Poson Poya blood drive in the south Asian country has already collected around 3,000 units of blood in just one day. Sri Lanka is able to have a self-sufficient blood supply but other countries, such as India, aren't as lucky. As reported by The Health Site, India faces a blood shortage as high as three million units. This problem could be overcome if only an additional two percent of Indians donated blood.
Get Out And Do Something!
Get out and donate, it's easy to do. Most healthy adults who are at least 17 years old and weigh at least 110 pounds may donate a pint of blood every two months. The Red Cross estimates that 38 percent of the U.S population is healthy enough to donate, but statistics show that only about 10 percent actually do this. Blood drives occur in communities throughout the world. If you're in the U.S., and need help finding the nearest blood drive, click here to access the Red Cross U.S. blood drive locater.
If saving other people's lives isn't enough to get you out to your local blood drive, what if I told you that by donating blood you could be saving your own life? Health magazine reported that donating blood helps the donor's blood flow better, keeps their iron levels balanced, and significantly reduces the risk of early death.
"I can`t even describe how incredibly heartwarming it is that people we don`t even know have saved her life," Kaleena Nuedling, the mother of a 4-year-old girl who, after three open heart surgeries, is alive thanks to blood donations, told Fox 6 Now.
Published by Medicaldaily.com