World Hepatitis Day 2016 Theme Is Elimination: How WHO Plans To Get Rid Of The Virus By 2030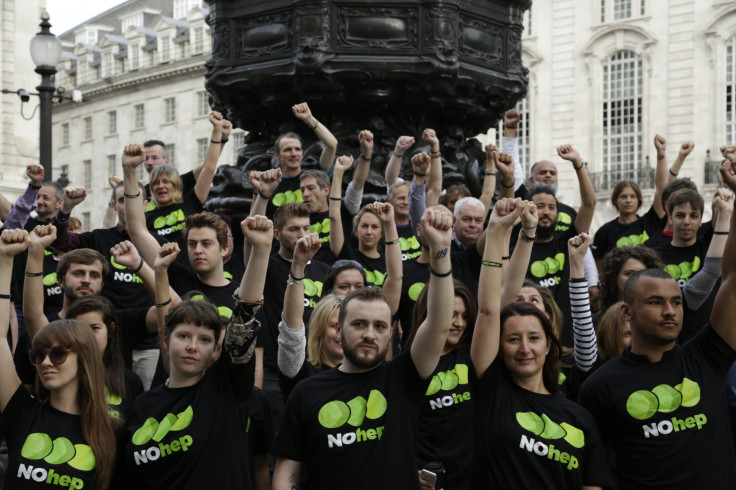 The countdown to eliminating viral hepatitis has officially begun.
During the World Health Organization's (WHO) annual assembly this past May, the organization's member states adopted the Elimination Strategy for Viral Hepatitis — the first of its kind. Not only is there now renewed determination to eliminate the virus by 2030, but the WHO and state governments have made the cause a global priority. And in light of the unprecedented level of political support, it's only fitting the World Hepatitis Day 2016 theme also be elimination.
The World Hepatitis Alliance pioneered the awareness day back in 2008, when just a year earlier not a single person working for WHO had the word hepatitis in their title, Alliance CEO Raquel Peck told Medical Daily. But this year, after the WHO acknowledged that some 2 billion people have been infected with hepatitis B and that about 350 million people live with a chronic form of the disease, ending viral hepatitis seems like a real possibility.
While the WHO has passed two solutions surrounding viral hepatitis before, none have been as strong as this, according to Peck. In 2013, viral hepatitis accounted for millions of deaths, a number that exceeded the yearly deaths caused by malaria, tuberculosis, or HIV/AIDS, NPR reported. And just this past month, it came out that viral hepatitis is now the seventh leading cause of death around the world; the death toll is now 1.45 million.
What's truly surprising about that statistic is that hepatitis is preventable — at the very least it can be managed with effective treatment, Peck said.
Hep B, for example, is a potentially life-threatening liver infection that's passed through the blood or other bodily fluids of an infected person. But it can be avoided when people get the safe and effective vaccine, WHO reported. Hep C, on the other hand, depends on the severity of the virus. It can cause both an acute and chronic infection, with symptoms ranging from mild to severe. More mild infections clear up on their own, and some people with chronic infection do not sustain any liver damage. There is no vaccine for hep C, but more studies are testing safe and effective antiviral drugs.
Today especially, Peck and her team at the Alliance want to get the word out that hepatitis doesn't have to be a death sentence. Early detection and prevention is key, because if hep B or hep C are left untreated, they can quickly spiral into a more devastating health condition, like cirrhosis or even cancer. Around 230 members of the Alliance are holding events, some through their local governments, to raise awareness and to direct new members of their respective communities to the cause.
"There are no small pockets of infection," Peck said. "The more we bring people into the cause...the more we calm the stigma and grow the movement. A movement is only a movement if you have people behind."
Published by Medicaldaily.com