World's First Robotic Surgery: Robot Successfully Operates On A Patient's Retina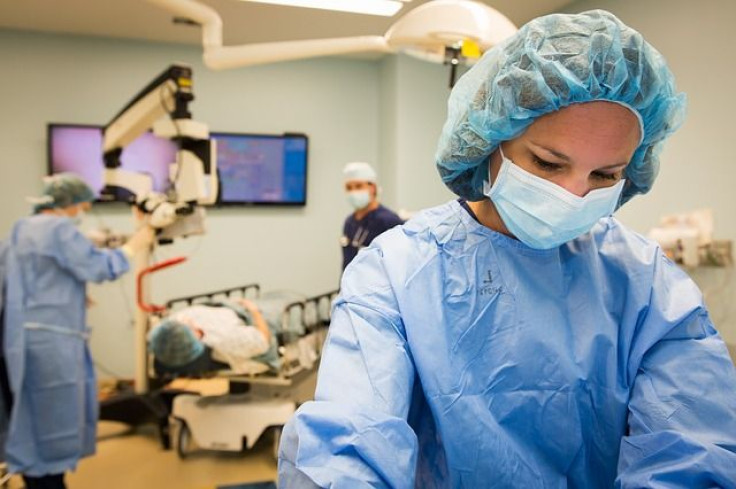 The future of surgery could change forever. Last week, British doctors performed the world's first robotic operation inside of a patient's eye.
The progressive procedure was carried out at John Radcliffe hospital in Oxford on 70-year-old Father William Beaver. Surgeons needed to remove a membrane a 100th of a millimeter thick from his retina, all without damaging any part of the eye. Surgeons used a joystick and touchscreen outside the eye to control a robot. The success of the procedure opens the door for other robotic surgeries to be performed that are beyond the abilities of a human hand.
"My sight is coming back," Beaver said. "I am delighted that my surgery went so well and I feel honored to be part of this pioneering research project."
To carefully remove a membrane on a retina, surgeons typically slow a patient's pulse and time their hand movement between heartbeats. Robots could make this detail-oriented procedure much easier.
"There is no doubt in my mind that we have just witnessed a vision of eye surgery in the future," Professor Robert MacLaren said upon completing the operation. "Current technology with laser scanners and microscopes allows us to monitor retinal diseases at the microscopic level, but the things we see are beyond the physiological limit of what the human hand can operate on. With a robotic system, we open up a whole new chapter of eye operations that currently cannot be performed."
This is the first time a device has been available that achieves the three-dimensional precision required to operate inside the human eye.
"This will help to develop novel surgical treatments for blindness, such as gene therapy and stem cells, which need to be inserted under the retina with a high degree of precision," MacLaren said.
Read more:
Listening To Relaxing Music Reduces Anxiety In People Undergoing Eye Surgery, Allows For Less Sedation
Brain Tumors Removed Through The Eye Socket In Revolutionary Operation
Published by Medicaldaily.com