World's Smallest Woman And Man With World's Biggest Feet Team Up To Break 'Amazing Feet' Photo Record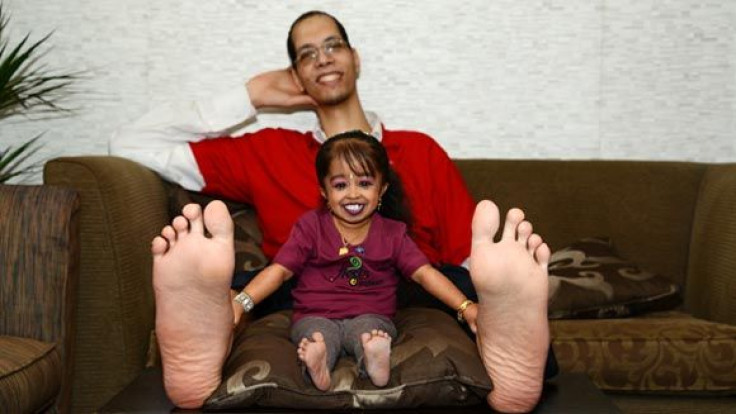 Jyoti Amge, the world's smallest woman, and Brahim Takioullah, the man with the world's biggest feet, are on a search for people to participate in their "Amazing Feet Challenge" in hopes that they can create an online photo album with more than 50,000 pictures of feet.
"Help us break the record for The Largest Online Photo Album of Feet. We need 50,000 photos of feet to break the record," the dynamic duo's site says.
Amge, of Nagpur, India, is 19 years old and 24.7 inches tall. According to the Huffington Post, she is shorter than the average twoyear-old. "I have put Nagpur on the world map. Now everyone will know where it is," said Amge as she was recognized by Guinness World Records as the world's shortest woman back in December 2011.
Takioullah, of Morocco, is 31 years old and a little over eight feet tall. His feet are 15 inches long, and he wears a European size 58 shoe. "The school doctor noticed that I was this enormous size and asked me to get some blood tests. I did that, and I was diagnosed with a very rare condition called acromegaly," Takioullah explained. Acromegaly is a disorder of the pituitary gland. It occurs when the gland produces too many growth hormones.
Now, the seemingly unlikely pair have teamed up in hopes of breaking another record together.
"We're really excited to launch Amazing Feet, an ambitious Guinness World Record challenge to create the Largest Online Photo Album of Feet," said Craig Glenday, editor-in-chief of Guinness World Records. "We're giving people all over the world the chance to be part of one of the largest mass participation records ever untaken. All you have to do is visit officiallyamazing.tv/feet and submit a photo of your feet to the website. The resulting record-breaking collection will be unveiled in exciting fashion at a later date."
Published by Medicaldaily.com