Worst Fitness Trends 2016: Waist Training And 5 Other Health Fads That Won't Give You A Better Body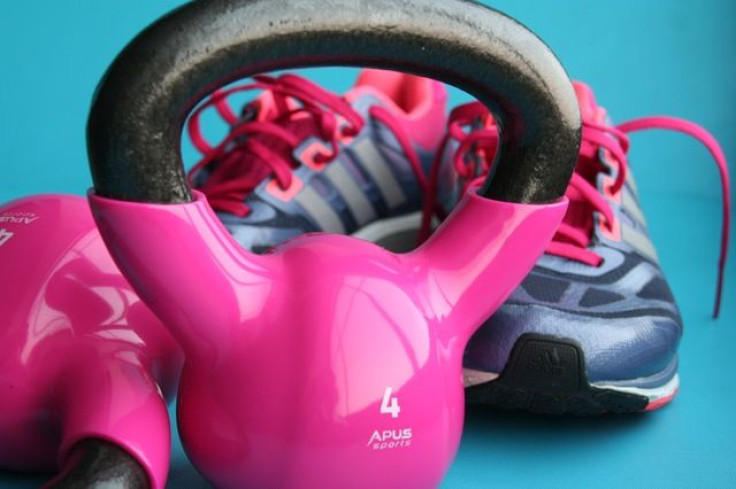 We all have a favorite fitness routine, whether it's toning apparel or detox teas. With every two in three Americans overweight or obese, easy "weight loss" fitness trends have grown in popularity, although they hurt more than help our health. As the new year approaches, along with weight loss resolutions, there are a few 2016 fitness fads we should leave behind.
Wearable Technology
Last year, in the American College of Sports Medicine annual survey "Worldwide Survey of Fitness Trends for 2016," wearable technology — such as fitness trackers, smart watches, heart-rate monitors and GPS-enabled gadgets — was predicted to be the number one fitness trend in 2016, and again in 2017, reflecting consumer interest in functional fitness. However, the success of this trend depends on its user.
"I think tracking is a great way to keep oneself accountable," Dr. Caroline Apovian, Director of the Nutrition and Weight Management Center at the Boston Medical Center, told Medical Daily.
It can help people verify the amount of exercise and the amount of calories consumed. But, Apovian warns, "just wearing one isn't going to have any effect unless paired with a sound diet, exercise, and lifestyle plan."
Read More: How To Spot A Phony Before It Ruins Your Weight Loss Efforts
Waist Training
Waist training picked up momentum in 2016 when celebrities like Kim Kardashian and Amber Rose claimed waist-training contraptions were responsible for their voluptuous physiques.
The truth is, waist trainers only temporarily cinch the waist to give a thinner appearance. The gut-squeezing corset cannot trigger fat loss or reshape the body. In fact, experts agree it can't really work, and it could potentially do real harm to the body.
"A waist-trainer is like any other shapewear. It only works while it is being worn. It cannot burn calories or build muscle," said Apovian.
Waist training enthusiasts believe the tightness of the corset is what makes you sweat a lot, but realistically, it's not possible to sweat so much to lose weight off the midsection in a permanent way.
According to Apovian, "[W]earing one too tightly poses health hazards, such as causing reflux or interfering with breathing."
Toning Shoes
Plenty of shoes claim to sculpt our bodies just by walking. Since 2011, companies like Sketchers have used celebrity icons like Kim Kardashian to promote toning shoes as a way to stay in shape, but they seldom work. Five years later, this fitness trend is still around, touting these shoes will help burn more calories, tone muscles, improve posture, and reduce joint stress.
A 2010 study by the American Council on Exercise found none of the toning shoes (including Skechers Shape-Ups), showed statistically significant increases in either exercise response or muscle activation while on the treadmill. There is no evidence to support the claims that wearing toning shoes will help wearers exercise more intensely, burn more calories, or improve muscle strength, and ultimately tone. The only difference between toning shoes and a regular pair of sneakers is that it will cost you a lot more.
Crash Cleansing
Like clockwork, at the start of the new year and the beginning of summer, several people turn to crash cleansing to shed the pounds fast. In 2009, the popular Master Cleanse, which involves consuming a mixture of water, lemon juice, maple syrup, and cayenne pepper—and nothing else—for several days, took form. However, these low-calorie regimens are based on the false notion the body needs help eliminating waste.
In 2016, Bootea, a UK-based detox tea, grew partly due to its social media presence by many celebrity endorsers, like Danielle Jonas, the wife of Kevin Jonas. Detox teas make claims they aid health by helping us stay energized and fit from the inside out. This is appealing, especially when you compare drinking herbal tea versus sweating at the gym.
However, research suggested rapid weight loss from crash cleanses can actually slow our metabolism and lead to future weight gain, while depriving the body of essential nutrients. Crash diets can weaken the immune system, and increase the risk of dehydration, heart palpitations, and cardiac stress.
Read More: I Tried One Of The Detox Teas You've Seen On Instagram For 14 Days; Here's What Happened
Apovian cautions, "The only way to cleanse the body from toxins is to stop eating them. Replace conventional produce with organic produce, stop eating added sugars, check food labels carefully for additives."
Meal Replacements
Skipping a meal and replacing it with a shake sounds like a quick, portable, and convenient way to eat on-the-go. The truth is you can get good results if you drink protein shakes as meal replacements, since protein is believed to be more satiating than either carbs or fats, according to a 2010 study in Diabetes/Metabolism Research and Reviews.
We should be conscious of the ingredients that are going into the shake.
Robert Herbst, a personal trainer, coach, and powerlifter, told Medical Daily: "Most prepackaged meal replacements do not have all that and often include additives such as too much sugar to make them palatable."
The key is in which type of shake is used.
Apovian suggests one with high protein content, no added sugars, and made with a variety of different fresh fruits and vegetables would work well.
Gluten-Free Diet
A gluten-free lifestyle has become one of the most popular diet trends in the U.S. One in five people now reduce or eliminate the protein — found in wheat, barley or rye — in their diet, according to a 2015 Gallup poll. Going gluten-free is crucial for people with celiac disease because gluten damages the small intestine and nutrients cannot be absorbed. Some symptoms include diarrhea, constipation, bloating, and pain.
People have reported weight loss after avoiding gluten, but the Celiac Disease Foundation cautions gluten-free diets may actually result in weight gain. Those with celiac disease are more likely to absorb more nutrients following a gluten-free diet as the intestines heal. Moreover, gluten-free foods may be higher in sugar and fat.
Read More: Gluten-Free Diet Benefits And Risk For Those Without Celiac Disease
"Gluten is found in many whole-grain foods which are full of important vitamins and minerals. By avoiding these foods completely, one can put their health in danger." Jill Kaufusi, a personal trainer and fitness nutritionist specialist, told Medical Daily.
Moreover, Kaufusi adds, most gluten-free products in stores aren't necessarily healthier options, because they usually have added calories, sugar, or artificial sweeteners to make up for a change in taste or texture.
Published by Medicaldaily.com