Wyatt Schmaltz, 3-Year-Old With Cancer, Sworn In As Youngest Sheriff Deputy Just Before Surgery To Have Tumor Removed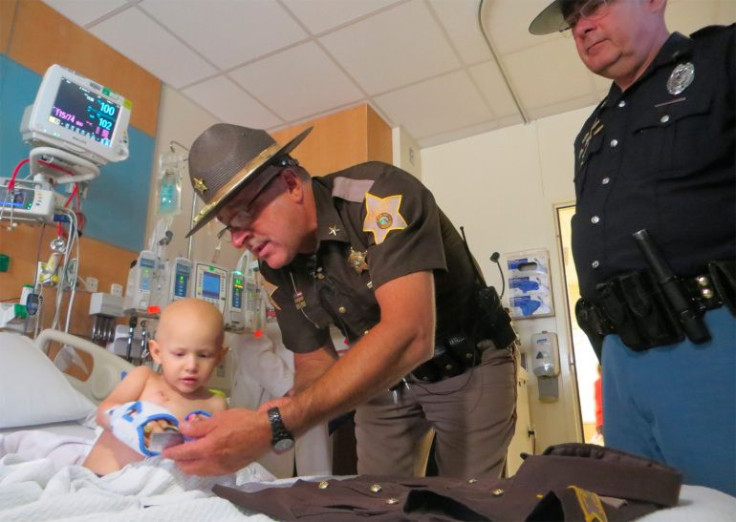 Huntington County, Indianapolis has officially sworn in the nation's youngest sheriff deputy. Wyatt Schmaltz, a 3-year-old from Indiana currently being treated for a rare form of cancer known as Stage 4 Neuroblastoma, received the honor of being sworn in by Huntington County Sheriff Terry Stoffel earlier this week from his hospital bed at the Riley Hospital for Children in Indianapolis.
Wyatt was initially invited to join the sheriff's office at Camp Hero, where officers teach children about leadership and what goes into being a part of law enforcement. However, a week before he was supposed to join over 200 other children, his condition worsened and he was sent back to Riley for more treatment.
"He has a tumor in his abdomen that was too big to be removed. They just had to biopsy it. Then he had cancer in his bone marrow. So it was in both knees, his hips, and his spine. It's been a very long journey," Wyatt's mom April Schmaltz told WANE. "We found out on the 14th [of April] and by the 18th he was starting chemo, which was very quick because what they said he has is very aggressive."
At the official ceremony this past Wednesday, Sherriff Stoffel read Wyatt the sheriff deputy's oath and handed him a custom-made sheriff's uniform, a medal , and a plaque to help the young cancer patient carry out his duty. Stoffel, who knows all too well what a little bit of hope can mean for someone in Wyatt's position after recently losing his wife to cancer, said Wyatt's new position was not honorary, but an official designation.
"We have given Wyatt all the powers of a real sheriff deputy, which are to carry out the orders of the sheriff," Sheriff Stoffel told CNN. "Right now, his only orders are to get better."
Published by Medicaldaily.com