Xtreme Eating 2017: Most Unhealthy Restaurant Meals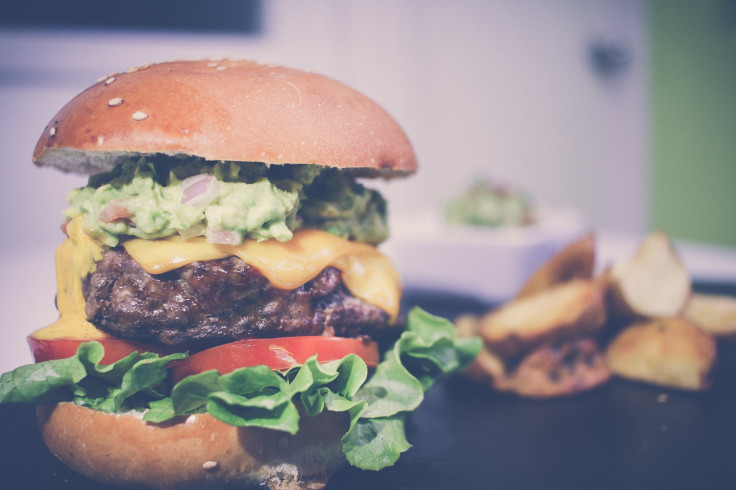 Everyone knows that eating at home is healthier than dining out. But how bad those restaurant meals are for your waistline is a little terrifying. A study from the University of Illinois found that restaurant meals aren't always much healthier than fast food options. The Telegraph reports that while fast food meals were shown to have more saturated fat, restaurant dishes contained more sodium and cholesterol. In general, eating out will tack on an extra 200 calories compared to home cooked meals.
Some dishes go beyond unhealthy into the obscene. Consumer advocacy group, The Center for Science in the Public Interest, compiles restaurant dishes they deem nutritional nightmares every year for their Xtreme Eating Awards. While everyone's caloric needs are different, many of these dishes have more than the standard 2,000 calorie estimate used for adults, and significantly more saturated fat than the recommended 10 percent of your daily calories. If you're watching your weight, or just care about your heart, steer clear of these menu items that are more than just a little extra.
Chili's
Coming in at more than 2,400 calories, the restaurant's Ultimate Smokehouse Combo combines any three meat dishes of your choice with roasted street corn, homestyle fries, garlic toast and dill pickles. You'll reach more than your daily allowance of calories, saturated fat and sodium as estimated with the combination of sausage, chicken crispers and ribs.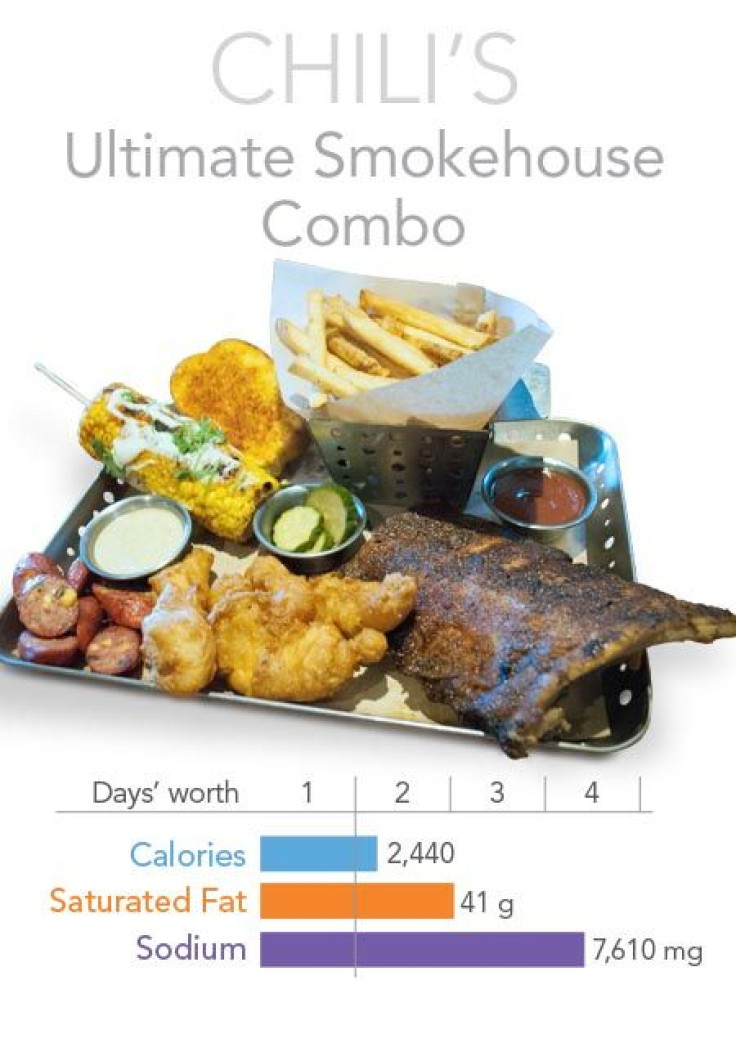 IHOP
The pancake house transforms standard fast food fare into breakfast food with its cheeseburger omelette that includes ground beef, hash browns, tomatoes, American cheese, pickles and onions. Served alongside three buttermilk pancakes topped with butter and syrup, this dish will set you back nearly 2,000 calories, 45 grams of saturated fat and 44 grams of sugar -- a pretty hefty amount considering you still have two meals left for the day.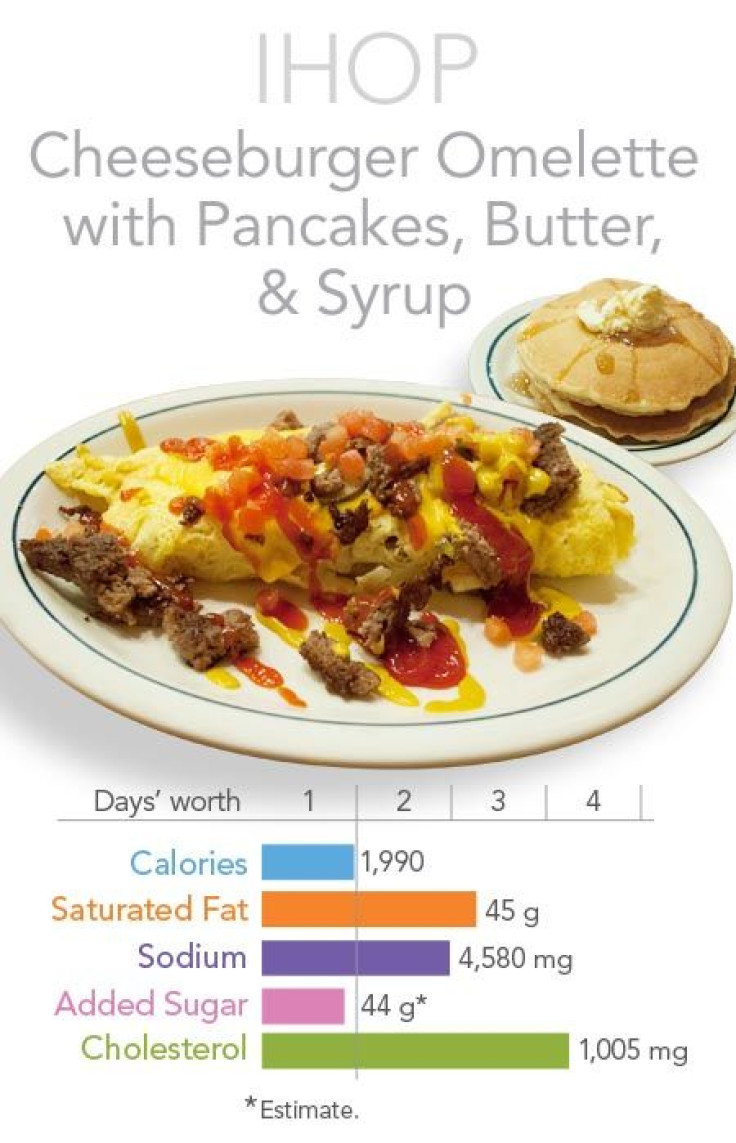 The Cheesecake Factory
This chain has two dishes on this year's list, the Pasta Napoletana and the Flying Gorilla cocktail. As the organization explains, the pasta was inspired by meat lover's pizza and includes Italian sausage, pepperoni, meatballs, and bacon atop of butter and cream-doused pasta. The drink is an adult version of a chocolate banana milkshake and has 950 calories and 60 grams of sugar. Combine that with an entree, like the Pasta Napoletana, and your entire meal will clock in at 3,260 calories and 105 grams of saturated fat.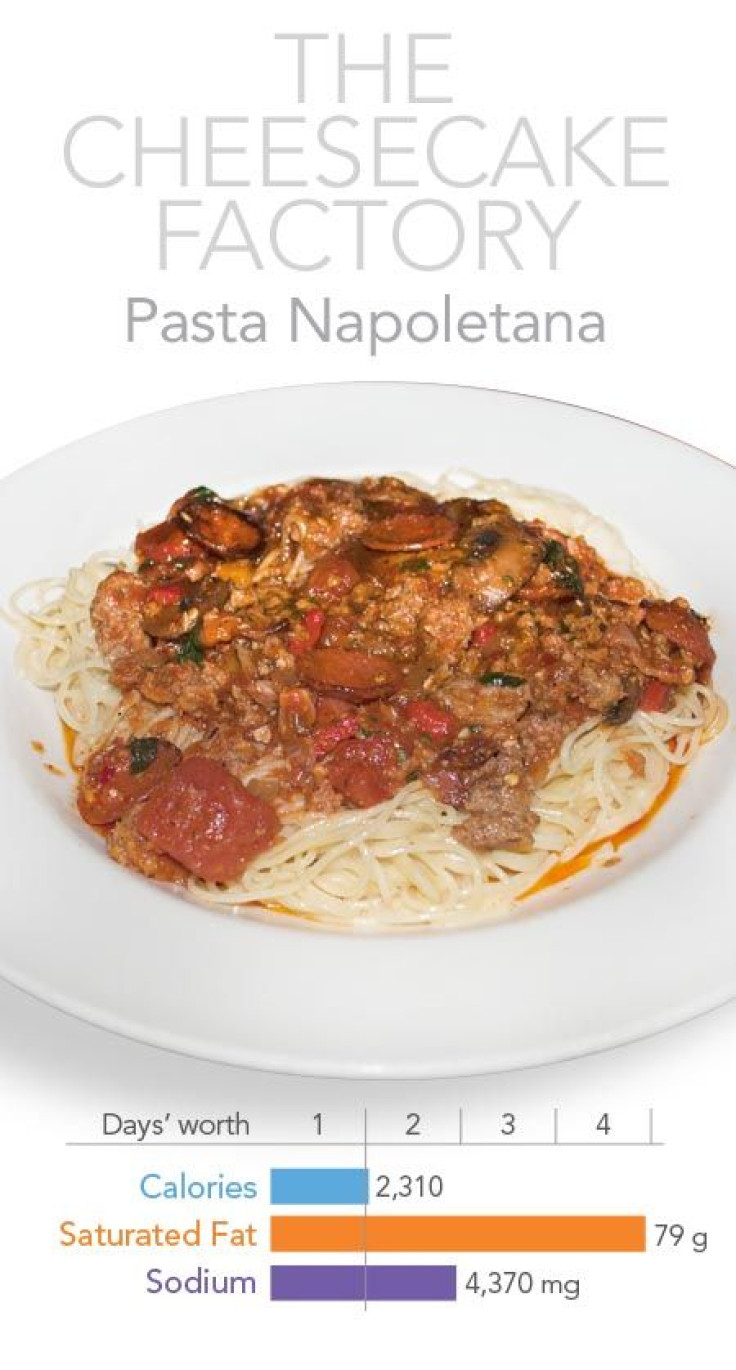 Buffalo Wild Wings
Deep-fried cheese curds, plus more cheese, bacon and a special sauce make this burger a major calorie bomb. With a side of fries, you'll consume 1,950 calories, or the equivalent of five Burger King Bacon Double Cheeseburgers.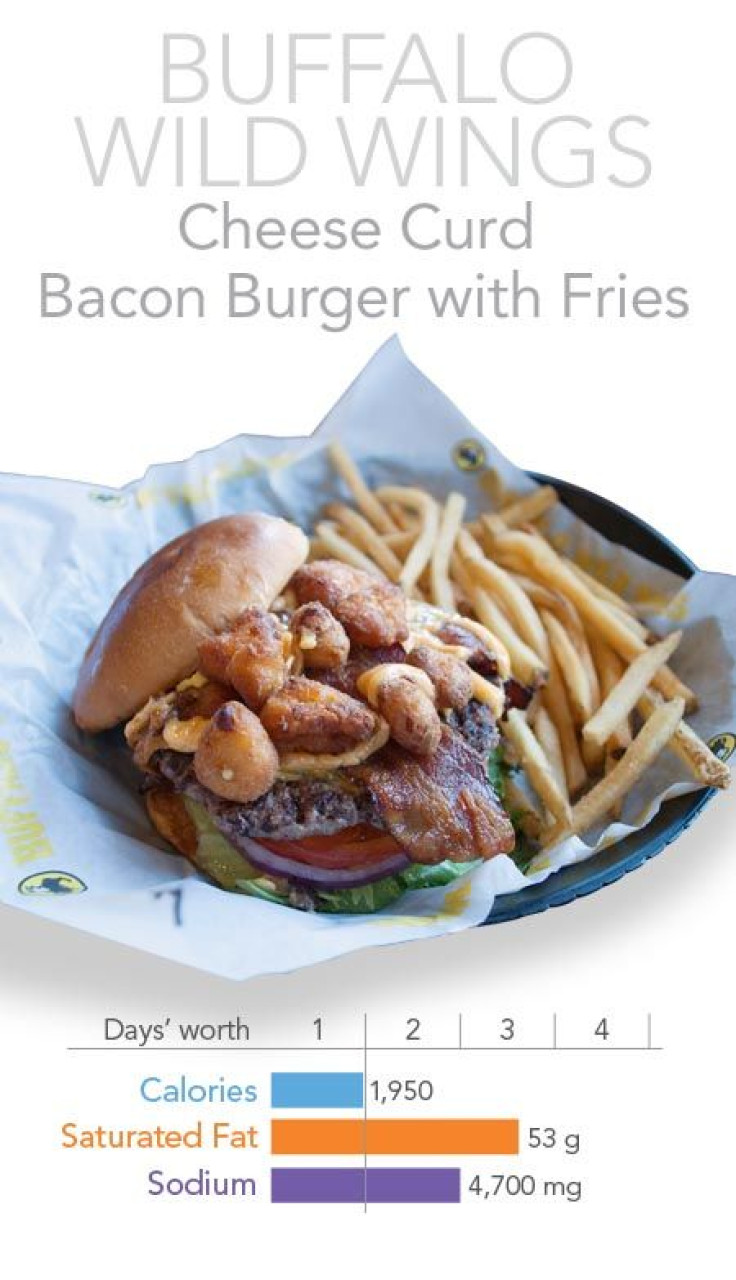 Dave & Buster's
With 67 grams of fat, the restaurant's Carnivore Pizzadilla appetizer isn't an ideal way to begin your meal. The 12" quesadilla is loaded with pepperoni, manchego, mozzarella, parmesan and cheddar cheeses, Italian sausage, bacon and marinara.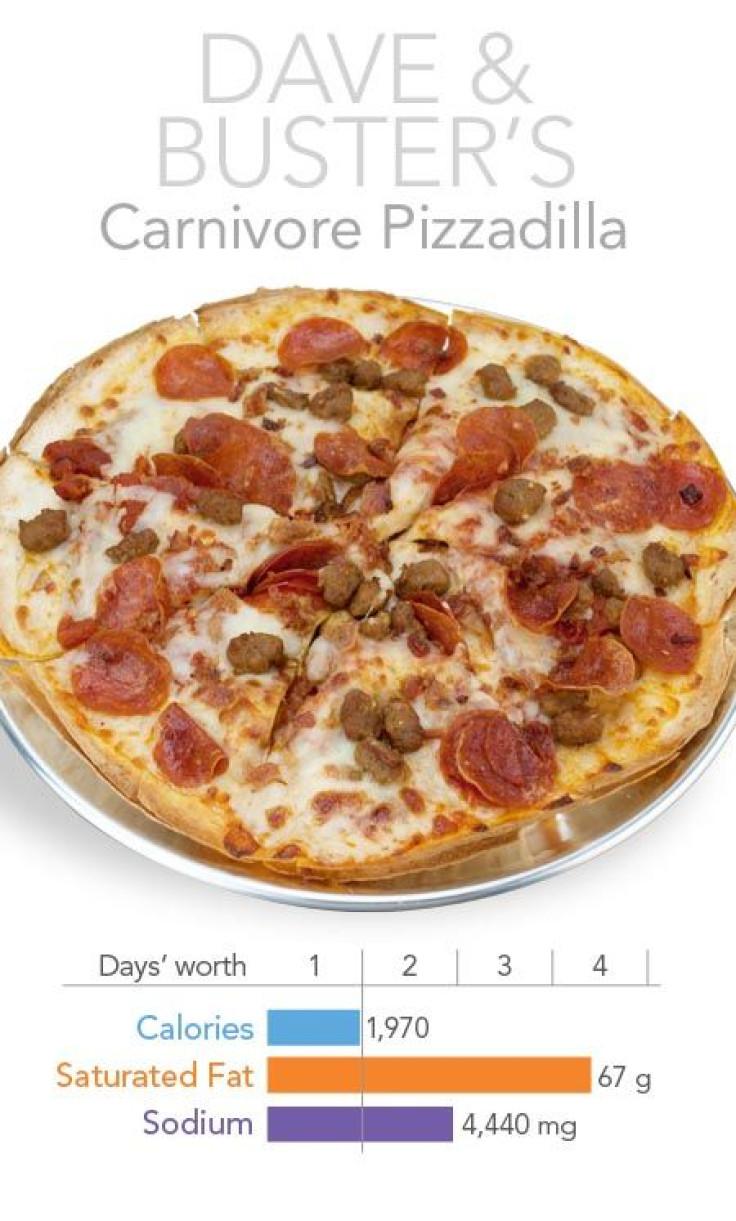 Texas Roadhouse
Sweet potatoes and salad are usually healthy, unless you opt for them at this steakhouse. The Center for Science in the Public Interest estimates that a 16 oz. prime rib, loaded sweet potato served with marshmallows and caramel sauce and caesar salad have nearly 3,000 calories, with the potato accounting for 770 alone.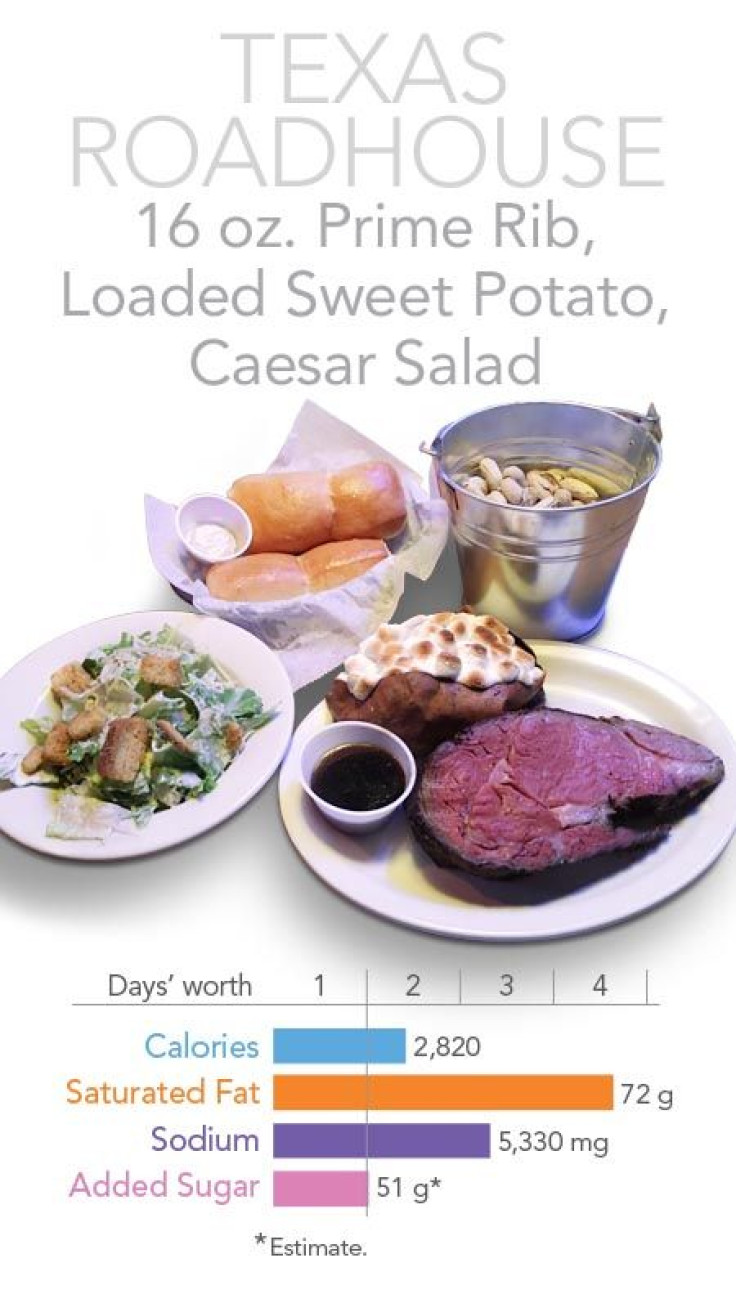 Uno Pizzeria & Grill
The Ridiculously Awesome, Insanely Large Chocolate Cake sounds pretty incredible. But this delightful indulgence contains 1,740 calories, 168 grams of sugar and 32 grams of saturated fat. Added to a meal, like the individual sized Chicago style veggie pizza which has 1,570 calories, and you're looking at more than 3,300 calories combined for one meal.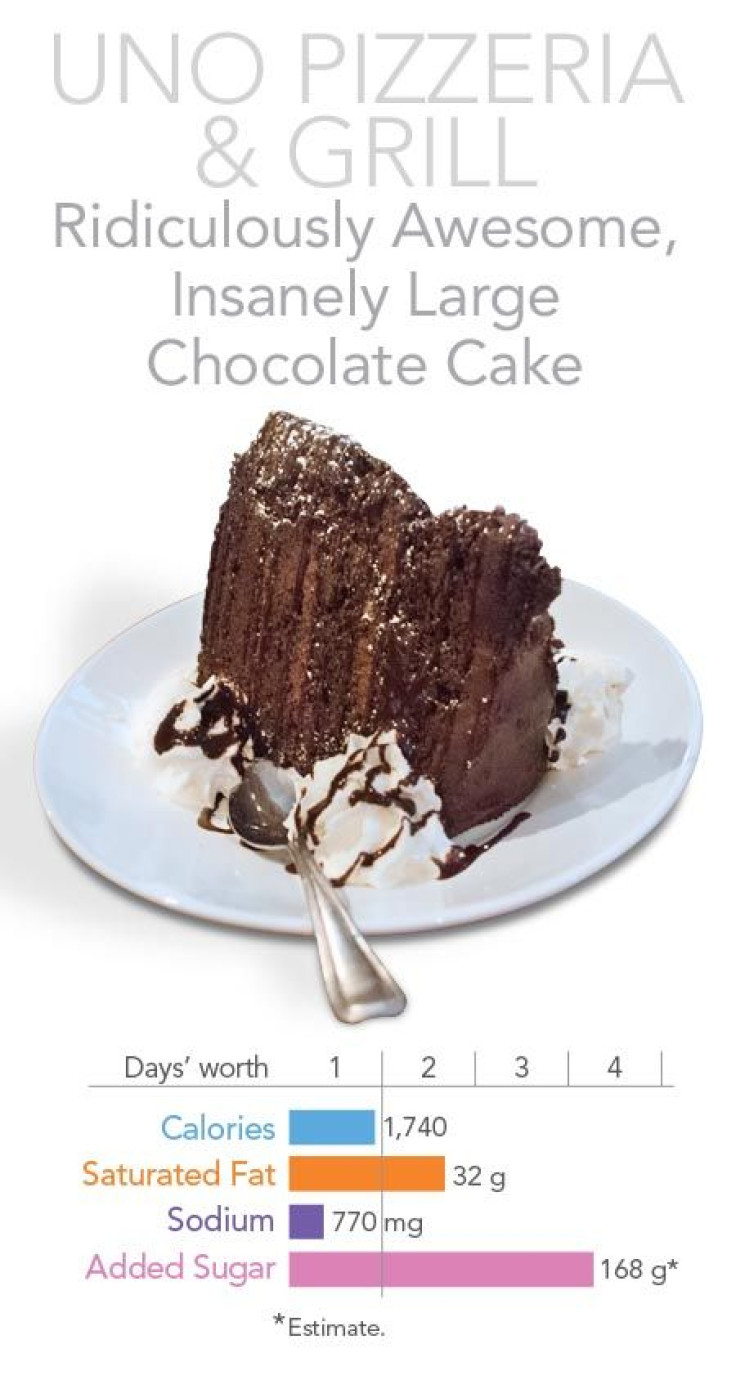 Published by Medicaldaily.com