Yacon Syrup: Dr. Oz Claims Sweetener Boosts Metabolism, Aids Weight Loss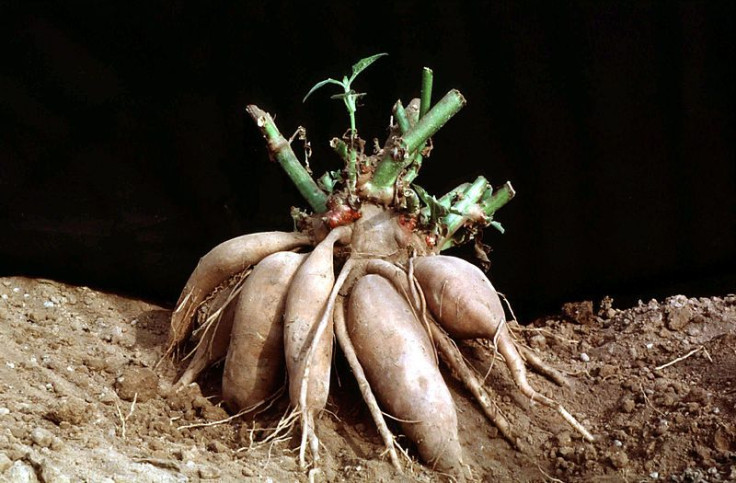 Abiding by a strict diet and exercise regimen could be difficult for those who wish to shed the pounds and kiss their tummy fat goodbye. But dieters may no longer have to go on a diet or to the gym to meet their target weight loss goal. A natural food — yacon syrup — can help women lose up to 5 lbs. in four weeks, according to a Dr. Oz study.
The syrup derives from South America, high in the Andes Mountains, and is considered to be a staple in the Peruvian diet. It is commonly used as a natural sweetener, effectively serving as a substitute for sugar in some ways. Yacon syrup is described as "candy in a jar" and is "similar to molasses," says Dr. Oz's study participants, averaging a total of seven calories per teaspoon with a high fiber content.
According to the International Potato Center, yacon syrup contains approximately 30 percent of fructooligosaccharides (FOS) — a type of fructo-polysaccharide used as an alternative sweetener — and also has low levels of simple sugars, such as glucose, fructose, and sucrose.
The human body does not have an enzyme to break down FOS, which causes it to pass through the digestive tract unmetabolized, providing few calories, Dr. Oz said. FOS acts as a soluble fiber that increases stool bulk to help prevent and even control constipation. It can help sufferers of metabolic syndrome combat high cholesterol and diabetes. As a probiotic, the syrup acts as food for "friendly" bacteria such as Bifidobacterium and Lactobacillus in the small intestines and the colon.
To examine the effects of yacon syrup on a group of overweight women, Dr. Oz originally asked 60 female viewers of The Dr. Oz Show to consume one tablespoon of yacon syrup with or before each meal — breakfast, lunch, and dinner — for four weeks while not making any other changes in their diets or exercise habits. Out of the 60 female participants, only 40 completed the study trial.
Twenty-nine out of the 40 participants reported weight loss of some sort while 14 women lost 5 lbs. or more. The average weight loss among the female viewers was about 3 lbs. In addition, there was a 1.9-inch reduction in waist size, according to Dr. Oz. Overall, more than half of the participants would recommend yacon syrup as a weight loss tool.
Yacon syrup not only effectively boosted metabolism and aided weight loss, but also stabilized blood sugar levels. "Now this is why I'm passionate about it, it's not just about losing weight, yes you'll get that I know that's why people will try this, but if it can get your blood sugar down that's a Gold Mine for us when it comes to your health," said Dr. Oz.
While Dr. Oz's experiment looks very promising with good results, the study does have several limitations. It is not known whether the weight the participants lost is due to the yacon syrup or the placebo effect. It may be possible that the participants expected to lose weight and therefore felt more obliged to strictly follow their diets. A placebo-controlled study should be done to further test the effects of yacon syrup on a larger cohort.
Dr. Garth Davis, an obesity specialist, was asked to weigh in on the results of Dr. Oz's experiment and other yacon syrup human trials. He believes that, while the studies show impressive results, they fail to go into extensive detail about what diet the participants utilized. Dr. Davis fears that people will treat the syrup as a "magic pill" to help them lose weight quickly rather than see it as an additional supplement to a healthy lifestyle. Adding more fruits and vegetables to one's diet would be a much more health-conscious route than adding yacon syrup, according to Davis.
In a 2009 study published in the journal Clinical Nutrition, a group of overweight or obese women were observed over a period of four months in a double-blind placebo-controlled experiment. The researchers used two doses of yacon syrup, 0.29 grams (g) and 0.14 g FO/kg/day. At the end of the study, the women lost an average of 33 lbs. in four months — losing about 2 lbs. per week. Their LDL "bad" cholesterol levels significantly decreased while their HDL "good" cholesterol levels increased. The syrup even cured constipation in some participants.
The results of the Dr. Oz experiment and the 2009 study appear to be significant. The yacon extract may help target risk factors for weight gain and therefore boost metabolism, resulting in weight loss.
The Centers for Disease Control and Prevention reports that more than one-third of U.S. adults are obese. Health conditions triggered by obesity include heart disease, stroke, type 2 diabetes, and certain types of cancers.
To view The Dr. Oz Show Metabolism Game Changer episode, click here.
Published by Medicaldaily.com