Yelp Reviews Offer Food Poisoning And Health Code Violations Info For NY Health Officials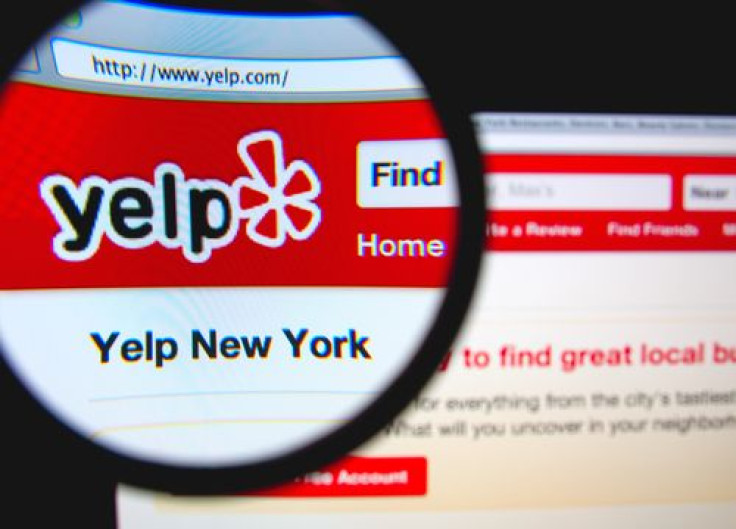 Yelp, an online urban guide and business review site, is typically used to help people find great local businesses like restaurants, hair stylists, and mechanics, but now it may be able to help you from getting sick.
The Centers for Disease Control and Prevention released a report saying New York City's Department of Health and Mental Hygiene completed a pilot project that used Yelp reviews to help identify unreported cases of foodborne illness.
DOHMH worked with Columbia University and Yelp to create the software program used for the pilot project. During July 1, 2012 through March 31, 2013, approximately 294,000 Yelp restaurant reviews were analyzed by the software. The program identified 893 reviews, which required further evaluation by a foodborne disease epidemiologist.
For the software to identify which events were consistent with foodborne illness, it searched for keywords, like "vomit," "diarrhea", and "sick." For closer examination, the users who reported feeling ill were interviewed by telephone. From those interviews, the researchers found three instances when 16 people had been sickened. All of those parties ate the house salad, shrimp and lobster cannelloni, and macaroni and cheese spring rolls at three different unidentified restaurants.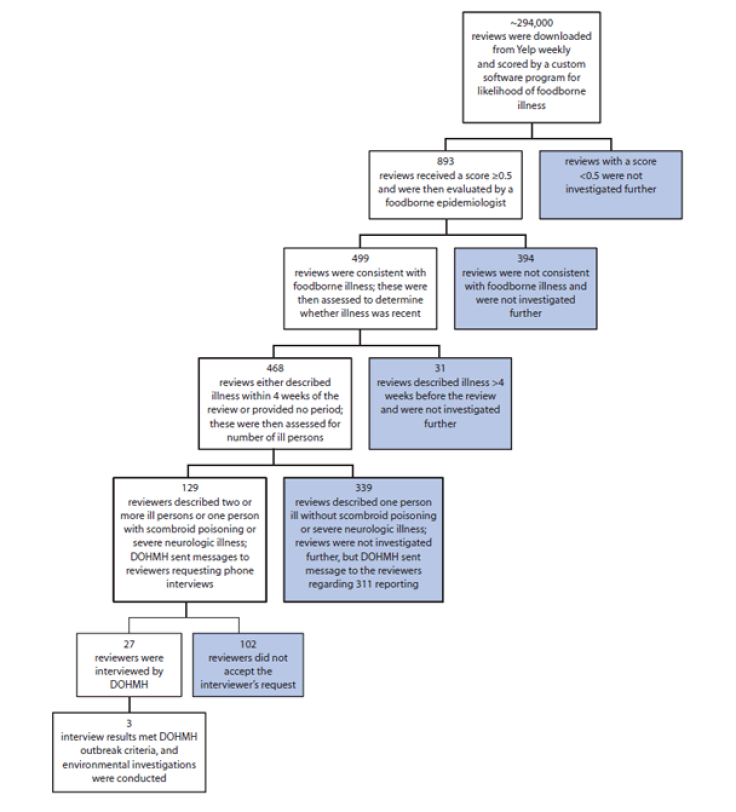 The restaurants were further investigated and health violations were found, including bare-hand contact with ready-to-eat food, improperly sanitized work surfaces, mouse activity, and live roaches, among other violations.
During the pilot program, a week's worth of Yelp reviews were examined at a time. Now, the reviewers are seeking information daily to identify earlier problems. Officials also hope to enlist other review websites, so a wider range of information can be collected.
"We're now taking this a step further by providing a two-way street for the data: alert environmental health inspectors when an outbreak occurs while providing the latest inspection information to diners," Yelp's Director of Government Affairs Luther Lowe said in a statement about the project. "Our partnership could lead to a dramatic reduction in foodborne illness."
Other places have been trying similar approaches to identify food illness outbreaks. Last year, the Utah Department of Health launched an "I Got Sick" website, which allows the general public to report foodborne illnesses they may have encountered at home or in a restaurant. The Chicago Department of Public Health developed a system that contacts people who post foodborne illness complaints on their website or on Twitter.
Published by Medicaldaily.com