Is Yoga For Lower Back Pain Backed By Science? Pain Relief And Improved Function Found By Study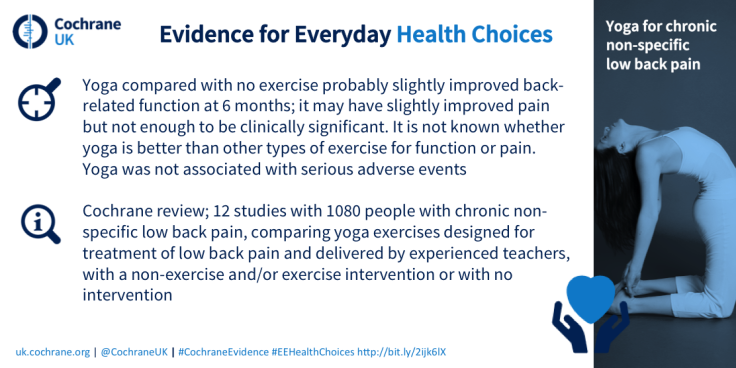 It may sound impossible to do yoga when you have lower back pain, but a new study suggests it will actually make you feel better.
Findings published in the Cochrane Library say yoga "results in small to moderate improvements in back-related function at three and six months," as compared to people who did not exercise at all. In these people with chronic lower back pain, it was not clear how yoga would compare to other types of exercise, or whether it would be more effective if added to other physical activity. But the analyzed results from more than 1,000 participants in 12 trials suggests yoga itself is beneficial to those with pain.
Read: Trouble Moving? Try Chair Yoga
"Back pain is sometimes associated with a disease or condition, but the vast majority of lower back pain cases have an unknown cause," the University of Maryland School of Medicine said in a statement. "Current guidelines state that exercise therapy may be beneficial, and in particular yoga is sometimes used as a treatment."
In the trials that the researchers reviewed, the yoga exercises were designed by experts specifically to treat lower back pain.
Although the results do not draw a conclusion about the best therapy for lower back pain, this is not the first study implicating yoga as beneficial to people with health issues. In another recent study, adults with arthritis in their lower joints reduced pain and fatigue and were able to walk faster after an eight-week chair yoga program, in which they did yoga while sitting in a chair or using a chair for support.
Source: Wieland LS, Skoetz N, Pilkington K, Vempati R, D'Adamo CR, Berman BM. Yoga treatment for chronic non-specific low back pain. Cochrane Library. 2017.
See also:
How Much Ibuprofen Can You Safely Take in One Day?
Don't Mix Alcohol and Painkillers
Published by Medicaldaily.com