Yoga Ruled Acceptable In Health And Wellness Program In Southern California Schools, Not 'Violation Of Church And State' As Lawsuit Claimed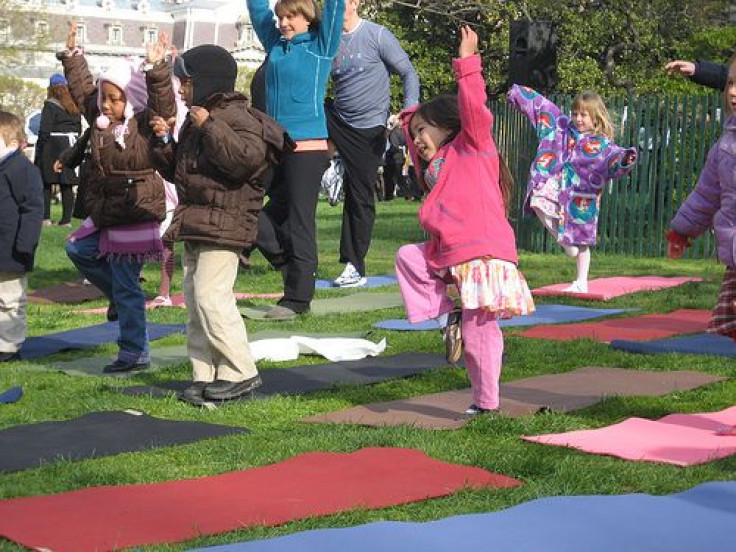 A judge ruled Monday that physical education classes that teach a form of yoga to their students cannot be held as violating the laws separating church and state in public schools.
The lawsuit, which two parents opened in response to the new gym class program in the Encinitas Union School district in San Diego County, contended that Ashtanga yoga — a modern-day revival of classic Indian yoga — indoctrinates the students who practice it, through the use of religious teachings.
Stephen and Jennifer Sedlock filed the lawsuit through the National Center for Law and Policy, a Christian-based organization that focuses on "the protection and promotion of religious freedom, the sanctity of life, traditional marriage, parental rights, and other civil liberties," according to its website.
The Sedlocks have two children that attend one of the district's nine schools.
During the trial, El Camino Creek Elementary Principal Carrie Brown testified that yoga class comprised only a part of the elective enrichment classes offered to students. Other classes, she mentioned, included music, karate, and computers. A couple of parents withdrew their children from other classes as well, Brown said.
Last year marked the beginning of the district's new health and wellness program, which received its $500,000 funding from the K.P. Jois Foundation, which was named after the sage yoga instructor who popularized the Ashtanga style.
Students who elect only to take standard PE classes still meet their physical education time quota, superintendent Timothy Baird testified. The time spent in a yoga class is simply added to the state's base requirement.
Baird met with the yoga instructors before implementing the program. He changed some of the poses to more culturally neutral, kid-friendly names.
"Initially, we made a conscious decision to remove some cultural context," Baird said, also referring in part to the chanting students would perform while doing the yoga.
Yoga instructor Jennifer Nicole Brown, who demonstrated several poses during the trial, said when some of the parents voiced protest to the chanting, she removed it from the lesson.
The plaintiffs didn't only take issue with the cultural component; according to NBC News, they "don't argue that yoga has health benefits" at all.
Ashtanga yoga is a fast-paced form of yoga that relies on rhythmic breathing, posture, and deep focus.
While the California schools have modified the poses somewhat — downward dog has stayed, but "crisscross applesauce" now enters — the extreme style of yoga has drawn criticisms for producing surprising numbers of injuries.
"A good number of Mr. Jois's students seemed constantly to be limping around with injured knees or backs because they had received his 'adjustments,' yanking them into Lotus, the splits or a backbend," The Economist reported in 2009, the year Jois died.
However, it's probably unlikely poses such as crisscross applesauce will include any yanking or backbends, and, not to mention, religious undertones.
"[Students] can dream about anything they want," said "Yoga for Encinitas Students" attorney David Peck, whose son is also enrolled in the program. "They can think about pizza while they're doing a pose."
Published by Medicaldaily.com