Your Memorial Day Weekend Burgers May Contain E.Coli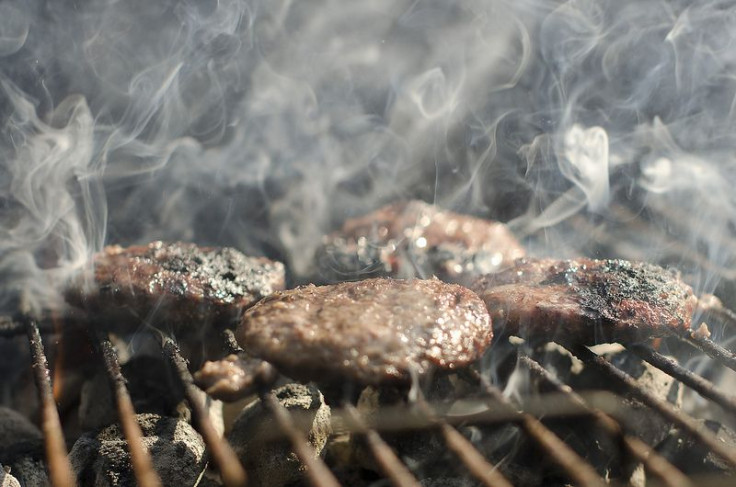 As people set up their barbeques for some Memorial Day weekend grilling, a particularly dangerous strain of E. coli bacteria may lurk in ground beef ready for purchase on local store shelves. The U.S. Department of Agriculture's Food and Safety Inspection Service recalled 1.8 million lbs. of ground beef products because of possible contamination and warned consumers that distribution centers sent the tainted meat throughout stores, and possibly restaurants, in 12 states.
So far, 11 people have become sick in four different states, to which a representative from the USDA responded by saying the meat will be removed from store shelves. However, there are people who have undoubtedly purchased the recalled beef (code EST.2574B, production date between March 21 to April 18, 2014), and they should just throw it out. Ten of those sickened by the product, developed symptoms after eating at restaurants that received the meat. Officials will not release the names of the restaurants due to regulations.
"People who were exposed were already exposed, so it doesn't help the public to tell them now that a certain restaurant was associated with these illnesses," said David Goldman, assistant administrator for the Office of Public Health Science at the USDA. "Our job really is to identify product that may still be available."
Escherichia coli is a large and diverse bacterium, and although many are harmless, the ones detected in the recently discovered ground beef can make you sick. E. coli can cause diarrhea, urinary tract infections, respiratory illness, pneumonia, and others, including death, according to the Centers for Disease Control and Prevention.
The Food Safety and Inspection Service categorized the recall as Class I: "a health hazard situation in which there is a reasonable probability that the use of the product will cause serious, adverse health consequences or death." According to the USDA, the ground beef has been sold under a variety of labels, but all of the meat has been sent out from the Wolverine Packing Co. in Detroit.
"While none of the Wolverine Packing product has tested positive for the pathogen implicated in this outbreak, the company felt it was prudent to take this voluntary recall action in response to the illnesses and initial outbreak investigation findings," said Chuck Sanger, a spokesman for Wolverine Packing.
The following stores received the questionable meat:
• Gordon Food Service Marketplace stores in Florida, Illinois, Indiana, Kentucky, Michigan, Ohio, Pennsylvania, Tennessee, and Wisconsin
• Giorgio's Italian Delicatessen in Stuart, Fla.
• Blairsville Seafood Market in Blairsville, Ga.
• M Sixty Six General Store in Orleans, Mich.
• Bronson's Super Valu in Beulah, N.D.
• Jason's Super Foods in New Town, N.D.
• Buchtel Food Mart in Buchtel, Ohio
• Quick Stop in Erwin, Tenn.
• Virginia Market in Maynardville, Tenn.
• Barger Foods in Nashville, Tenn.
• Virginia Heights Travel Store in Wytheville, Va.
"The number changes. Yesterday, it was on the order of nearly 40 states, but we don't — that number changes. That's part of the process too, is to identify where the food — the meat in this case — was actually distributed," Goldman said.
The best way to avoid getting sick this hamburger-friendly holiday, aside from throwing out possibly contaminated beef products, is washing hands frequently when preparing food, and avoiding cross-contamination with raw meats and eggs. Make sure to cook all of your barbeque meat items to at least 160 degrees this weekend.
Published by Medicaldaily.com