Zimmerman's Account Consistent With Medical Evidence, Gunshot Wound Expert DiMaio Testifies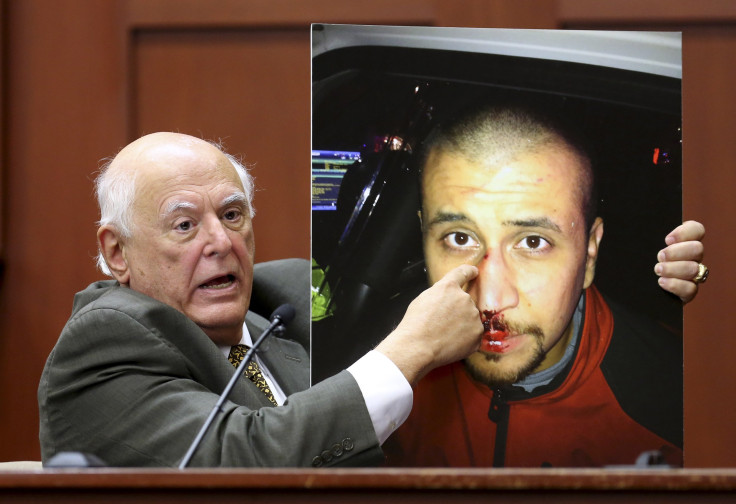 A pathologist testified Tuesday that medical and forensic evidence supports George Zimmerman's account in which Trayvon Martin was leaning over him when he shot the 17-year-old in the chest.
"The medical evidence is consistent with Mr. Zimmerman's statement," Dr. Vincent DiMaio, a gunshot wound expert hired by the defense, said at the trial.
Zimmerman had previously stated that during a struggle with Martin on the night of February 26, 2012 in a gated neighborhood in Sanford, Fla., Martin was on top of him as he slammed the neighborhood watch volunteer's head into the concrete several times. Zimmerman claims he acted in self-defense when he fired a fatal gunshot into the 17-year-old's chest, though the youth was unarmed.
DiMaio concluded that the trajectory of the bullet and gun powder on Martin's body shows that he was on top of Zimmerman when shot.
"The most important point is the nature of the defect in the clothing and the powder tattooing," DiMaio testified. "If you lean over somebody, you would notice that the clothing tends to fall away from the chest... So the fact that we know the clothing was two to four inches away is consistent with somebody leaning over the person doing the shooting."
DiMaio also stated that Martin could have been conscious for about 10-15 seconds after being shot as reserve supply of oxygen ran out of his body.
A previous medical report, compiled by Zimmerman's family physician and obtained by ABC News, said Zimmerman had a "closed fracture" of his nose, two black eyes, two lacerations to the back of his head, and a minor back injury.
DiMaio said the lacerations to the back of Zimmerman's head were consistent with his head hitting the concrete sidewalk during his struggle with the teenager. Though it was difficult to distinguish the marks on Zimmerman's head due to the quality of the photograph taken the night of the murder, DiMaio had observed "punctate abrasions," describing them as "little reddish markings...that indicate that there was impact with a surface that was not really smooth."
A medical examiner called in by the prosecutors, Dr. Valerie Rao, stated earlier in the trial that Zimmerman's injuries were "minor" and not life-threatening.
But DiMaio's testimony on Tuesday contends that head injuries are serious, and could very well have caused concussions, impairment, and risked death.
"Concrete doesn't yield when your head hits concrete," DiMaio said. "Your head yields to the concrete."
DiMaio had previously testified at the murder trials of Illinois police sergeant Drew Peterson and record producer Phil Spector. The forensic pathologist said he had been paid $2,400 by the defense.
Published by Medicaldaily.com