All About Zucchini: History, Health Benefits, Cooking Tips, And More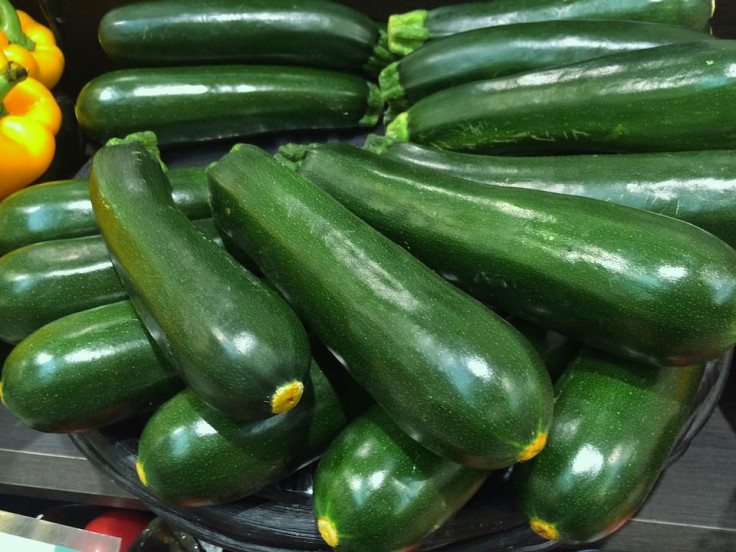 There's a lot to look forward to as summer quickly approaches: more time spent outdoors, free vitamin D, and the abundance of seasonal fruits and vegetables. If you're looking to add more fresh veggies to your diet or want a new item to add to your grilled shish kebobs, look no further than zucchini.
At any summertime farmers market, you'll be sure to come across the long, green (or sometimes yellow and orange) vegetable that looks strikingly similar to a cucumber. However, unlike a cucumber, it's usually served cooked, but can also be enjoyed raw. Before we get into the exhaustive list of the many ways it can be prepared, here's more about the history of zucchini and its health benefits.
Read: Veggetti: Turning Zucchini Into Low-Cal Pasta
Zucchini is a summer squash that's technically a fruit because it comes from a flowering plant, but in the culinary world it's referred to as a vegetable. Believe it or not, the zucchini variety of the squash that we enjoy today is relatively new. The squash itself originated in the Americas, but the zucchini variety was first grown in Italy during the 19th century and didn't appear in the United States until the 1920s. In addition to the vegetable itself, its name is also borrowed from Italy, where the plant is called "zucchina," which comes from "zucca" meaning a gourd, pumpkin, or squash. But the plural form "zucchini" is what's stuck with Americans (or "courgette" in other parts of the world).
Since coming to the states, the versatile veggie has become increasingly popular. It's a tasty, low calorie option that contains many essential vitamins and nutrients such as vitamin C, vitamin B-6, vitamin K, manganese, folate, copper, phosphorus, and potassium. The plant is primarily made of water, therefore it's easy to digest. The fiber-rich food also packs in omega-3 fatty acids, zinc, niacin, and protein.
Read: Which Fruits, Vegetables Have Highest Pesticide Levels? List Of 48 Kinds Of Produce; Strawberries Are #1
If you're sold on the health benefits and ready to dig in, here's how to select a fresh zucchini from the market. Or, you can opt to grow your own. According to the Produce for Better Health Foundation, the best zucchini are the ones that are a tad prickly with shiny, firm skin that's free of cuts and bruises. Once the veggie makes it into your kitchen, it stays freshest the longest if it's kept in a plastic bag, tightly wrapped in the refrigerator. It's recommended to only be washed once ready for consumption. If you find you've bought too much, feel free to put it in the fridge for a later date.
The easiest way to enjoy zucchini as a snack is to simply cut it into slices or sticks, which pairs well with hummus. Once cut, it can also be added to pasta, or even used as a substitute for pasta. With a spiralizer kitchen tool, the veggie can be transformed into noodle-like strands, commonly called "zoodles." Or, you can bake the veggie and make a zucchini bread or muffins. Or add it to stir-fry. The list of possibilites for the fresh summer vegetable is endless.
See also: Fruits And Vegetables Could Be The Key To Lower Blood Pressure, Regardless Of Your Salt Intake
The Science-Backed Diet For Health And Longevity: Eat 10 Servings Of Fruits And Vegetables A Day, Study Says
Published by Medicaldaily.com