10 Fitness Gear Must-Haves To Keep You In Shape This Year, Science-Backed And Tested
New year, new you? While gym memberships and new sneakers won't automatically turn you into a fitness fanatic, the right gear and accessories could at least keep you motivated.
Americans resolve to improve health and fitness every time it's a new year — but what does it take to make good on those resolutions? We tested some of the most innovative, creative, and must-have products on the market today. Bonus: each is backed up by science, further demonstrating how they can help you reach your fitness goals this year.
1. Balance Pad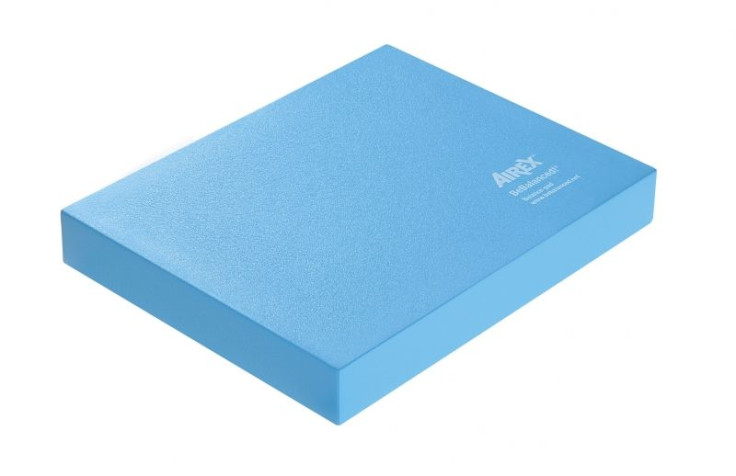 This yielding foam balance pad is ideal for barefoot balance training and to constantly challenge the body to maintain balance while stabilizing joints. The non-slip base prevents a person from sliding, while also providing structure during exercise. It can be used for lunges, squats, sit ups, yoga, stretching, or balance exercises.
Balance training is an often overlooked exercise. According to the Harvard School of Public Health, the benefits of better balance include faster reaction time, improved coordination, and stronger bones. Exercises designed to improve balance are often targeted towards the elderly, in order to improve endurance, muscle strength, flexibility and — above all — to prevent falls. Practicing a single-leg stance on the balance pad by holding one leg in position for 5 to 60 seconds is just one of the many ways to reap the benefits from balance pad training.
Tested Product: Airex Balance Pad; $57.70.
2. Textured Foam Rollers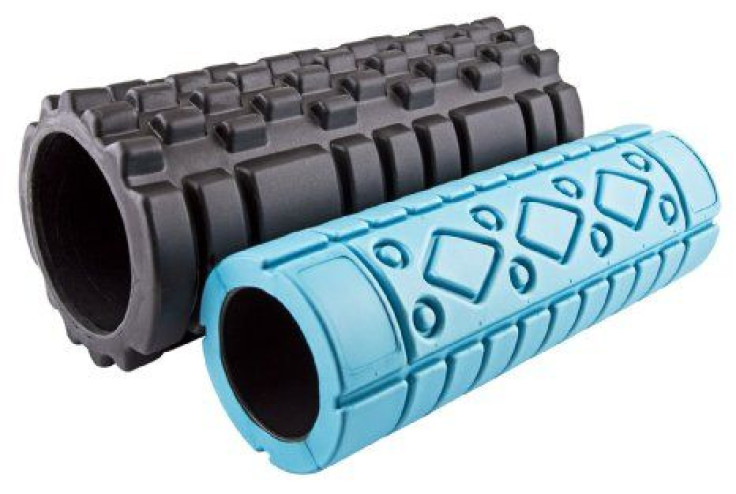 One medium- and small-sized foam roller pack offers different options, depending on desired workout intensity. The small 12" x 4" texture foam roller fits inside the hollow high density 13" x 5.75" foam roller, making it easier for travel.
Foam rollers are key to injury prevention, especially for runners, cyclists, and weight lifters. The log-shaped roller is typically made out of foam, which has been shown to improve circulation, range of motion, and balance, while reducing pain and alleviating muscle tightness. Foam rollers are key to massaging away fascia (bands of connective tissue) buildup in the muscles, which can prevent IT band syndrome. Putting pressure on the muscle and slowly rolling into the target area is considered one of the most effective at-home self-myofascial release techniques. Flare ups in tight muscles could lead to a full on injury unless they are kept loose and flexible. Foam rollers are essential to maintaining normal muscle function and relieving sore and stressed joints.
Tested Product: FitSpirit Textured High Density Foam Rollers; $22.95.
3. LED Heel clip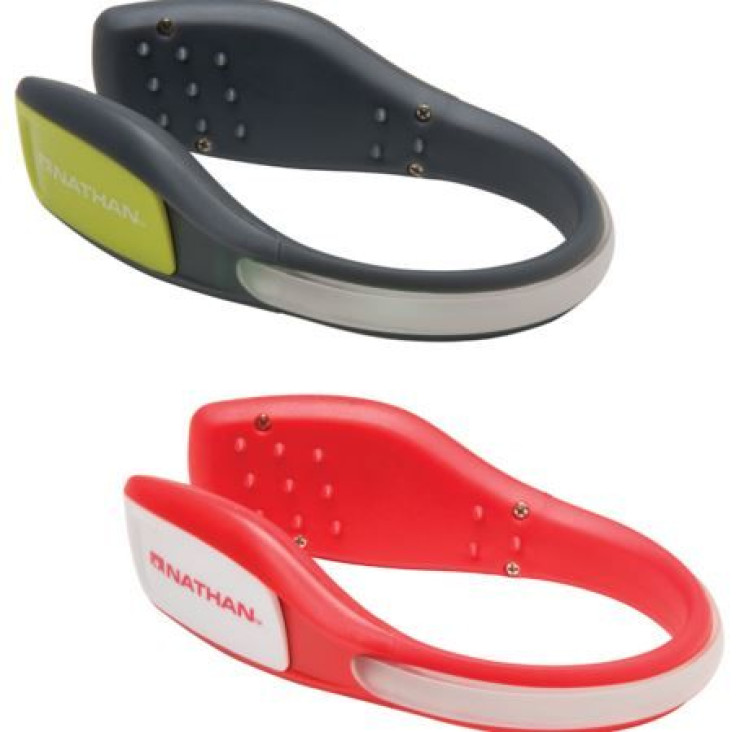 This weather-resistant, lightweight clip secures on the back of a sneaker. The LED lights in the clip provide high visibility for early morning and late night runs when roads and trails are darkest.
During the winter, runners and cyclists alike will shy away from their usual AM routine. According to a 2010 study published in the Journal of Physiology, exercising before breakfast helps dieters hit their weight loss goals faster, because they burn a higher percentage of fat that's been stored overnight. Instead of waiting for a break in the day, or right after work, you could be done with a workout before most people wake up.
Though we're all for getting fit before the sun rises, we also want you to be safe. Clips like this help alert drivers and passersby to where you are.
Tested Product: Nathan LED Heel Clip; $20.00.
4. Speed Cable Jump Rope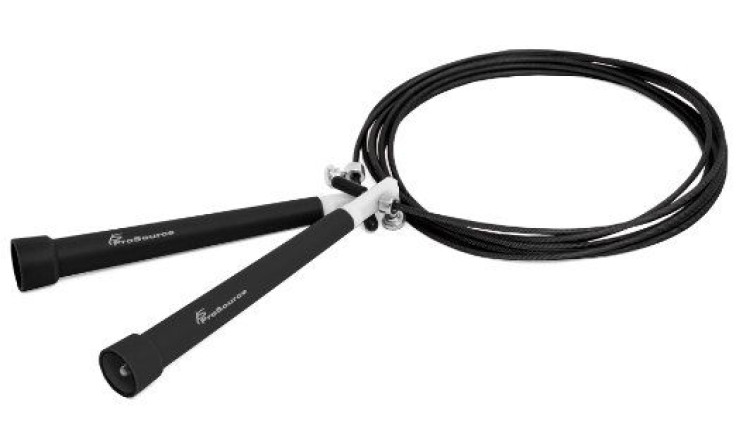 Jumping rope is a childhood game turned workout. Lightweight wire cables make it possible to speed through a workout with smooth and quick rotations. A 10-foot adjustable speed rope makes it possible for a person of any height to exercise regardless of their athleticism. It's an inexpensive way to get in a high-calorie burning workout.
According to cardiologist Dr. Pete Shulman, a professor from the University of Connecticut Health Center, skipping rope strengthens the upper and lower body simultaneously, while burning a lot of calories in a short amount of time. Shorten the rope so the handles reach your armpits, step into a four-by-six-foot area with about 10 inches of space above your head, and it's all the room you need to start jumping off the calories.
Tested Product: ProSource Speed Cable Jump Rope; $7.99.
5. The Muscle Stick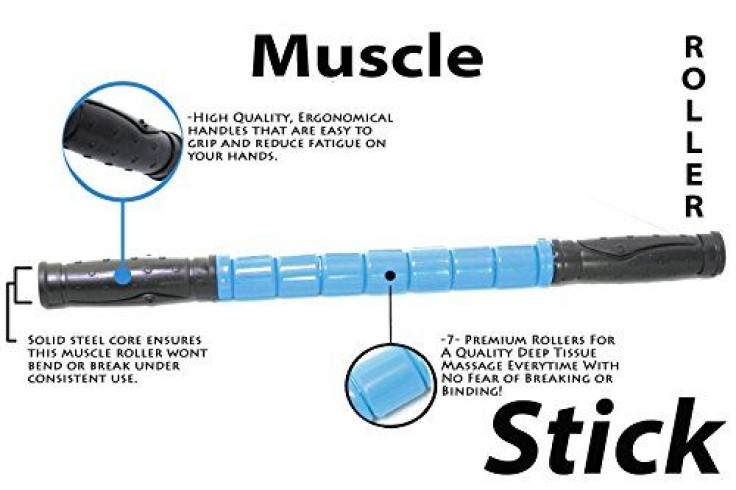 Muscle stick massage rollers are portable and powerful. They allow a person to relieve tension at their discretion, adding pressure as they move along the leg. The moveable groves adjust to the curves of the leg muscle and provide a smooth, gliding movement. It can also work to massage out muscles located on the back, shoulders, arms, and chest.
Massaging out tight muscles after a long run or leg day doesn't just feel good, it's a vital practice for maintaining healthy recovery and avoiding injury. In 2012, scientists discovered vigorous exercise causes tiny tears in muscle fibers, which can lead to inflammation. When researchers screened the tissues from massaged and unmassaged legs, they found massages stimulated the production of mitochondria, also known as the powerhouse of the cell. Mitochondria works to convert glucose into energy, and is essential for cell repair and future function. Ultimately, massages help the body repair itself and get you back in the gym faster than if you just sat on the couch and waited until the soreness passed.
Keep a massage stick in your gym back or back pack during travels. It's a lightweight and fairly easy workout aid to help improve the overall physiological performance of your body's repair system.
Tested Product: Fitness Answered Training Products Muscle Stick; $17.99.
6. Wireless Ear Buds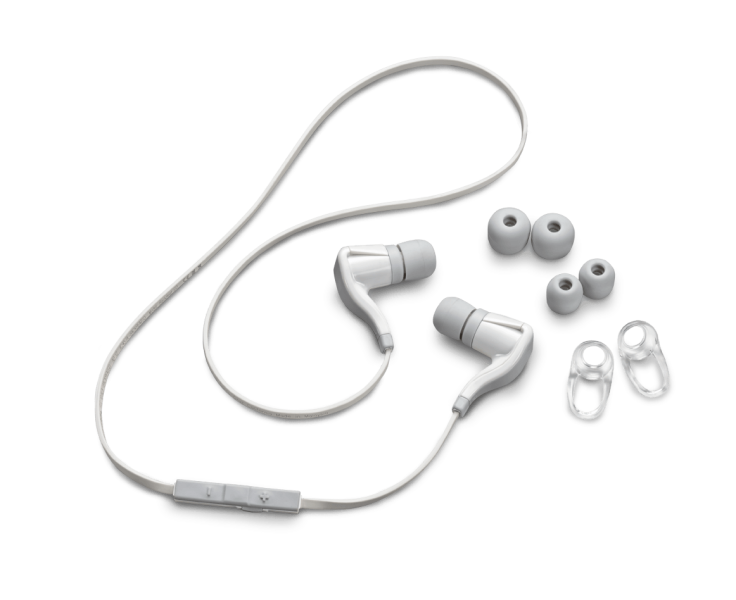 Cut the cord, literally: Wireless ear buds make it easier to work out without getting tangled up. Bluetooth technology connects the ear buds to your smartphone or tablet for music.
Music is a powerful tool often used to boost athletic performance. According to the American Council on Exercise, experts guestimate in 300 B.C., or possibly earlier, the beat of the drums on Roman galley ships helped keep rower focused and in sync with one another. Since then, synchronizing with the beat of music has helped a wide variety of athletes, ranging from cyclists to weight lifters. Because people naturally follow a tempo, it allows the brain to focus on the music and task at hand, leaving very little room for the athlete to be distracted by the discomfort that may be related to exercise. Working out with music may be based on ancient philosophies, but in practice, modern-day wireless ear bud technology improves upon it.
Tested Product: Backbeat Go 2; $99.99.
7. Self-Chiropractic Body Alignment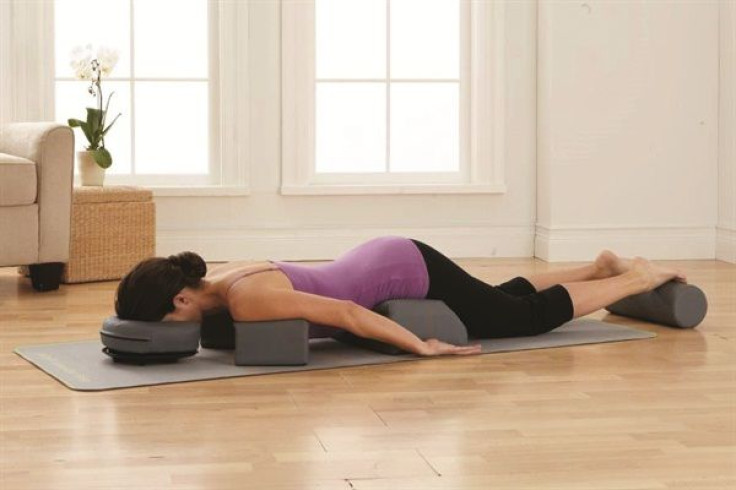 The re-alignment body system was designed by a chiropractor to help decompress the spinal cord with proper alignment. For 20 minutes a day, the system stretches the spinal, shoulder, and jawbone joints because of the biomechanical position it places a person in as they lay face down on a mat. It's designed for everyday use and for those suffering from whiplash injuries, scoliosis, disc problems, sciatica, cervical-related headaches, sinus pressure, temporal mandibular joint disorder, and spinal-related neuropathies.
Tested Product: Kacelia Tru-Align Body System; $395.
8. Resistance Bands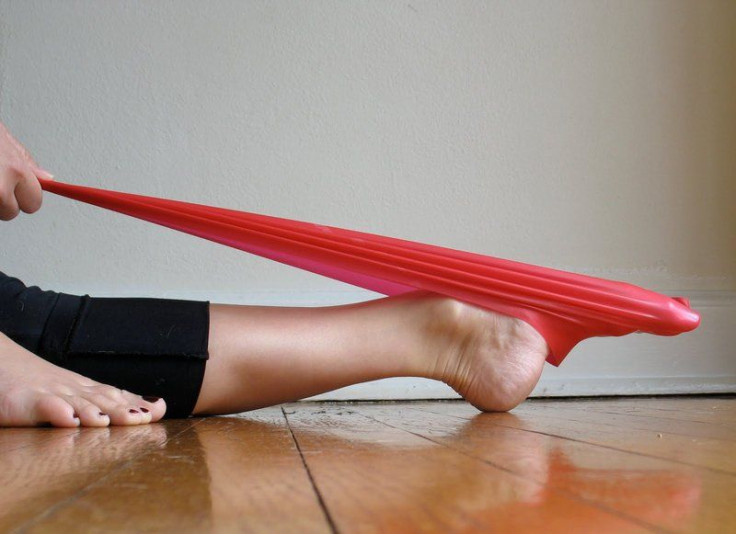 Flexible resistance bands can help an athlete at any level accomplish challenging positions depending on the force of resistance. There is a variety of bands each with a different level of resistant, which provide a well-rounded strength training exercise idea for exercising alone or while traveling. The first 10 to 30 degrees of stretch doesn't place the muscles or joints under a lot of pressure until they are maneuvered to a higher intensity.
Resistance bands can be incorporated into exercise routines from beginners to advanced athletes, according to the American College of Sports Medicine. They hold tension throughout the body, while forcing your body to stabilize, using more muscle groups, gaining coordination, and balance.
Product-Tested: TheraBand Resistance Band Loops; $8.99.
9. BodyGlide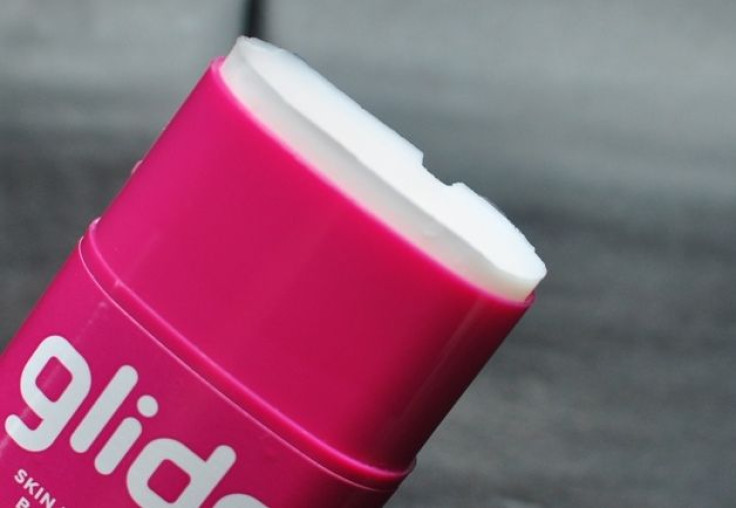 Chaffing during a long run or during rigorous endurance exercise can be painful, and even embarrassing for some. Runner's World refers to chafing as a "runner's rite of passage," otherwise known as the friction that occurs as a result of skin rubbing against itself or clothing. The insides of thighs, along shirt seams, inside bra straps, and nipples grazing against a rough material shirt can all cause a variety of different chafing.
Experts like dermatologist Dr. Fayne Frey advise to avoid cotton, because it absorbs sweat and stays wet. Also make sure to stay hydrated, while going seamless, tag-less, and wearing Band-Aids to protect the nipples from rubbing up against the shirt, which can cause bleeding in many cases. Lubricate yourself any and every body part you feel prone to chafing. During marathon training and race day, I chose BodyGlide to lubricate chafe-prone body parts. It's made from plant-derived waxes and an allergen-free product that keeps skin well moisturized and drastically decreases your chances of chafing during exercise. It's also packed with vitamins A, B, E, and F to help keep skin hydrated for all-day protection.
Tested-Product: BodyGlide for Her; $7.99.
10. FlipBelt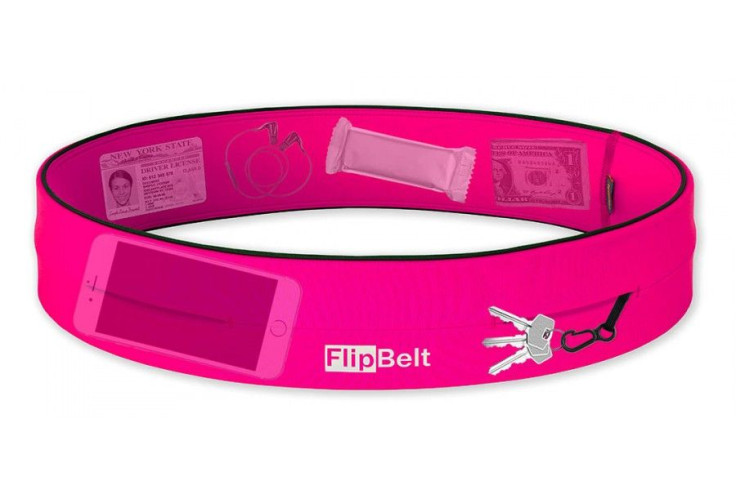 The fanny pack got a make-over and it looks like a FlipBelt. This stretchy fitness accessory fits around the waste, equipped with several compartments to fit your phone, keys, license, and even some light-weight snacks. There are no buckles to cause an uncomfortable chafing. It slides under or over clothing and is designed to eliminate bouncing while moving during exercise.
During a triathlon, I tried out the FlipBelt. It was ideal for the bike ride portion of the race, allowing me to carry glucose energy gels and my cellphone with a slot for my headphones to poke through. I felt it difficult to run with something around my waist, and I was unable to use it at all during the swim portion, afraid it would absorb water and weigh me down. I later found it useful for hiking, given the necessity to carry items during long endurance exercise while maintaining balance and keeping hands free.
For endurance exercise, refueling is essential to keep the body moving , but there are few places one can keep food or drink. The body can store about 90 minutes of muscle glycogen (sugar energy to fuel muscles) and when racing, you burn a greater percentage of your fuel, requiring you to load up on more after about two hours of exercise. Needing energy gels is what made the FitBelt convenient and effective storage. I couldn't have the sticky gels melting in my hand or getting dirty during the activity.
Product Tested: FlipBelt Tubular Pocket Pouch; $28.99.
Published by Medicaldaily.com