11-Year-Old Lewis Deakin Undergoes First Child Mastectomy In Britain, Suffers From Circulatory System Defect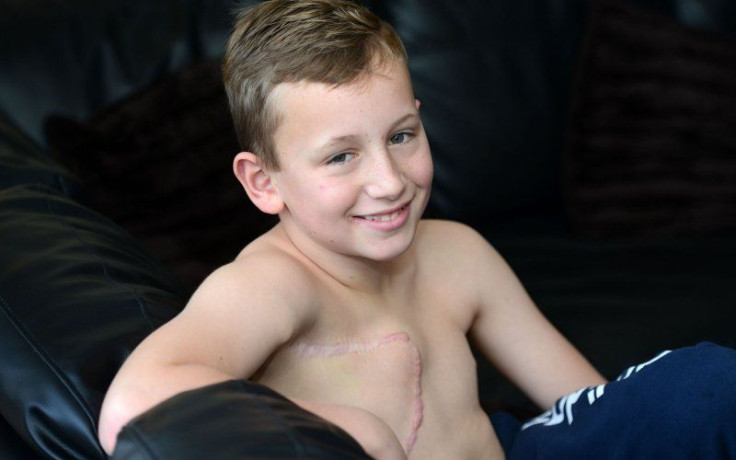 The first child in Britain to have a mastectomy recently underwent the procedure in Birmingham, UK — and that child was a boy. Though mastectomies are often performed for breast cancer, which is 100 times less common in men than women, it's possible to have one done for other conditions.
Eleven-year-old Lewis Deakin suffers from arteriovenous malformations (AVM), a rare condition that causes tumors to grow in chest arteries. The circulatory system defect affects fewer than 200,000 Americans per year, and consists of abnormal blood vessels connecting with a venous drainage network to bypass the normal capillaries between arteries and veins. The condition can cause hemorrhages, which can lead to seizures, strokes, and even death.
Tumors began growing in Lewis' chest three years ago, and since then, he's undergone 15 surgeries.
"I would just crumble if it was me, but Lewis is really good," Victoria, the boy's mother, told The Daily Beast. "It was a really big lump on his chest and it even stretched out his clothes. One teacher thought he had a beanbag up on his top. As he gets bigger they will be able to reconstruct his chest."
Both AVM and child mastectomies aren't really common knowledge, Victoria added.
"You would look at Lewis and think there is nothing wrong with him but there's a lot wrong unfortunately. I don't think people really know about this condition…there's no awareness or advice for people living with it except on Facebook," she said.
Mastectomies have become the preferred treatment for breast cancer in America, with a breast cancer clinic in Manchester, UK attributing the "Angelina effect" to this preference. After Jolie's double mastectomy announcement, the rate of preventative surgeries rose by more than 100 percent. Mastectomies for children are still uncommon, but occur more in the U.S. than in the UK.
Just last month, an 8-year-old girl from Utah underwent a mastectomy to remove a rare form of breast cancer. The girl, Chrissy Turner, had secretory breast cancer, which makes up less than 1 percent of breast cancer cases and requires an aggressive form of treatment to keep it from easily spreading.
Lewis has been making the best of his situation, however unusual it may be. He's even using his scars to impress girls.
"He was a bit daunted by it all at first and he wouldn't show anyone the scar," explained his father, Wayne. "But now he tells all the girls at school 'I've been bitten by a shark.' He says it's a real pulling machine!"
Published by Medicaldaily.com