367 Dogs Rescued In The Second Largest Pit Bull Fighting Raid In US History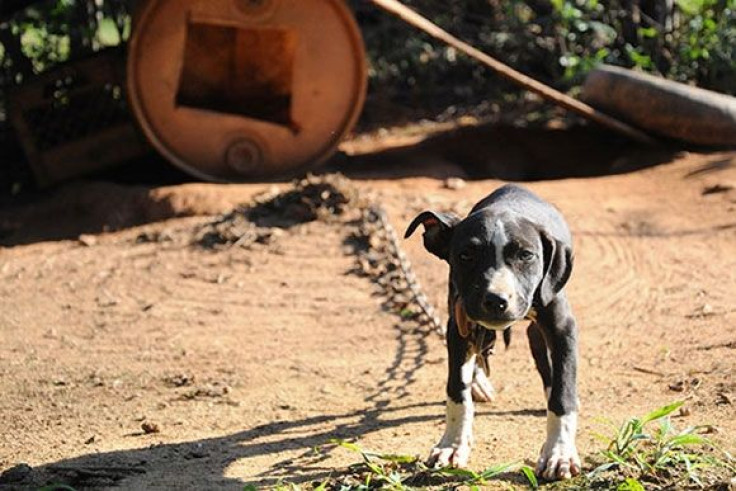 In what's being called the second largest dog fighting raid in the U.S., 367 pit bulls were successfully rescued by the Federal Bureau of Investigation, the American Society for the Prevention of Cruelty to Animals (ASPCA), and the Humane Society of the United States, the Alabama District Attorney's Office reported.
"We are committing to eradicating dogfighting in every dark corner where it festers," Wayne Pacelle, president and CEO of The Humane Society, said in a statement. "This series of raids reminds every dogfighter that they are not beyond the law and their day of reckoning will come."
In addition to frightened and emaciated canines, police also seized over $500,000 in drugs, guns, and other pieces of evidence, NBC News reported. As of Tuesday, 12 individuals involved with the high-stakes ring face charges related to gambling and dog fighting.
"The number of dogs seized and the amount of money involved in this case shows how extensive this underworld of dog fighting is," U.S. attorney for the Middle District of Alabama, George Beck, explained. "These dog fighters abuse, starve and kill their dogs for the supposed 'fun' of watching and gambling on a dog fight."
The raid was reportedly an end to a three-year investigation that started in 2009. Officials said a single fight netted upwards of $200,000 in bets. Arrests were made across Alabama, Georgia, Mississippi, and Texas.
"In one yard, 114 dogs, the majority tethered to heavy chains, sat in 90 degree heat, scratching at fleas, with no fresh water or food visible anywhere on the property. Some appeared to have no access to water at all, and many exhibited wounds, scars and other conditions consistent with dogfighting," the ASPCA said in a statement.
ASPCA vice president Tim Rickey said this was one of the largest dog raids ever carried out, second only to the "Missouri 500" case in which an estimated 500 dogs were rescued. "They are finally getting a loving hand from responders who care for these dogs, but sadly there are many other dogs out there going through this type of abuse," Rickey explained. "Thousands of others all over the country continue to endure unimaginable suffering and death just like this at the hands of dog fighters."
Published by Medicaldaily.com