38 Die In Mental Hospital: Russian Authorities Investigating Possibility Of Arson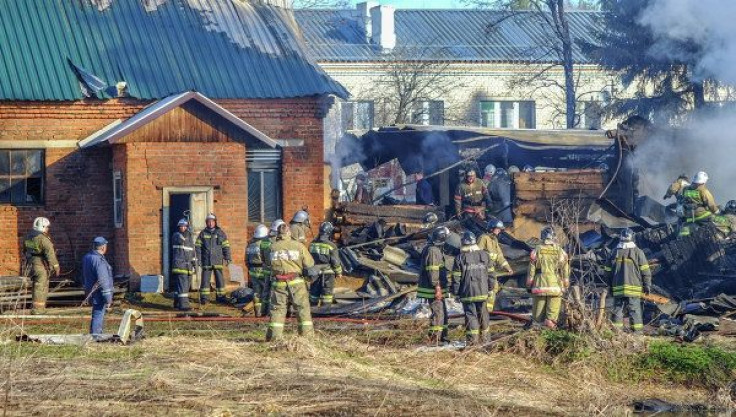 Tragedy struck a small town north of Moscow early Friday when a fire burned down a psychatric hospital, killing an estimated 38 people.
Only three survived, reported the Russian state news agency RIA Novosti. Russian Health ministry Oleg Salagay told RIA Novosti that that a medical nurse led two patients out of the burning building, apparently saving their lives.
Emergency services are attempting to clear the building, which has nearly burned to the ground. So far, only 12 bodies have been found — heavy smoke is slowing the search. Officials believe that there were 41 people in total in the hospital, including both patients and health care professionals.
The Associated Press reports that police say the fire broke out at about 2:00 AM local time (6:00 PM EST) and lasted about three hours. It took firefighters an hour to respond after the fire alarm was sounded.
"The nearest fire station is about 51 kilometers from the site. The firefighters could have arrived earlier if the fire occurred in summer, as there is a ferry across the river," said Vadim Belovoshin, deputy emergencies chief for the Moscow region. "Unfortunately, the ferry is currently closed."
The cause of the fire is, at this time, unclear — RIA Novosti has suggested that it may have been a short-circuit or another type of accident, but they are also not ruling out arson. Russia's Investigative Committee has opened up a criminal case, and both the head of the clinic and the one surviving nurse are currently being questioned.
Disasters of this kind at mental hospitals have in the past captivated the public for one reason or another. The Seacliff Lunatic Asylum, in New Zealand, for example, became infamous after a 1942 fire claimed an estimated 39 lives. The victims — all female patients — were trapped in a locked ward and could not escape.
More recently, the Atlanta Journal-Constitution investigated the state of Georgia's mental hospitals, and found at least 115 cases were patients died under suspicious circumstances
Published by Medicaldaily.com