Aaron Hernandez Was 'Heavy Drug User,' Became 'Insanely Paranoid'; Did Patriots Coach Know About Former NFL Player's Woes?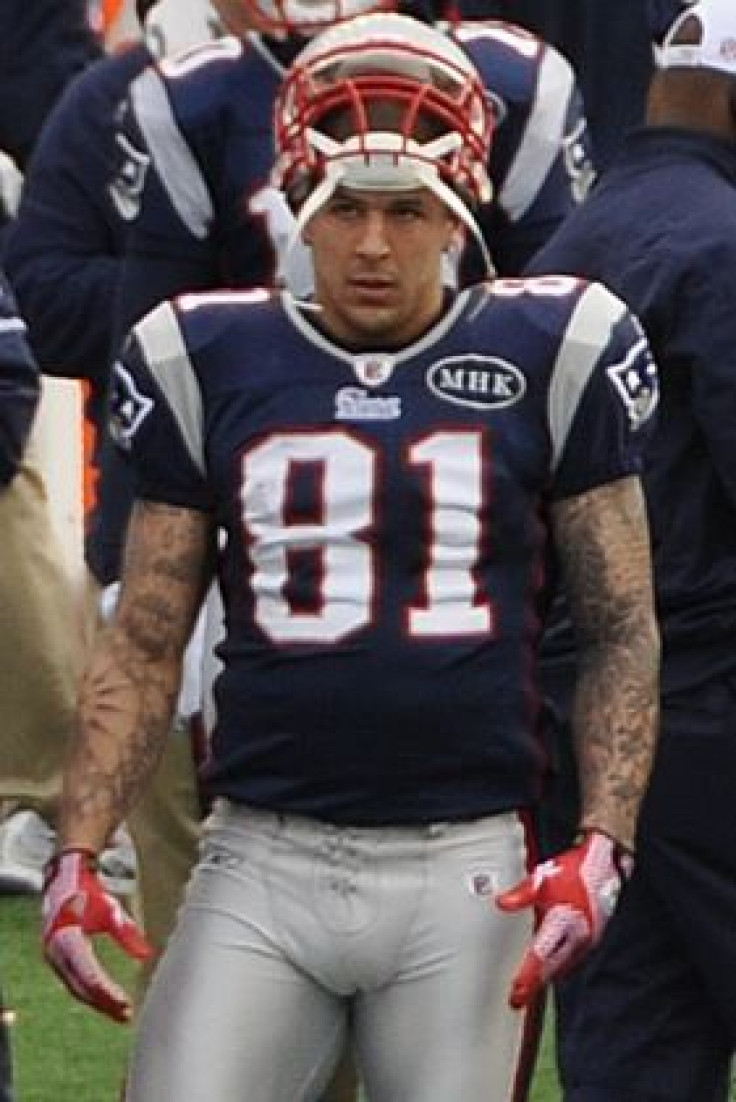 Aaron Hernandez, former Patriots tight end, is scheduled for a Sept. 6 arraignment on first-degree murder charges for the murder of 27-year-old semi-pro football player and friend Odin Lloyd. The murder happened on the morning of June 16 at approximately 3:25 a.m. Lloyd was shot and killed in an industrial park roughly half of a mile from Hernandez's home, according to Bristol County, Mass., prosecutors, reports USA Today. William McCauley, a Bristol County assistant district attorney, found the motive of the murder to be that Hernandez caught Lloyd speaking to people that the ex-Patriots player didn't like.
After signing a $40 million contract with the New England Patriots, 23-year-old Hernandez finds himself taking up a new hobby in his jail cell since his June arrest — writing. CBS Sports reports that Hernandez has written several jailhouse letters, including one where he even insists he is a "great dude." While there may be some die-hard Patriots fans who could possibly give Hernandez the benefit of the doubt, Rolling Stone magazine released a full article on Wednesday about the legal woes that the former National Football League (NFL) player found himself in months before his arrest.
"The Gangsters in the Huddle," the Aaron Hernandez feature out on newsstands Friday, Aug. 30, talks about a detailed investigation into the ex-Patriots' life from his high school football days to his troubled life as an NFL player to becoming a murder suspect. Paul Solotaroff, contributing editor for Rolling Stone, conducted a series of interviews with Hernandez's family friends, high school teammates, and NFL sources to unravel what could have led the life of former NFL tight end to a downward spiral. The article even discusses Bill Belichick, Patriots head coach, having knowledge of Hernandez's various troubles.
Hernandez-Belichick Alleged Talk
"According to a source close to Hernandez, he flew to the NFL Combine in Indianapolis this past February and confided to Belichick that his life was in danger," Solotaroff and Ron Borges wrote. "Hernandez was trying to break away from the gangsters he'd befriended. He worried 'they were actually trying to kill him," said the source to Rolling Stone. The source allegedly ties the former pro football player to having a conversation with Belichick during the NFL Combine in Indianapolis.
Two previous Patriots writers, who are writers for national sites, confirmed the conversation between the Patriots head coach and the ex-Patriots player, reports CBS Sports. Pete Prisco from CBS Sports confirmed that Hernandez was indeed in Indianapolis during the NFL Combine, and Greg Bedard, from Sports Illustrated, also heard the conversation between the two but was short of a second source to confirm the story.
If the reports are true, this would mean Belichick did have prior knowledge that Hernandez's "life was in danger." This could possibly call for a reevaluation of what exactly transpired in that conversation between both parties.
Hernandez, Angel Dust, and Paranoia
In the Rolling Stone article, Hernandez's friends told the magazine that the ex-Patriots player was a heavy angel dust user. The hallucination drug phencyclidine, more commonly known as PCP, can produce harmful psychological effects; one dose of the drug could produce physical effects that can last for months. According to Drugfree.org, high doses of PCP can cause hallucinations as well as seizures, coma, and even death. The consumption of this drug allegedly made Hernandez insanely paranoid that he carried a gun everywhere he went.
Hernandez's friends, who wished to remain anonymous, shared with Rolling Stone that the former NFL player surrounded himself with a cohort of gangsters, cut himself off from his family and teammates, and convinced himself that his life was in danger, which is why he carried a gun.
Belichick Threatened To Cut Hernandez From Patriots
Allegedly, Hernandez's behavior was so out of control that he started to miss workouts and sessions with his rehab trainer during the NFL marathon season. The former Patriots tight end also missed sessions with his therapist Alex Guerrero. Rolling Stone says Belichick was so infuriated with the player's attitude.
It was also revealed that Bilchick gave Hernandez advice about his woes. "'Lay low, rent a safe house for a while,'" said a source close to Hernandez to Rolling Stone. If true, this would explain why the ex-Patriots player got his home in North Attleborough, Mass.
Was Hernandez's Path To Self-Destruction Foreseeable?
While the former NFL player's behavior came as a shock to football aficionados, intimate details of Hernandez's life revealed in the Rolling Stone article could help connect the dots of what led him to be behind bars. The six revelations about Hernandez are:
Hernandez was a heavy user of angel dust, and had become so paranoid over the last year that he carried a gun wherever he went.
He surrounded himself with a cohort of gangsters, and cut himself off from his family and teammates.
Hernandez had so infuriated his head coach, Bill Belichick, with missed practices, that he was one misstep away from being cut.
Both his parents, Dennis and Terri, had criminal records, as did much of his extended family.
Terri allegedly cheated on Dennis before his death with a violent drug dealer named Jeffrey Cummings, then married Cummings after Dennis died, and moved him into the house she shared with Aaron.
In college, Hernandez's coach Urban Meyer may have helped cover up failed drug tests, along with two violent incidents — an assault and a drive-by shootout outside a local bar.
The only revelation that has to be furthered examined is number six.
To read the full Rolling Stones article, click here.
Published by Medicaldaily.com