As Abortion Clinics Close In Texas, Pro-Choice Groups Create Help Network For Women In Need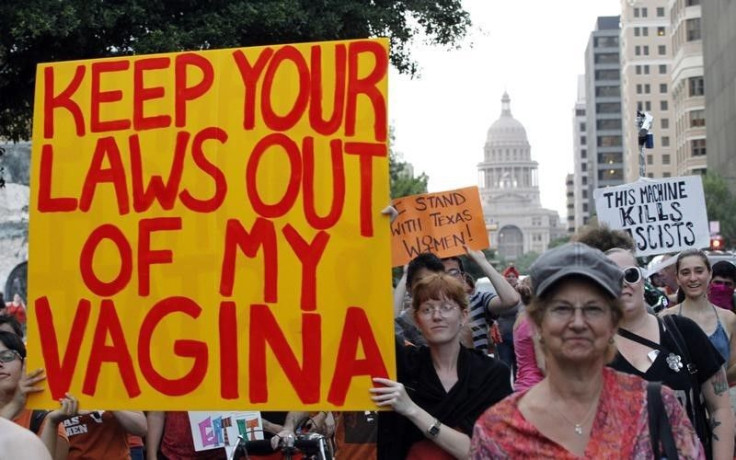 Texas politicians have been relentless in their effort to sidestep the Supreme Court's Roe v. Wade decision in 1973. In July 2013, Gov. Rick Perry signed an abortion bill implementing new restrictions on abortion clinics under the guise they were improving safety for women seeking the procedure, but instead, unable to comply with the new law, most of them have closed down — making it fairly obvious this was the intention of pro-life politicians such as Perry all along. In a state where the number of clinics may soon dwindle to eight (from 44 in 2011), pro-choice groups are stepping in to help.
Perry's abortion bill, called House Bill 2, effectively shut down abortion clinics through a number of restrictions, including a requirement that abortion doctors have admitting privileges in hospitals within 30 miles of the clinic and a mandate to renovate clinics into surgical centers that closely resemble hospitals. The former restriction alone forced half of Texas' clinics to close down — hospitals are hesitant to grant these privileges due to religious and business reasons — and the abortion rate to drop to 13 percent, Bloomberg reported.
That drop is good news for pro-lifers, but the reality is abortions dropped because Texas women don't have the means to get to any of the clinics still open. If a three-judge panel of the U.S. Court of Appeals in New Orleans decides to implement the surgical center component of the bill on Tuesday, clinics will become even scarcer due to a lack of funds to make renovations. Nearly a fifth of Texas women will have to travel 150 miles or more to obtain an abortion, a costly trip that women living in rural areas most likely wouldn't be able to afford — women in the Rio Grande Valley already have to travel about 240 miles to get to a provider in San Antonio and 310 miles to get to one in Austin.
To make these trips easier and truly improve the safety of the procedure for all these women (we'll get into that later), abortion supporters are rallying in different ways to provide women with the help they need. In October, Whole Women's Health, an Austin-based clinic company and the lead plaintiff in Tuesday's Appeals Court case, opened a clinic in Las Cruces, N.M., an hour outside of El Paso, Texas. If the three judges rule to uphold the law, the clinic expects to increase its hours to accommodate an upsurge in women seeking abortion from Texas.
"For a long time, I'd had my eye on New Mexico," Amy Hagstrom Miller, founder and CEO of Whole Women's Health, told Bloomberg. "When this law was passed, it was even more compelling. Going into Las Cruces felt like a really smart thing to do on behalf of the women of west Texas and south Texas so that they could have an option no matter what."
Joining Hagstrom Miller in this fight for access is Lenzi Sheible, a student at the University of Texas, Austin, who founded Fund Texas Women, a nonprofit organization that helps women in need of abortions get to a clinic both in and out of state.
"What we're doing is putting out fires, because right now Texas is in a state of emergency," Sheible told Bloomberg. "If we're not prepared for the eventuality that there will only be eight clinics in Texas, then we're not doing our job."
It's already clear how a lack of access to abortion clinics affects women's health. A report from the Center for Reproductive Rights and Ibis Reproductive Health published in October found that states with more abortion restrictions were also the ones that reported more maternal deaths, and the reason for this is fairly simple. Abortion restrictions won't stop a woman from seeking an abortion; restrictions make a woman twice as likely to abort her child by any means. These restrictions also make it more likely the woman will have an abortion later in her term, when the procedure is more dangerous.
To solve these problems, the researchers concluded: "Preventing unintended pregnancy (with birth control), providing better access to health care, and liberalizing abortion laws to allow services to be openly provided can reduce the rate of abortion-related morbidity and mortality."
Published by Medicaldaily.com