Addicted to Pregnancy? Couple Expecting 17th Baby, Used Fertility Drug Clomid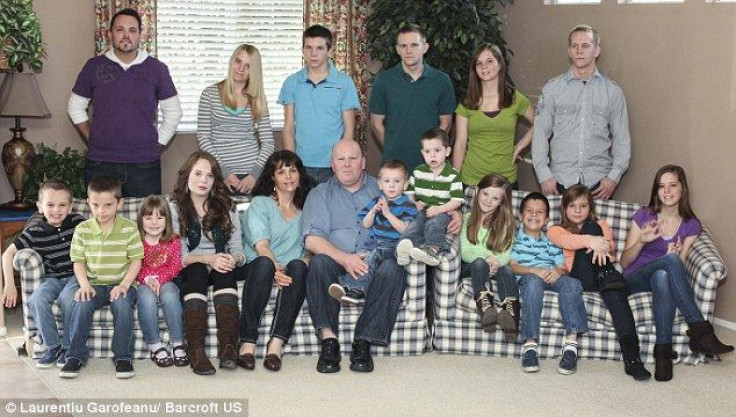 A California couple who used the fertility drug Clomid is now expecting their seventeenth child.
Christi and Dave Carson, who live in Lake Elsinore, already have nine boys and seven girls, ranging from age 23 to age 2, but would love to have 20 children in total, reports the Daily Mail.
"I don't think I'm addicted to pregnancy," said Christi. She said she gets that question a lot. "We just never felt that our family was complete."
After giving birth to her sixteenth child, Nathaniel, now 2, Christy became pregnant again three months later, but lost the child in a miscarriage just before her 12 week scan.
After trying to become pregnant again for a year without success, Christi was recommended Clomid by her physician.
Clomid works by stimulating the hormones necessary for ovulation, similarly to the natural female hormone estrogen.
"We were desperate," said Christi. "We really wanted another baby and had never had any problems conceiving in the past. The biggest age gap between any of our other children is only 22 months."
Three months later, by November 2012 Christi was pregnant. At nine weeks, however, she miscarried again.
The California couple tried again, and now she is 16 weeks pregnant with her seventeenth child. She says she feels healthy and believes she may have ovulated this time without the help of the drug.
"I feel really positive for the future," she said. "I think if we try for an 18th baby I might not need any medication."
"Labours are always pretty easy and I never get morning sickness," she added. "I love seeing the bump grow and feeling the first kick."
Religion plays no part in their reasons for having a big family, the Carsons said. They simply love having one, and know they can provide financially for seventeen children— and perhaps more.
The most common side effect of the fertility drug Clomid is having twins. Other common side effects include hot flashes, bloating, weight gain, mood swings, nausea and dizziness, headaches, and abnormal menstrual bleeding, among others.
If you are using Clomid and experiencing uncomfortable side effects, contact your physician.
Published by Medicaldaily.com