Alan Crowley, Kid Who Got 'Glassed' In The Face, Takes Time Lapse Of Wound Healing, And It's Pretty Cool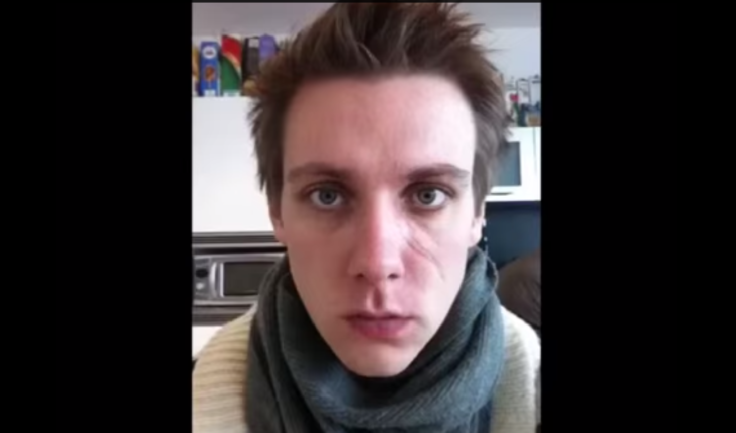 As smartphones, apps, and Instagram become more popular and more advanced, the nature of the "selfie" is evolving. We'll probably be seeing a lot more selfie time lapses — or selfielapses — now, instead of just your typical one-photo selfie.
Perhaps the original selfielapse taker was Karl Baden, an art professor who took an old-fashioned self-portrait of himself every day for 24 years starting in the 1980s — well before smartphone selfies were a thing. Then there was the kid who took selfies of himself for seven years before putting it into a time lapse, showing his gradual development from an adolescent until late teens. But one recent selfielapse stands out in particular, due to its portrayal of a wound healing over time.
Alan Crowley, 26, was hanging out at a bar in Dublin when he was attacked by a drunken rabble-rouser. He was reportedly "glassed" by the man, who smashed a pint glass in his face. Crowley was left with a large gash in his face that reaches from his left eye across his cheek.
Before the attack, Crowley had been doing a time lapse using the Everyday app just like your regular selfie-taker, but once he had the gash in his cheek, his selfielapse got a little more unique. In the video, Crowley shows us how his Harry Potter-esque scar develops over time, from before the accident to during his time with stitches and the healing process. It appears that Crowley is doing well despite the scar, which some may believe adds character.
Meanwhile, the man responsible for the attack, Chef Thomas O'Connell, has been jailed for 30 months.
Published by Medicaldaily.com