Alice Munro Is Too 'Frail' To Attend Nobel Prize Ceremony; Past Health Concerns Include Cancer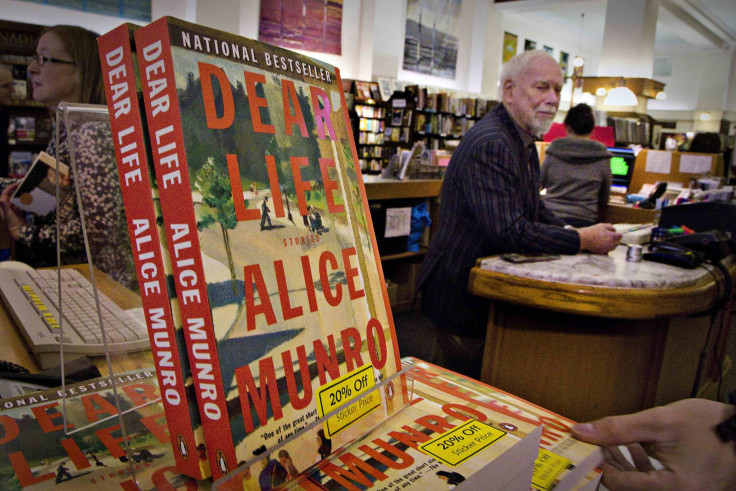 Canadian 2013 Nobel literature prize winner Alice Munro, 82, will not be attending the awards ceremony in Stockholm due to her poor health.
The Swedish Academy secretary, Peter Englund, said in an e-mail Friday that Munro had declined her invitation to the awards ceremony, which will be held on Dec. 10.
"Her health is simply not good enough," Englund said in a blog post, according to Reuters. "All involved, including Mrs. Munro herself, regret this."
In 2009, Munro had announced that she had undergone coronary bypass surgery and received cancer treatment. Not many details have been released about her current state of health.
"It's age related," Munro's daughter, Jenny Munro, told the Wall Street Journal. "It would be great if she could get on stage" if only that stage wasn't in Stockholm, she said.
Previous Nobel laureates who could not attend the award ceremony in Stockholm due to health reasons include Doris Lessing (2008) and Elfriede Jelinek (2004), who received their awards in their home countries. Munro, who had retired from writing before receiving the award, will most likely not write anymore, according to her longtime editor Douglas Gibson.
Munro, who has published short story collections since the 1960s, was referred to as a "master of the contemporary short story" by the Swedish Academy. She is the 13th woman out of 110 Nobel laureates in literature to be awarded the prize.
"One of the amazing things about her is that she has no weak works in her oeuvre," Englund said in a Q&A with reporters, according to the Wall Street Journal. "She has always worked to the best of her ability; she has always cultivated the short story to perfection."
It's not yet clear who will accept the award for her at the ceremony.
Published by Medicaldaily.com