Amar'e Stoudemire Takes Red Wine Baths To Boost Blood Circulation, Despite Method's Many Flaws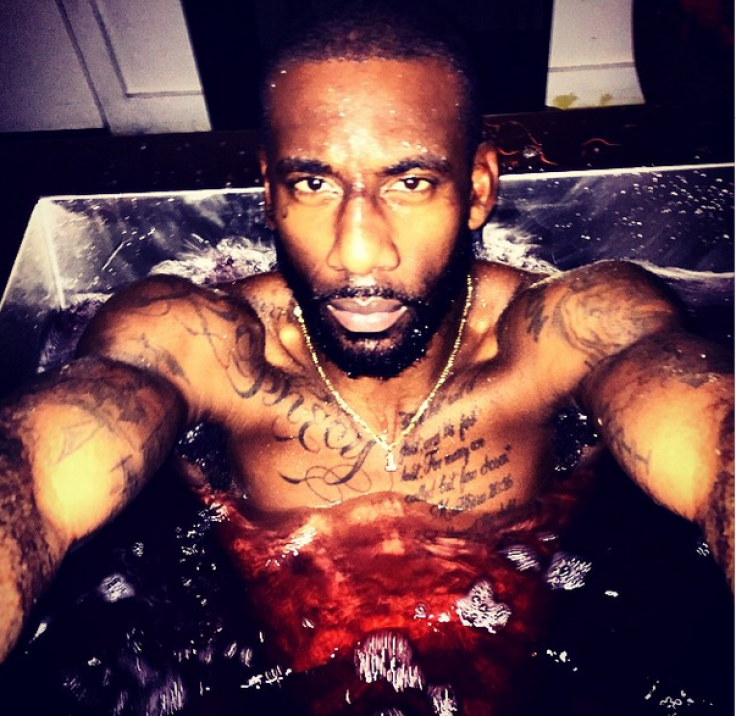 Drinking a glass of red wine makes us feel healthy and divine, but the rich and famous have decided to reap the benefits of this alcoholic beverage in an unusual way — bathing in it. Celebrities like Knicks forward Amar'e Stoudemire have turned to vinotherapy to immerse not just their mouth, but their bodies in the crimson wave of liquor to boost circulation of red blood cells and mask free radicals with the compound resveratrol.
Stoudemire, who gets the spa treatment regularly, gives it a nod of approval on social media, but does it really work? The basketball player has been soaking in the "30- to 40-minute" red wine baths in an undisclosed place in New York with the recommendation of his wife for the last six to eight months. His most recent visit was last Wednesday after the Knicks had played three games in the previous four nights. Stoudemire had scored a preseason-high eight points and added five rebounds in 21 minutes off the bench in a win over Philadelphia in Syracuse last Tuesday.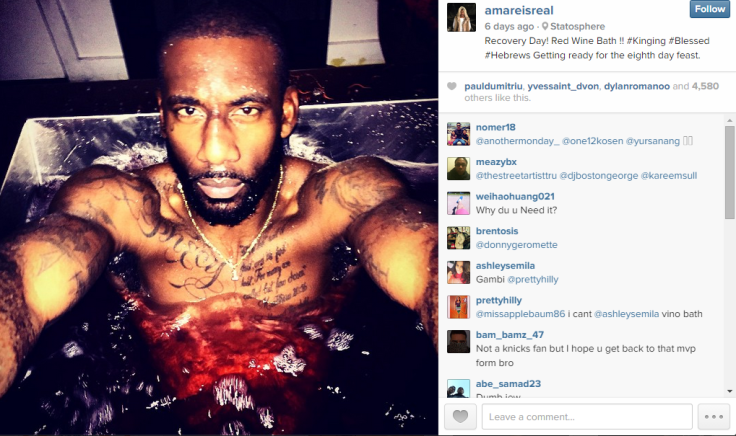 Although Stoudemire partially credits his endurance and the overall improvement of his performance to these spa treatments, the lack of science makes us raise our eyebrows. Vinotherapy baths include products with a high content of red wine grapes' polyphenols. These are compounds found in grape seeds, branches, vines, and the marc (what remains after pressing the grapes) that are often discarded in the manufacturing process. They have a powerful impact on the skin.
Caudalie, a French skin-care company and a vinotherapy spa created by Mathilde Cathiard-Thomas and her husband Bertrand Thomas, says the secret to their products lies in the stabilization of grape polyphenols. "Our polyphenols offer unequalled action against free radicals at the very heart of the cell all day long," the company says on their website. The grape polyphenols fight against free radicals, which cause 80 percent of skin aging, destroying cells and leading to premature aging.
A 2013 study published in the journal Science found resveratrol activates the protein SIRT1, which promotes health and longevity in mice. The researchers saw mice on resveratrol had twice the endurance and were relatively immune from the effects of obesity and aging. The red wine compound has also been found to offset the negative effects of a high-calorie diet in mice while also increasing their longevity.
Scientific limited data on animals support the positive effects of resveratrol, but it should be taken with a grain of salt for humans. A recent study published in JAMA Internal Medicine found there was no link between levels of the compound and the villagers' health when examined on inhabitants of two villages in Italy. The findings are not surprising, since animal and cell studies prompting resveratrol effects weren't enough to be applied to the human population.
The founders of Caudalie spa are even uncertain of how resveratrol specifically works in the body. The combination of the tannins and resveratrol found in the red vine leaf extract improves the body's circulation by strengthening blood vessels according to Mathilde, NYMAG.com reported. However, she admits her company has not done clinical tests on how the compound actually enters the bloodstream.
Science has yet to determine whether there is any merit to Stoudemire's vinotherapy claims, or whether it's just the work of the placebo effect. For those who don't have the luxury to bathe in fine wine that has yet to be scientifically-proven to work, there are other more budget-friendly sources for resveratrol that you can enjoy every day — no wine necessary. Add these four resveratrol foods to your diet:
1. Red Grapes
Resveratrol is found in the skin of red grapes. Other nutrients, specifically minerals, such as manganese and potassium and vitamins K, C and B1, are also found on the skin. Reap the benefits of resveratrol with these grapes and no fermentation necessary.
2. Blueberries
This fruit may not have the same amount of resveratrol — it contains less than 10 percent that of grapes — but they do provide a great source of other antioxidants, fiber, vitamins C and K, and manganese. Organic blueberries have more micrograms of resveratrol per gram of fresh fruit.
3. Peanut Butter
This yummy treat can provide as much resveratrol as a 5-ounce glass of some red wines. You can dip apples and celery into peanut butter to devour this spread. Peanut butter is a great source of niacin and manganese.
4. Dark Chocolate
Chocolate lovers can rejoice that their sweet treat can provide them with resveratrol and other antioxidants like a glass of red wine. It contains approximately 13.1 micrograms of resveratrol per serving. Dark chocolate contains minerals such as iron, copper, and manganese.
Eat your way to more resveratrol without the sticky red wine bath.
Published by Medicaldaily.com