Antibiotic-Resistant Salmonella Leads To Twice The Expected Rate Of Hospitalizations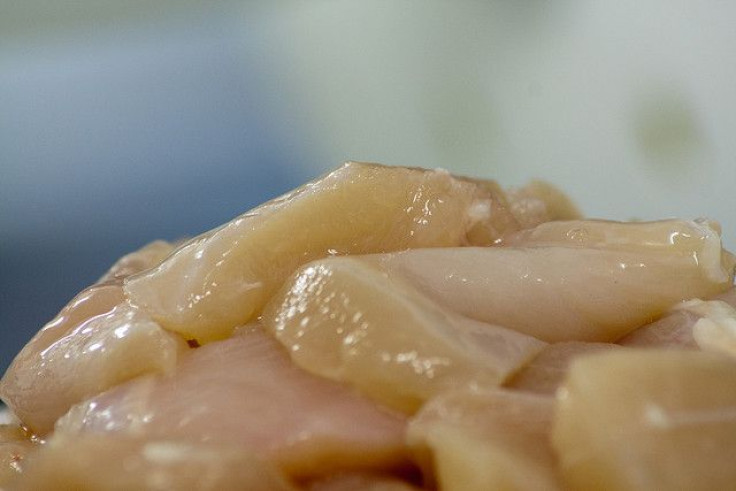 In the midst of a government shutdown, the Centers for Disease Control and Prevention (CDC) called back some of its workers this week to help track the Salmonella outbreak that has sickened as many as 300 people. This particular outbreak has been especially alarming because it has already caused more than double the normal number of hospitalizations. The reason? Antibiotic-resistant Salmonella.
The U.S. Department of Agriculture's (USDA) Food Safety and Inspection Service (FSIS) traced the outbreak to contaminated raw chicken produced at three Foster Farms facilities in California. At least 278 people fell ill to a total of seven strains of Salmonella Heidelberg, and while it's normal for an outbreak like this to cause about 20 percent of patients to be hospitalized, at least 42 percent are currently sick in the hospital, CDC spokeswoman, Barbara Reynolds, told USA Today.
Antibiotic Resistance Makes Infection Difficult To Treat
The reason for so many hospitalizations lies in the bacterium's resistance to antibiotics. Foster Farms reassured the public, saying that "frontline antibiotics used to treat Salmonella are fully effective in treating the illness," but attempts to treat it have failed.
"They have no ground to stand on to make that statement," Congresswoman Louise Slaughter, an advocate for ending the use of antibiotics for agricultural animal growth, told USA Today. "These Heidelberg strains are resistant to multiple antibiotics, including ampicillin, chloramphenicol, tetracycline, and streptomycin."
Salmonella infection is one of the most common types of food poisoning. It causes abdominal pain, chills, cramping, diarrhea, muscle pain, fever, and vomiting. It can also be life-threatening for those who have weaker immune systems. Of those hospitalized, about 13 percent also developed Salmonella septicemia, a serious, potentially deadly inflammation of the entire body, Caroline Smith DeWaal, of the Center for Science in the Public Interest, told USA Today.
The CDC announced last month that Salmonella was considered a serious threat to the U.S. population out of fear that antibiotic overuse in animal feed is leading to resistance to these antibiotics. This resistance could make the public more susceptible to infection from Salmonella and other bacteria. In its report, the CDC urged the agricultural industry to phase out antibiotic use or risk contributing to a future in which humans can once again become infected by the most basic of illnesses.
What's Being Done and What You Can Do
The USDA did not issue a recall for Foster Farms' chicken because Salmonella is considered a naturally occurring bacteria that can be killed by cooking chicken to at least 165°F. Consumers can also skip washing their chicken in the sink in order to avoid splashing Salmonella and other bacteria around the kitchen.
Health officials have argued that it's time to change this rule though, saying that antibiotic-resistant strains have become a danger to the public health in recent years. "We think the USDA should require this meat to be recalled," Smith De Waal told the LA Times. "We believe these antibiotic-resistant strains are too hot for consumers to handle in their kitchens."
The USDA also issued a letter to Foster Farms on Monday warning the company that it would halt production if the company had not found a way to resolve the problem by Thursday. The letter, written by Yudhbir Sharma, of the USDA, said that Foster Farms was failing to control its Salmonella issue and that at least 25 percent of samples from one facility were contamined with the bacteria, according to CBS. This contamination was a result of "fecal material on carcasses, poor sanitary dressing practices, insanitary food contact surfaces, insanitary nonfood contact surfaces, and direct product contamination."
The outbreak has already affected up to 18 states, with about 80 percent of infections concentrated in California, where most of the chicken was distributed, along with Oregon and Washington. Foster Farms was also linked to a Salmonella outbreak in 2012, in which 134 people throughout 13 states became ill.
Published by Medicaldaily.com