Are the Savings On Black Friday Worth the Risks?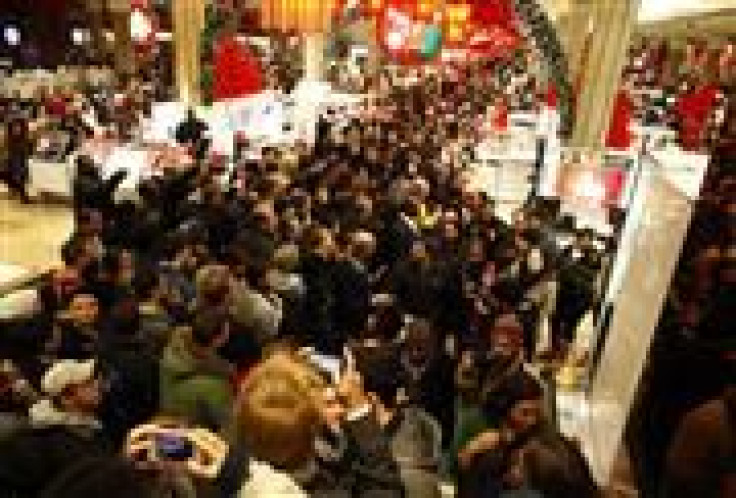 After several violent incidents broke out across the U.S. during Thursday and Friday Black Friday sales, some shoppers say the savings are not worth the risks.
On Thanksgiving night crowds of shoppers all around the U.S. hurdled their way into aisles some peacefully, some with tension, and some just out of control.
"The savings are absolutely not worth it," said Rachel Dacosta, a shopper at Century 21 in downtown New York when she learned about the incidents.
"It's disgusting how people can turn into beast over a sale," she added.
When a Wal-Mart in Los Angeles took out a crate of discounted Xbox consoles a woman who authorities are calling a "competitive shopper," sprayed mace at other shoppers, injuring 20 people to get an advantage.
Another pepper spray incident sent a young asthmatic girl to the hospital.
Security arrested a former police officer at a Wal-Mart in Kinston, N.C. and used mace to calm the crowds as they became restless and tense because a man fell into a display, reported CBS affiliate WRAL.
The former police officer, Gordon Jackson, 58, said there was no fight and police officers over reacted by using mace.
"He was raining it over the whole crowd, so it will rain down on their heads," Jackson told WNCT-TV. "Some of it got my granddaughter in her face and eyes, and she had to go the emergency room because she's asthmatic."
"Over an argument?" Dacosta told Medical Daily. "That's ridiculous!"
Shopper Matt Montell jumped in and said, "It's really not worth it."
"The people who are having the sales are the ones making the money," he added. "There are risks and no one is really benefitting by it."
Another reported incident involved a shooting during a robbery attempt in the parking lot of a San Leandro Walmart store. As reported in CBS one victim in critical but stable condition and one of the two suspects was arrested, while police search for the second man.
In a separate shooting at Cross Creek Mall in Fayetteville, N.C. police officers were searching for two suspects who allegedly fired shots outside the mall, according to CBS Affiliate WRAL. The pair were said to have run inside the mall and fired more shots. No one was reported injured.
Shopper Pavel Auxtin said the savings are not worth the risks or the lines.
"Savings don't do it for me," he said as he was shopping at a Best Buy in Caesar's Bay, Brooklyn. He said he didn't see any fights break out but he did say it was "really crowded."
Police were investigating a victim's midsection stabbing outside a Macy's store in Sacramento's Arden Fair Mall Friday morning, CBS affiliate KOVR reported. The victim was taken to a local hospital.
"It's a shame, it really is," Century 21 shopper Fannie Sullivan said. "The savings are definitely not worth the dangers."
While he said he felt safe because he doesn't usually go shopping on Black Friday he said "this is my first and probably last time."
In another incident, a 55-year-old woman was shot in the foot across the street from a Wal-Mart in Myrtle Beach, S.C. after two men demanded her purse on Friday, shortly after 1 a.m., CBS reported.
Corentin Morel, visiting the U.S. from France, said outside Century 21 that it was his first experience with Black Friday, noting stores are very busy.
When he learned about the incidents he said he was shocked better to stay away.
"The sale is not worth it if it's going to be so dangerous its better if people they stay home," he said.
But Morel says he feels safe in New York because there are many security guards around.
Another Century 21 shopper who was there with family said she still feels safe even though she thinks the savings are not worth it.
"The savings are not at all worth the risks, but I must say I do feel safe because I'm aware of my surroundings and I'm in Manhattan, there's a lot of security around," said Genny Lord of Texas.
Published by Medicaldaily.com