11 Suicide Attempts In One Day: Canada Addresses First Nation State Of Emergency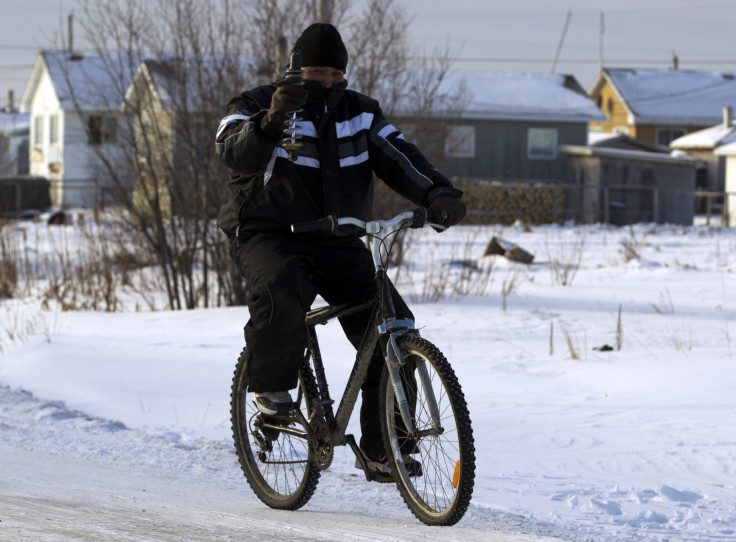 Suicide is contagious, psychologists tell us, as the desire to self-destruct has the capacity to go viral within communities and social networks. Recent reports from a remote northern Ontario First Nation village amply support this theory. In the isolated community of Attawapiskat, home to 2,000 residents, a total of 101 people, ranging in age from 11 years old to 71, have attempted suicide since last September, resulting in a single death. Sheridan Hookimaw, 13 years old, took her life in October, according to the Globe and Mail.
Now, following 11 suicide attempts in the town this past Saturday alone, Chief Bruce Shisheesh has declared a state of emergency.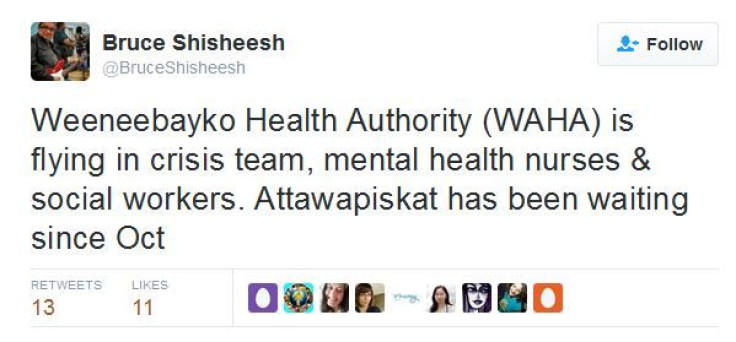 Residents of Attawapiskat count themselves among the Cree, one of the largest native groups in North America, with over 200,000 members living in Canada alone. Attawapiskat is located along a river of the same name in northeastern Ontario. The nearest urban center, Timmins, is located about 310 miles south of the isolated community. Catholic missionaries founded the village in 1893 and within the decade, the Hudson's Bay Company built the first store there. Before the village became a permanent settlement sometime around 1930, residents lived in the bush along the river.
Yesterday, Jane Philpott, Minister of Health, said along with crisis response and coordination of services for at-risk youth, Health Canada is directly engaged in the recently declared state of emergency. "But to truly improve the wellness of indigenous peoples and bring hope to communities, we must focus our efforts on improving the socio-economic conditions they face," said Philpott. Characterized as impoverished, Attawapiskat posted its most recent financial statement for the fiscal year ending in March 2015 which counts $38.3 million (Canadian Dollars) in annual revenues, C$34.9 million in expenditures on education, health, and other community services, and an accumulated surplus of C$100.3 million, consisting primarily of the value of its land.
As the community awaits help, many insiders and outsiders try to understand the spike in suicides. A January study from Health Canada reports suicide is a major cause of death among native people in Canada, both on and off the reservation. In the decade ending in 2001, suicide rates were nearly twice as high among registered Indian and Métis men and registered Indian women compared with their non-indigenous peers. In 2012, more than one in five aboriginal people between the ages of 26 and 59 reported having suicidal thoughts during their lifetime.
The same report suggests mental health factors such as mood and anxiety disorders, personality traits such as low self-esteem and hopelessness, and social factors such as marital discord may be the underlying cause of the more frequent self-destructive thoughts among aboriginal people.
Yet waves of suicide in communities like Attawapiskat are nothing new. For example, Alaska's native population suffered suicide epidemics in the past, while Greenland's Inuit population is in the midst of one now with a (disputed) highest rate in the world of 100 suicides per 100,000 people. (By comparison, the American suicide rate is about 10.4 per 100,000 people.) This, however, is a recent phenomenon, according to Jack Hicks, who notes in his historical study that "death by suicide appears to have occurred relatively infrequently in Greenland until the 1970s, when suicide rates began to increase dramatically among men born after 1950."
The Greenland rate peaked in 1986 when experts recorded 126 suicides per 100,000 people, thereafter decreasing to about 100 suicides per 100,000 people each year. While the current rate remains among the highest (known) in the world, suicide rates among Inuit in three of the Arctic Canada's four native regions may be even higher, Hicks explains. Frequent fights with family and friends, a recent life-threatening experience, expression of self-destructive intentions, and binge drinking are the most common characteristics among Greenlanders who end their own lives, he says.
Published by Medicaldaily.com