Baby, 'Little Flash Gordon,' Survives Lightning Strike In Mother's Womb; Has Static Hair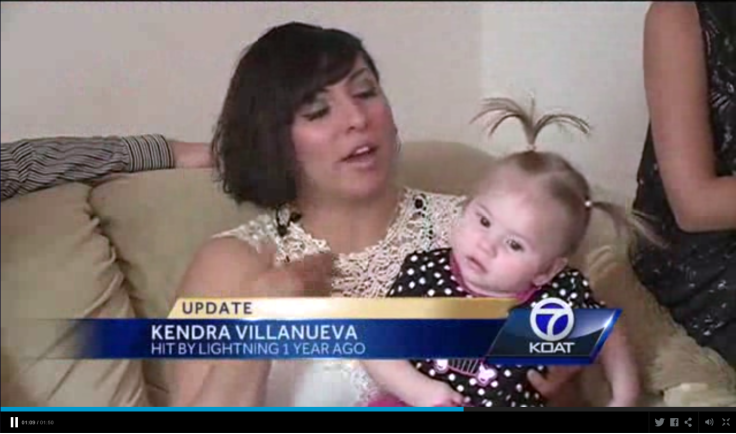 One year ago, Ian Gordon and his pregnant girlfriend Kendra Villanueva were struck by lightning when they were caught in a thunderstorm — the lightning struck through Gordon's ear, into Villanueva's body, and out of her thumb. The baby inside Villanueva survived, but one year later, she suffers neurological damage — and has static hair that stands up straight, earning her the nickname "Little Flash Gordon."
The lightning strike occurred just two weeks before the baby's due date. Falling unconscious after the strike, Kendra was rushed to the hospital, where the infant was prematurely born thanks to induced labor. "They were both awake and looking at us," Lt. Ryan Perry of the Albuquerque Fire Department told KQRE, when coming across the couple to save them. "They were dazed and confused. But we knew that there were underlying injuries that we possibly couldn't see that we needed to treat quickly and get them to the hospital."
Ian Gordon says it was a "miracle" that she survived. "Somebody's definitely watching out for us," he told KOAT News.
Despite her survival, Kimberly Gordon now faces damage due to the lightning strike — from an inability to sit up, crawl, or even digest food fully, to pin-straight hair standing up on its own as though still static. "It's hard seeing she can't eat like she's supposed to and can't have food yet, just through the [feeding] tube," Villanueva told KOAT News. "But other than that I'm glad she lived through it all."
The National Lightning Safety Institute states that there is a one in 280,000 chance of being struck by lightning. There have only been 11 pregnant women who have been struck by lightning, and only half of the babies were born healthy.
Published by Medicaldaily.com