Best Mattresses for Joint Pain and How to Sleep With SI Joint Pain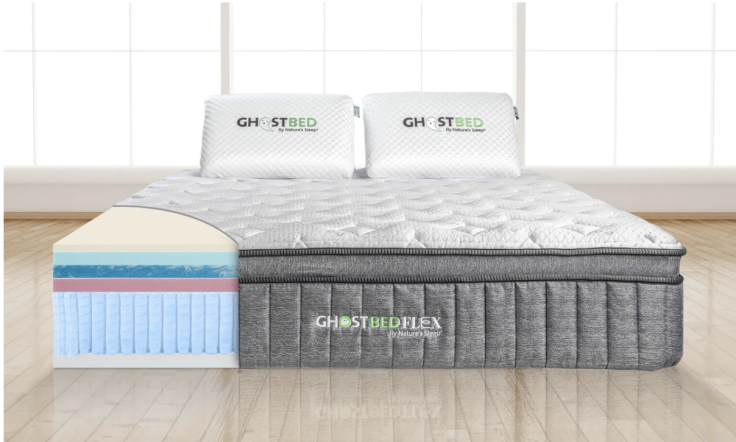 Dealing with Sacroiliac (SI) joint pain is more difficult than the usual back pain most people experience. It is the kind of back pain felt in the lower back and buttocks commonly caused by damage or injury to the joint between the spine and hips, extending to the groin and thighs. The other causes of SI joint pain are traumatic injury, arthritis, infection, and pregnancy.
Meanwhile, the pain can be aggravated by prolonged standing, carrying too much weight on one leg, stair climbing, running, taking large strides, and other strenuous activities that may harm the joints. When you often experience a sharp and stabbing pain, weakness, or numbness that radiates from your hips and pelvis down to your thighs, it might be a symptom of SI joint pain.
Can a mattress cause joint pain?
The mattress you sleep on is one of the factors that exacerbate joint pain, as well as your sleep posture. Since pain tends to worsen at night, you will have a hard time sleeping, causing you to wake up feeling sore and stiff. That's why it is important to consider a mattress that will help relieve pain or pressure on the joints and improve sleep. Your mattress might also need a replacement, especially if it's too old. So, you better check on it.
Pay attention to the firmness of your mattress, too. An overly firm mattress may restrict blood flow to your joints, which may cause stiffness or sharp pain. While a mattress that is too soft may cause your spine to fall out of alignment and contract your muscles. Invest in a soft to medium-firm mattress best suitable for you. It offers the right balance between pressure relief and support to give your body maximum comfort when sleeping or lying in bed.
Is too firm of a mattress bad for SI joint pain?
Using a too firm mattress will only worsen your SI joint pain as it doesn't provide enough support and comfort to your entire body, including your joints. Your muscles and ligaments need to relax when you're sleeping. So if your mattress is too firm, it will not properly support your spine, neck, and lower back. It will also put pressure on your joints, causing them to become inflamed.
To better the condition of your SI joint pain, you must look for a soft mattress that will provide adequate support for your body. A medium foam or latex hybrid mattress is the best type of mattress for people who have SI joint pain.
Is memory foam or hybrid mattress better for joint pain?
It can be difficult to find a mattress to support your needs if you have joint pain. Memory foam and hybrid mattresses are two great options for those who suffer from joint pain. Let us compare the two types of mattresses and help you make an informed decision about which type of mattress is best for your needs.
Memory foam mattresses are less bouncy than traditional innerspring mattresses because they have little or no coils. They also provide superior motion isolation than other mattress types that give a sinking feeling to relax the muscles and joints.
Meanwhile, hybrid mattresses, which contain both coils and foam, offer a responsive feel and pressure point relief. They frequently include a layer of latex that may be excellent for providing responsive support without allowing the spine to sink out of alignment.
You might be searching how to sleep with SI joint pain or looking for the best mattresses for SI joint pain and back pain. We rounded up some of the best mattresses you should have for a good night's sleep.
Best mattress for back and joint pain: GhostBed Flex
Firmness is an important quality in a mattress. However, a mattress that is too firm might aggravate joint pain. A medium-firm mattress adequate spine support and ease joint pressure. The GhostBed Flex has seven layers of hybrid comfort such as cooling cover, cooling fiber, gel memory foam, another one-inch gel memory foam for "GhostHug" feeling, ghost bounce layer, individually wrapped and reinforced coils, and a high-density support layer that gives a cooling effect.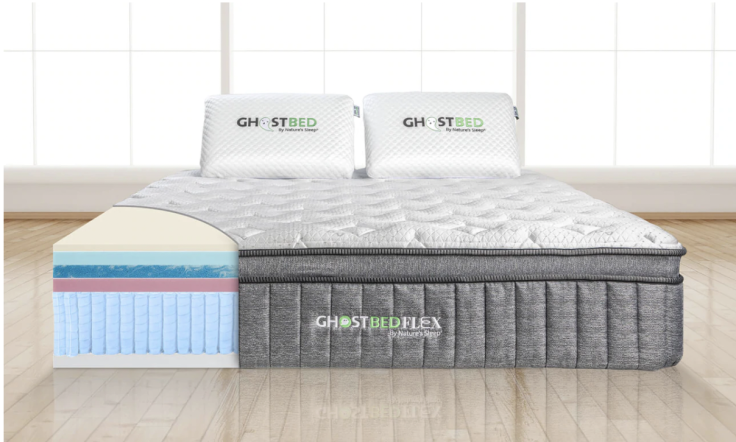 The newest 13-inch GhostBed Flex hybrid mattress combines the firm support of individually wrapped coils with the plush comfort of gel memory foam and sturdy springs for durability. It guarantees support on your back regardless of your sleeping position! This mattress contours around your hips, neck, and shoulders to relieve pressure points and prevent back and joint pain, allowing you to sleep all night comfortably long.
With the Spirited Edge support design, you can also sit comfortably at the edge of the bed without slipping off. The GhostBed Flex is perfect for improving your posture and preventing back and joint pain while sleeping.
Best mattress for joint and muscle pain: GhostBed 3D Matrix
An ideal mattress for joint and muscle pain must keep your head, shoulders, and thighs in proper posture when sleeping. The GhostBed 3D Matrix features seven layers of comfort, including patented gel polymer to keep your body cool all night long. So, you won't wake up drenched in sweat anymore, which may cause heat cramps and muscle spasms. With its super soft transition foam, it will also help you sleep faster and longer—no matter what type of sleeper you are.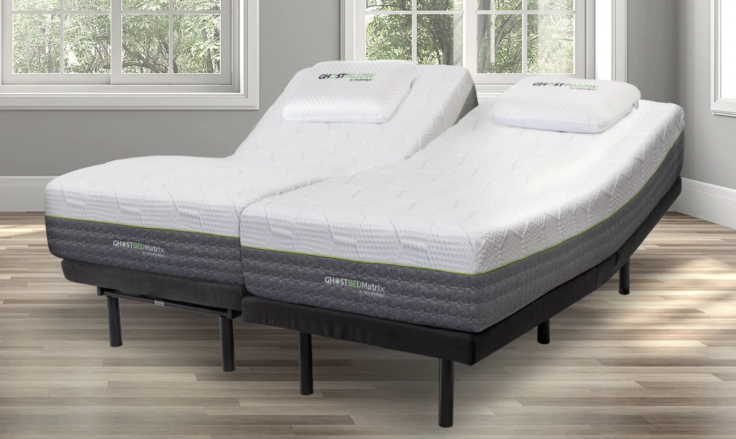 The high-density foam improves proper spinal alignment and supports the joints without being too firm. Thanks to its Thermal Conductive gel polymer, the GhostBed 3D Matrix also adjusts to different body shapes and temperatures to provide 100 percent comfort whether you're sleeping or just lying in bed, making it suitable if you are experiencing joint and muscle pain. Each layer bends and stretches in three dimensions for pressure relief. You will surely wake up feeling refreshed and without experiencing any pain in the morning!
Best mattress topper for joint pain: Ghostbed Mattress Topper
Aside from the mattress itself, the mattress topper you use also contributes to joint pain as it adds another layer of protection to your entire body when sleeping. So if you want added comfort, you would love the GhostBed Mattress Topper! It has cooling and waterproof protection with deep-pocket cotton cover doubles and a breathable mattress protector that keeps your joints relaxed.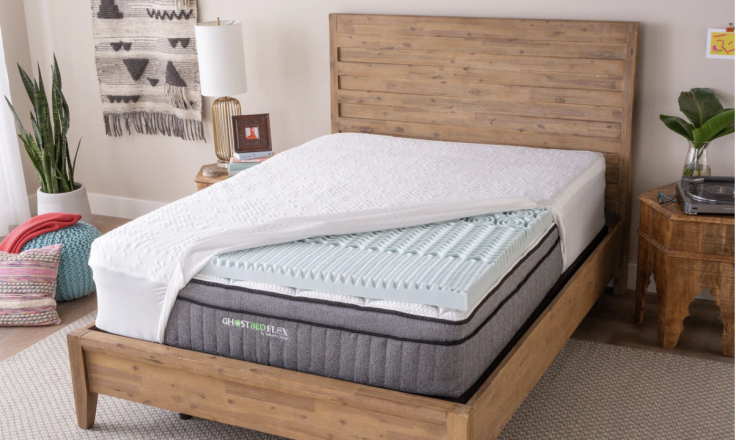 A quality mattress topper is a must to relieve pain and discomfort by offering firm support without putting pressure on the joints. The two-inch signature GhostGrip elastic band securely holds the topper in place, while the three-inch cooling gel memory foam cradles your body for maximum comfort. It also gives extra pressure relief on the head, shoulders, legs, and feet, preventing back and joint pain.
Latex mattress for SI joint pain: GhostBed Natural Mattress
An overly firm mattress will not fully support the body, causing SI joint pain and misaligning the spine. Meanwhile, an excessively soft mattress will only cause the pressure points to sink in too deeply and fall out of alignment with the rest of the body. The GhostBed Natural Mattress is made of eco-friendly and sustainable but durable materials such as latex, wool, and cotton suitable for SI joint pain. You will sleep naturally better with its five layers of comfort, support, and cooling!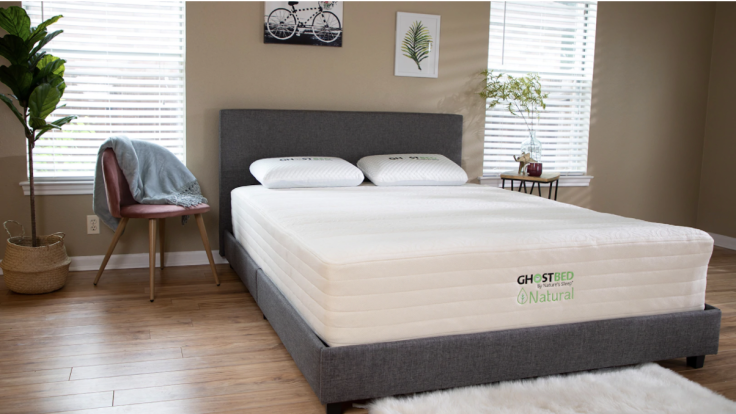 The Genuine Dunlop and Talalay latex works together to ease back pain and support the spine. It has a pure and clean cover, cooling latex core, airflow-enhancing coils, and heat-dispersing natural wool to keep you cool while sleeping at any time of the day. The Spirited Edge support also provides structure and prevents sagging at the edges of the mattress. Maintain your healthy and environmentally-friendly lifestyle with the GhostBed Natural Mattress.
If you prefer a mattress that is good for your body and the environment, here's the best option for you! It meets the same quality and comfort standards as the GhostBed mattresses.
Best mattress for hip joint pain: Nature's Sleep Laurel Mattress
To alleviate hip joint pain, consider a latex or foam mattress that can conform to your body without causing pressure points. Make sure to choose a mattress that is neither too soft nor too hard to provide enough support to your hips. This 12-inch hybrid gel memory foam mattress is the best option for those having a hard time sleeping or experiencing hip joint pain. Its thick but soft layers won't allow your hips to shrink in bed while you're sleeping.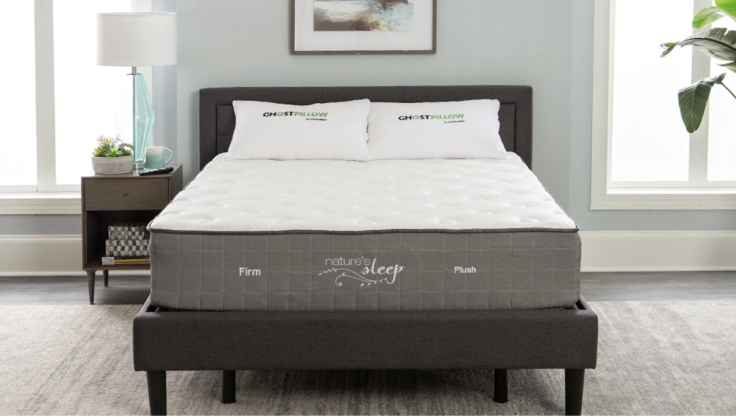 The combination of gel memory foam, ViTex Latex-like memory foam, and high-density foam core helps keep your hips aligned, improves your sleep posture, and gives long-lasting comfort. It also has an individually wrapped innerspring unit and cool touch cotton blend quilted cover that fits in different bed sizes.
The cool flow fiber feature assures that you won't sweat while sleeping, even at a dry or hot temperature. It protects you from hip joint pain as it cradles your hips and entire body for full support when you're asleep. You can relax all day long and you might not want to leave your bed anymore!
Can the way you sleep affect SI joint pain?
Many people are curious about their sleeping position and how it affects SI joint pain. The way you sleep has a great factor that may affect SI joint pain. Since you're unconscious when you're asleep, your sleeping position may be exacerbating the pain, and it may worsen if that specific sleeping position becomes consistent every night.
However, it is difficult to say whether one position is better compared to another because everyone has different needs. If you want to find out which position will relieve your SI joint pain at night, you should experiment with different positions for several weeks and see what works best for you.
Best position to sleep with SI joint pain
Aside from replacing your mattress with a better one, you need to work on your sleeping position, too. Joint pain can worsen at night because of poor sleeping posture and lack of movement. Lying on a good mattress will not work alone to relieve SI joint pain. Finding and maintaining the proper sleeping positions is necessary to relax your joints and avoid twisting them as you sleep for hours.
Since SI joint pain usually occurs on one side of the body, be aware of which side is painful for you to relax it more. The common sleeping position is sleeping on the back. To make this sleeping position comfortable when dealing with SI joint pain, place a pillow beneath your thighs to help to posteriorly tilt your pelvis back towards a neutral posture and reduce pressure on the SI joints.
Sleeping on your side is the best position as well. But it usually puts more pressure on the bottom hip. You may find relief by sleeping with the painful side facing up. SI joint pain may also be felt in the groin area, even with the painful side facing up, you can try placing a pillow between your knees and ankles.
On the other hand, sleeping on your stomach can cause an over-extended position on the lower back and pelvis, putting extra pressure on the spine and SI joints. Sleep more comfortably by placing a small pillow on your lower abdomen and top of your pelvis for your spine and pelvis to stay in a neutral position. It will reduce compression and pressure on the SI joints.
Sleeping on your back, stomach, and side are the best sleeping positions for SI joint pain. However, remember to manage the proper way of sleeping in those positions and provide support on the pressure points using pillows. With that, you can reduce the pain and discomfort caused by SI joint pain when sleeping.
How to sleep with SI joint pain in pregnancy
It is very difficult to deal with SI joint pain when you're pregnant. In this condition, one of the most affected on your routine is your sleep. Joint pain during pregnancy can be caused by multiple factors, including increased weight and pressure on your joints, hormonal changes, and such.
Keeping your body in a neutral position is highly advisable if you're pregnant and experiencing joint pain. You can also sleep on your back or side as long as you use some pillows to provide extra support to your body. It is best to place a pillow between your legs and thighs, starting at your pubic bone and down toward your knees.
Make sure that both of your knees are bent. Do not sleep with one leg straight and the other bent because it may twist your joints. It is necessary to use a pillow to support your baby bump or stomach as well.
Published by Medicaldaily.com