Best Skin Care Products 2021: Create Your Own Skincare Routine Items Based On Your DNA
Not sure about how to establish a good skincare routine? With so many tips, treatments and products available these days, it can get quite overwhelming.
Here, you'll find effective skincare tips to help you put together a good routine, as well as how PROVEN Skincare, a DNA-based skincare line, can help you achieve the results you want.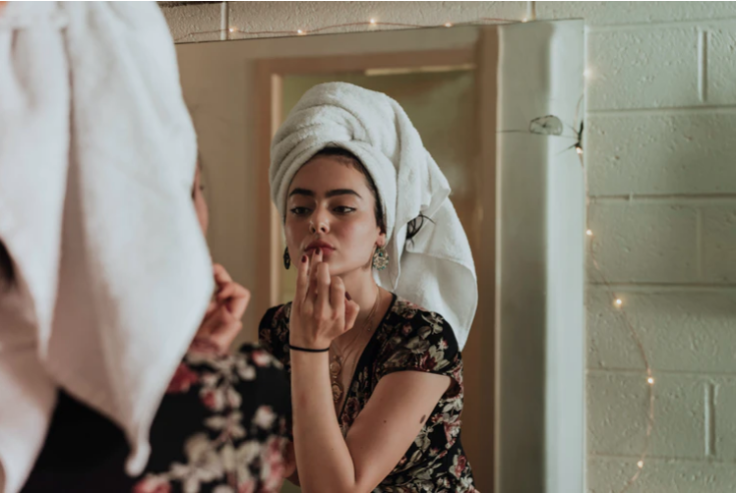 DNA-based Skincare?
Establishing an effective skincare routine can lead to a lot of trial and error at the start. You might find products that are okay, some so-so and if unlucky, damaging to your skin. So how do you avoid having to guess which products will work well with your skin type? Try DNA-based skincare.
As there are more skincare innovations being developed to help solve everyday skin concerns, DNA-based skincare was eventually developed. This offers a more preventive approach, which is much better than having to address existing problems.
San Francisco-based PROVEN Skincare is a company that offers such products. They help clients have a more personalized approach to taking care of their skin, making it more effective.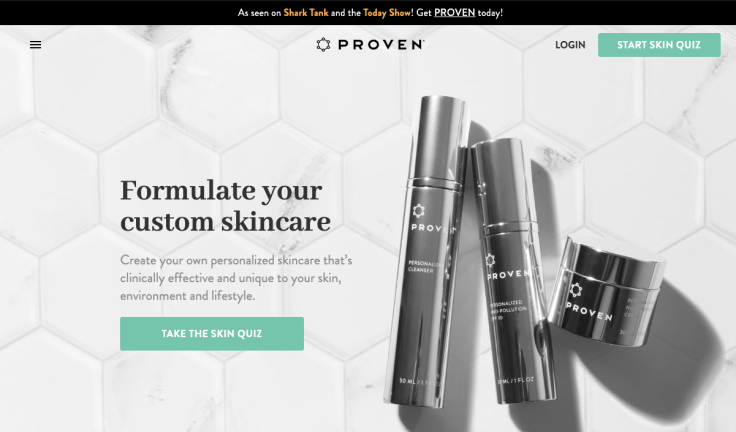 Personalized Skin Care Routine
Launched in November 2018 by founder and CEO Ming Zhao along with data scientist and computational physicist co-founder Amy Yuan, PROVEN Skincare differentiates itself from other skincare brands on the market by offering products that are literally made for you.
For years, both women struggled with finding skincare products to treat their own skin conditions. Tired of looking, they created an AI platform now known as The Skin Genome Project. The winner of MIT's 2018 Artificial Intelligence Award, The Skin Genome Project completely revolutionized the beauty industry by using computational science to analyze the effectiveness of over 20,000 skincare ingredients, along with more than 100,000 products, 8 million testimonials and reviews from over 4,000 scientific journals.
From there, the PROVEN Skincare line was made, a clinically effective line that uses computational data to provide personalized treatments for customers' unique skin types and lifestyles.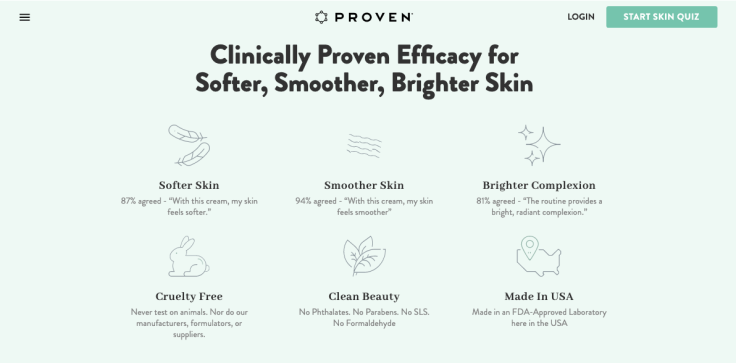 How Does PROVEN Skincare Work?
The process starts with an in-depth quiz about your skin on the PROVEN Skincare website. Sample questions include, is your skin oily or dry; how your face feels after a shower; what your skin tone is; what are your dietary habits and even your zip code as your skin tone is directly affected by your living conditions.
These answers will be used to create a personalized set of PROVEN's product line, which includes:
Personalized cleanser
Personalized SPF day cream
Personalized night cream
Simple but clinically effective, each of these products makes use of new ingredients that are a match for your skin. Each item is meant to last for at least two months, with PROVEN Skincare suggesting you re-take the quiz every five to seven weeks if you plan to keep using the products. This is because there may be changes to your skin caused by various factors.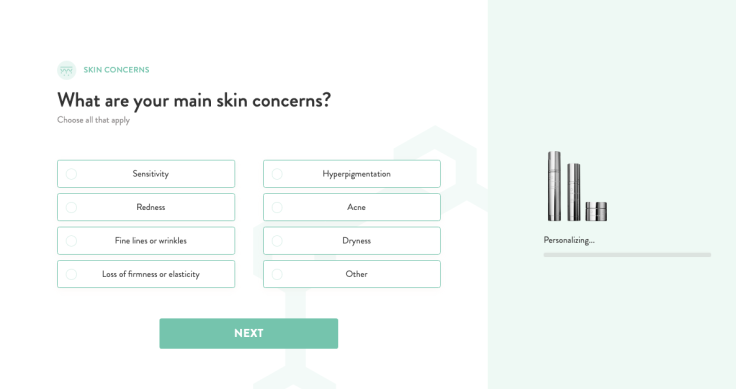 Each set will also come with information cards that will help you understand how the results of the quiz translate to the ingredients used in your personalized set. As for pricing, each product is priced at:
Cleanser: $35
SPF Moisturizer: $55
Night Cream: $95
However, you can order the entire set for only $145. With an auto-fill membership, the 2-month supply will only cost $119 and the fourth set comes free.
What Ingredients Does PROVEN Skincare Use?
All of PROVEN Skincare's formulation is 100% clean and non-toxic, made in an FDA-accredited U.S. laboratory. They do not contain phthalates, parabens, palm oil or any formaldehyde. All of the products are also guaranteed 100% cruelty-free.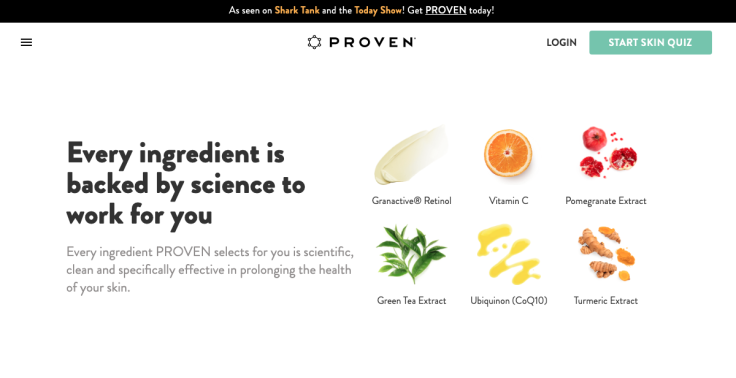 There are really no "key ingredients" that PROVEN Skincare follows since all of the formulations are created for you based on your answers to the quiz provided. The assessment takes into account your genetics, ethnicity, climate, lifestyle and even your skin goals so that each skincare regimen it creates is very personalized.
According to PROVEN Skincare, there are top 10 "proven to work" ingredients that are usually used in their formulations like:
Hyaluronic Acid
Alpha-Hydroxy Acids (AHAs)
Vitamin C
Vitamin E
Niacinamide (vitamin B3)
Algae Extracts
Green Tea
Ceramides
Retinol
Argan Oil
All of these ingredients have sufficient research that supports their skincare benefits. All of the formulas are also developed with Dr. Tyler Hollmig, Head of Aesthetic Dermatology at Stanford University, guaranteeing that the products are backed by science, data and industry experts.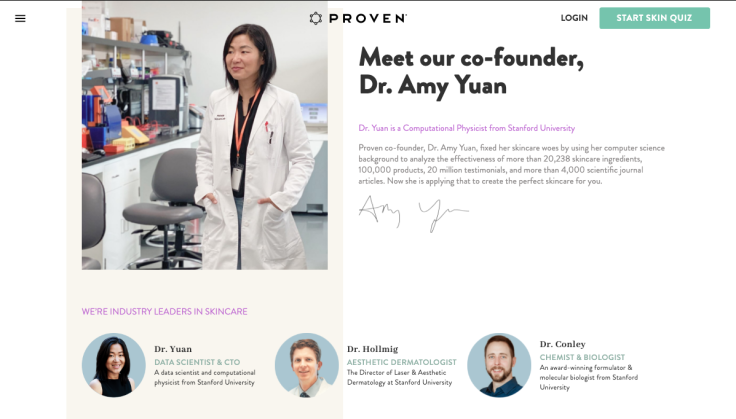 How to Use the PROVEN Skincare System
The PROVEN skincare routine is very simple: just cleanse and moisturize. If your skin is oily and acne-prone, the brand recommends cleansing daily. If you have normal or dry skin, then cleansing only once in the evening is encouraged. After cleansing, follow it with the moisturizer or night moisturizer, depending on what time you wash your face.
PROVEN Skincare Reviews
PROVEN Skincare reviews are very positive. TrustPilot also gave the brand 4.1/5 stars out of 127 reviews. Customers also said that the products are effective and produced visible results with consistent use. PROVEN's customer service has also received good remarks for how they handle concerns or questions.
Reviews posted on ProductHunt also had similar sentiments, with many saying that their skin felt far more hydrated, clear and balanced ever since they started using the brand. Many also suggest that the best way to find out is by trying the skincare system yourself.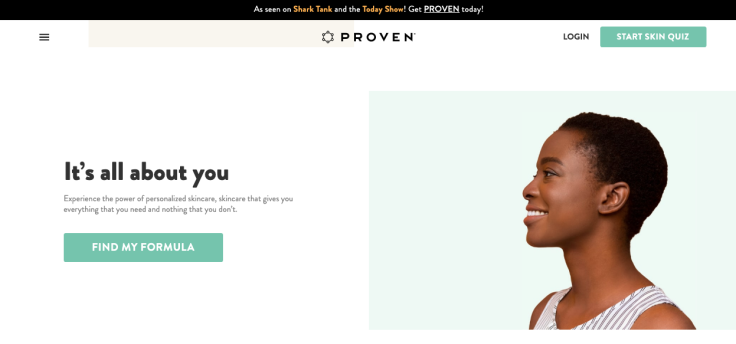 Conclusion
The brand has simplified the process of having a personalized skincare routine through reliable data, achieving great results.
With PROVEN Skincare, there's no more need for trial-and-error, which is a waste of money. Enjoy the best skincare right at home -- all you need to do is answer the quiz and get started on your new personalized skincare routine.
If you're ready, visit PROVEN Skincare's website and take the quiz by clicking here.