Boston Bombing Survivor, Jane Richard, Sings National Anthem At Red Sox Game With New Prosthetic Leg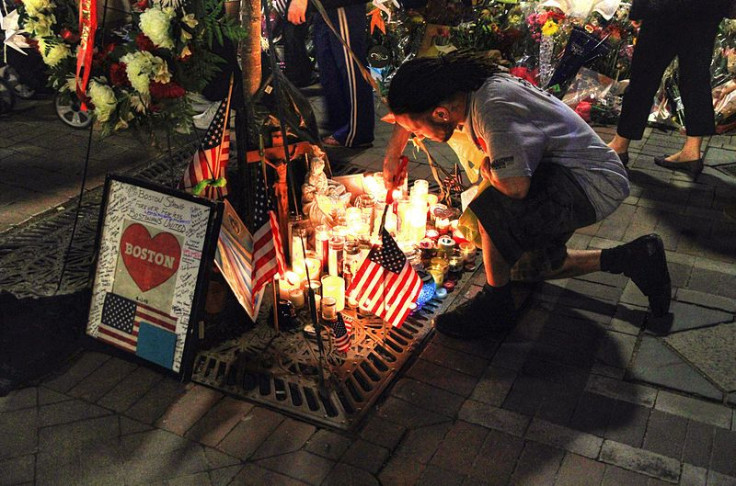 Fenway Park was the site of smiles, tears, screams, and laughter on Sunday night as the Boston Red Sox narrowly defeated the Detroit Tigers 6-5 with a game-tying grand slam in the bottom of the eighth inning. Red Sox designated hitter, David Ortiz, or "Big Papi," was one of the heroes of last night's game, but the biggest hero of them all wasn't even on the roster. Wide-grinned seven-year-old Boston bombing survivor, Jane Richard, took center field as she joined the children's choir of St. Ann's Catholic Church to sing the national anthem with her new prosthetic leg, the Daily News reports.
Jane and her family were standing near the finish line of the Boston Marathon on April 15 when a bomb went off just a few feet away. The seven-year-old girl lost her leg and both her parents suffered minor to severe injuries. Jane's oldest brother Henry was able to escape harm, but her eight-year-old brother Martin lost his life.
Jane's mom Denise, suffered a brain injury but the severity of her injury has not been disclosed to the public. Her dad, Bill, had to have ball bearings removed from his leg as a result of the Boston bombings. "Ball bearings are meant as antipersonnel munitions," said Congressman Stephen Lynch (D-Mass) told the Daily News in April. "They were trying to cause carnage here."
In a Tumblr created by the Richard family to communicate and clarify information regarding the Boston bombing aftermath, the family recently spoke of their daily struggle after losing Martin in a post in August. "An hour doesn't go by that we don't feel the agony of Martin's death and the senseless way it came about," they wrote in a statement. "But it is not all heartbreak for our family, as we are making progress on this long, difficult and painful road forward... Jane continues to be an incredible source of inspiration — and exhaustion. The loss of her leg has not slowed her one bit, or deterred her in any way," they continued.
Jane was a source of inspiration for the fans at Fenway Park and the millions of viewers at home when she confidently walked the field with her new prosthetic leg after undergoing 12 surgeries. After losing her leg, Jane spent 39 days in an intensive care unit (ICU) but miraculously survived. The seven-year-old girl spent three months in hospitals and hundreds of hours of physical therapy and other rehab treatment at Spaulding Rehabilitation Hospital until she was discharged in August.
Following her discharge, Jane has become more comfortable with her new prosthetic leg. Although she can't wear it all the time yet, according to the Richard family, when the young girl has it on, she "struts around on it with great pride and a total sense of accomplishment" as her strength, balance, and comfort with the new leg improve every day.
Jane can even dance with her new leg while her weight is primarily on the other leg. She's an enthusiastic Irish dancer who has attended classes at the Clifden Academy of Irish Dance in Milton since the tender age of three, the Daily Mail reports. The loss of her left leg has not deterred Jane from her dreams and trying to live life like any other seven-year-old girl.
The family continues to draw inspiration from their daughter Jane while honoring the memory of their lost son Martin. To read more about the Richard family's personal struggles in the aftermath of the Boston bombings, visit their Tumblr: http://richardfamilyboston.tumblr.com.
Published by Medicaldaily.com