Boston Bombing Victims Getting Back Up And Running: The Process Behind Prosthetics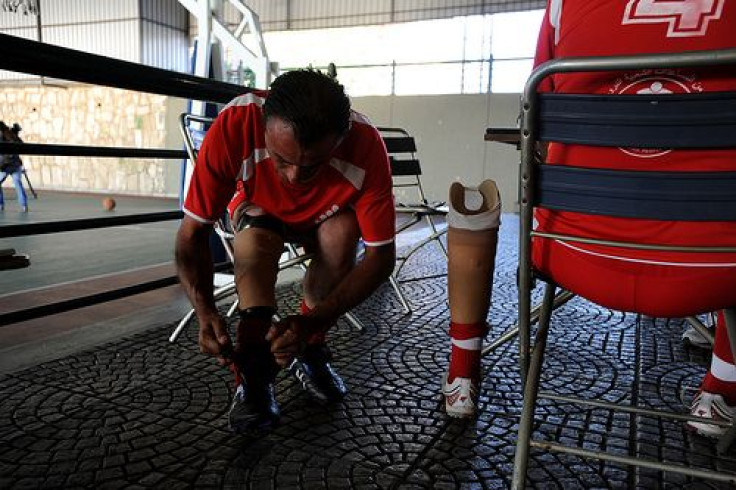 Nearly six months after two pressure cookers exploded near the Boston Marathon's finish line, killing three and injuring over 250, many of the bombing's victims have taken the first steps on the road to recovery, with dozens convening at a clinic on Sunday designed to help them regain mobility.
The running clinic was put on by the Challenged Athletes Foundation, an organization that helps amputees return to sports. Held at a Harvard University athletic facility, the clinic included Boston bombing victims, military veterans, and other amputees. Coach Bob Gailey had the participants running drills, navigating an obstacle course, and teaming up for group events. Despite the occasional stumble or awkward step, celebration abounded.
''The most inspiring stories are at the back of the pack,'' two-time Boston Marathon winner, Joan Benoit Samuelson, said at the clinic's outset. ''Our motto is 'There is no finish line.' There are always more challenges out there. You people who came out today are the spokesmen for those challenges.''
New Limbs, New Life
As medical science tinkers with lighter, more comfortable materials, prosthetic limbs have increasingly become the go-to solution for people with amputated limbs, as more and more people shirk crutches or wheelchairs in place of bionic-feeling carbon fiber blades. But the process of relearning how to perform one of the most basic actions, while incorporating the technology into daily life, can often be a humbling one.
Full rehabilitation with prosthetic limbs, depending on the severity of the amputation, usually begins 10 days to two weeks after surgery, and can last several months before full mobility returns. The site of the amputation, level of care given to it, and overall patient attitude significantly influence how long rehab takes. Even six months after the Boston bombings, many event attendees saw difficulty using their false limbs for advanced movements, such as running and turning sharply.
Heather Abbott, a marathon participant who had her left leg amputated, said getting used to having four different prostheses makes restoring full dexterity difficult.
''I'm trying to do all the things I used to do,'' Abbott, who has different legs for swimming, running, wearing high heels, and a blade for everyday use, told the Associated Press.
Her challenges echo many of the obstacles faced by bombing victims who seek to maintain a varied, active lifestyle. Where people with two sound legs can simply switch shoes, say, when going between walking and running, amputees must consider their entire leg as a unique, activity-specific mechanism. Rehab may cover one base and get a person back on their feet, but putting one foot in front of the other is usually only the beginning.
''You can have a running prosthesis sitting in the closet. You have to be trained on it to have its full benefit,'' Matthew Albuquerque, president of Next Step Bionics, the prosthetics company who donated devices to most of Sunday's participants, told the AP. ''I can't tell you how great it is to provide these opportunities for people who never thought they were going to walk again to get out on the field. This is about making people feel good about themselves.''
Basic rehab generally begins by acclimating the patient to his or her new limb. This often entails using a set of parallel bars to offer the patient early support, as many of the challenges with new limbs concern balance and coordination. Putting a body's full weight on a new prosthesis could result in unexpected collapse, particularly if the patient still has one sound leg. Gradually, the patient will decrease reliance on the bars and get used to walking freely. Training more agile movements, such as those facilitated by a strong, flexible knee, requires a longer timeline.
As many of the amputations took place above the knee during the Boston bombing, advanced devices employing a knee and ankle joint become more necessary. Luckily, there are as many as 100 different prosthetics in use serving that purpose — and many with varied mechanisms, including hydraulic-controlled devices to control walking speed and computerized models that auto-adjust to fit a person's gait.
Still, past the myriad advances, some of the most minor discomforts can become major issues.
Event attendee Roseann Sdoia has had to use a cane and crutches ever since the bombing stripped her of her right leg, just above the knee. Recently, Sdoia's biggest pain has been the blisters that have begun forming near the socket of her prosthetic. Her sores prevented her from getting a running leg at the clinic and sidelined her during the event.
''Today was going to be the day. I was excited to get it, because even if I only took two steps today, I'd take three steps tomorrow," she said, beneath a canopy out of the rain. ''But now I'm back to Square 1, waiting."
Published by Medicaldaily.com