Brains Before Beauty: New Dating App, 'Willow,' Asks Personality Questions Before Showing Pictures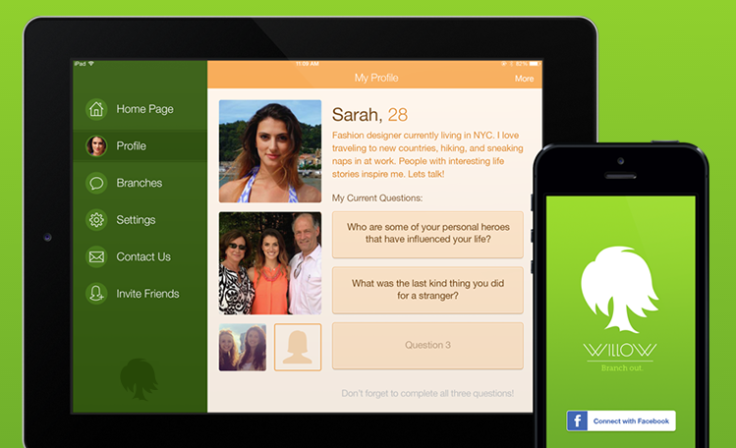 Unlike many current dating apps, "Willow" users' first impression of their potential soul mate isn't based on physical appearance.
Tinder, Grindr, and Down Dating are among many dating apps encouraging users to find a potential partner based on a "hot or not" system. Determined to put the social back in social media, Willow wants it users to answer a set of personality questions before showing their pictures. The app is free to download, and a Facebook account is required in order to link your account to the app.
Upon linking the app to your Facebook account, a geo-locator is used to pin point other people in your area. You will then be asked three questions the user has created. Potential questions can range from more serious, such as, "Who are some of your personal heroes that have influenced your life?" to much sillier, "If your hair was a type of pasta, what kind of pasta would it be?" You have the option to skip questions you don't like and answer the ones you do. When you're comfortable, you may reveal your photos.
"What I realized was missing from a dating app, or an app that is meant to be social was an actual conversational aspect," Willow founder, Michael Bruch, told Elle. "I wanted to create an app that got people talking."
Twenty-three-year-old Bruch came up with the concept while attending a guest lecture at New York University on empathy. From the lecture, he learned humans are more empathetic than we think, and then he decided to create an app reflecting this, while serving the dating community. Willow's tagline is: "Branch Out."
"On a daily basis, you are willing to talk to a large variety of people, depending on what they have to say," Bruch told Elle. "Social media should reflect that. Human interaction is more complicated than just a picture."
Willow was released Aug. 6 and is available to download from the iTunes Store. Willow is currently only available for iOS but is coming to Android soon.
Published by Medicaldaily.com