Breast Is The Best? China Considers Ban On Infant Formula Ads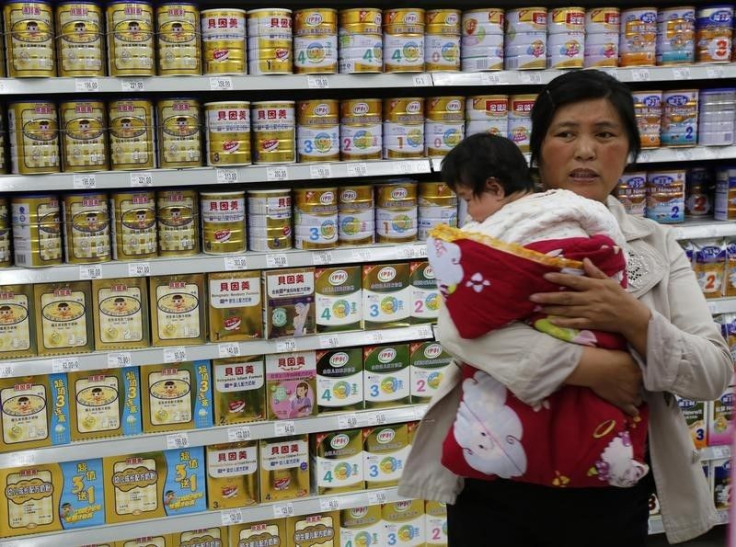 SHANGHAI (Reuters) - China is considering a ban on advertisements for infant milk formula in a bid to tackle low levels of breast feeding, the official Xinhua news agency said on Monday, a potential headache for firms targeting the country's near $18 billion market.
The draft would ban adverts in mass media or public places for dairy products, drinks and other foods that "claim to partly or completely substitute mother's milk", Xinhua said.
Less than a third of babies are exclusively breastfed in China and the number is falling despite global health bodies recommending the practice for babies under six months.
At the same time, China's infant formula market is set to grow to more than $30 billion by 2017, according to consultancy Euromonitor, making the country a magnet for dairy firms such as Danone SA, Mead Johnson Nutrition Co and New Zealand dairy exporter Fonterra Co-Operative Group Ltd.
China has been cracking down on quality and corporate malpractice in the sector over the last couple of years, fining mostly global milk powder makers for price fixing in 2013 and probing firms for bribing doctors to promote sales.
The new proposal would mean advertisers, clients, agents and publishers that violated the rule could be fined up to 1 million yuan ($161,220), Xinhua said. It added the amendment to the county's Advertisement Law was currently being reviewed.
China's State Council, the country's cabinet, aims to raise the exclusive breast feeding rate to 50 percent by 2020.
(Reporting by Adam Jourdan; Editing by Alex Richardson)
Published by Medicaldaily.com