Broga: Trendy Yoga For Men Combines Strength Training With Flexibility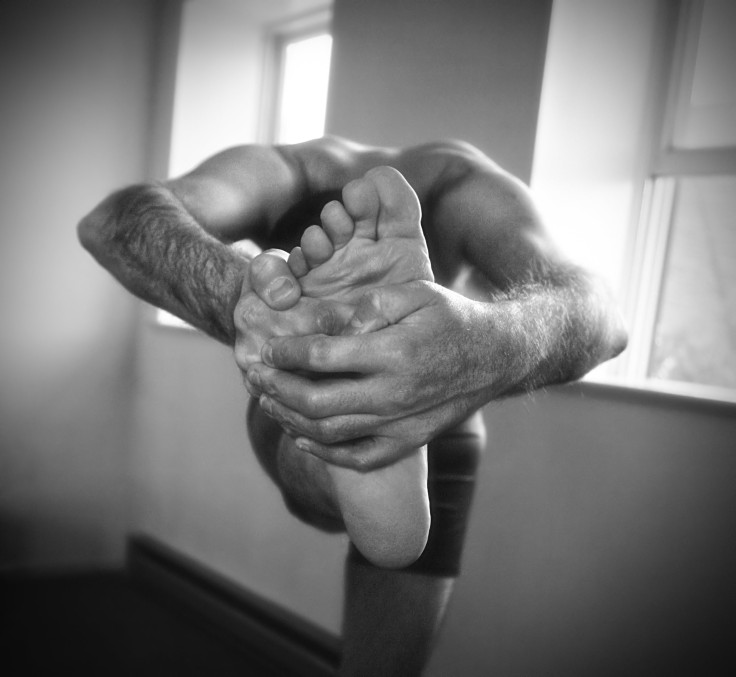 A new trend in yoga has attracted a new type of clientele: men. More guys are getting into studios and working on their downward dog with a new version of the zen-infused exercise called "broga." Yoga-for-bros classes are opening up all over the United States, combining core-strengthening, muscle toning, and cardio exercises geared toward improving flexibility and blood flow and ultimately increasing muscle efficiency.
"We're here to exercise, we're here to feel good. There's no chanting, there's nothing kind of overt about it," Ryan Farrell, Broga instructor from Aerial Fitness in Riverhead, N.Y., told FOX News. "You're exercising with a bunch of other guys. It's all cool."
According to the official Broga Yoga website, "Broga is a yoga class geared for men (where it's okay if you can't touch your toes)." The overall goal of the pioneered practice of broga is to offer men coping tools to deal with daily stresses and demands in a healthy way. This alleviation of the stressful day-to-day helps balance the body's core and strengthens the quality of cardio workouts, instead of requiring just weightlifting or creating joint tension.
"If you tell a guy, 'With a straight leg, reach down and touch your toes,' they can only make it mid-thigh, maybe, and they're done," Farrell said. "A lot of guys... tend to focus on upper body, they will stretch out their arms...but their back carries a lot of tension."
Yoga has been flexing and destressing people as early as 3000 B.C. It shares many characteristics of the Hindu and Buddhist religions, although Buddha, who started teaching Buddhism during the 6th century B.C., stresses the importance of medication and practice of physical postures in order to optimize breathing. Since then, it has remained one of the greatest, healthiest exercises in practice today.
The latest 2012 yoga study, "Yoga in America," was released by Yoga Journal, and shows that there are currently 20.4 million Americans practicing yoga, compared to the 15.8 million in 2008. With the 29-percent increase, those who practiced yoga spent 10.3 billion dollars each year on yoga classes, equipment, clothing, vacations, and media. That is almost double what it was in 2008, which was at $5.7 billion. The study not only revealed the booming industry of yoga, but also of the large gender gap. Only 17.8 percent of men practice yoga compared to the 82.2 percent of dominant women practitioners.
There are many reasons the interest in yoga has grown exponentially in the last few years. The study reveals that there were many reasons to try yoga, with the following ranked as the top five: 78.3 percent of people that practice do it for the flexibility, while 62.2 percent said it was for general conditioning, 59. 6 percent use yoga for their stress relief, 58.8 percent practice to improve overall health, and 55.1 percent just do it for the physical fitness.
"I've never sweated this much in a yoga class, and I've never had the burn quite as much in the quads and in the core," said 22-year-old Sean Fender, who got hooked after his first broga class.
The mind behind the men's yoga mat is Robert Sidoti, co-founder and creator of broga. As a certified yoga instructor, personal trainer, and athlete, Sidoti set out to provide an optimal, balanced fitness program for men.
Co-founder and president of broga is Adam O'Neill, who grew up in a very active and athletic household, which included yoga practices. O'Neill wondered why it was only targeted toward women and began to champion the brand in Massachusetts, which was only the beginning of his newly acquired territory in the world of meditation.
The love for broga has spread across the country and into many major cities, including Los Angelos and Manhattan. Classes are currently available at various locations in Massachusetts, California, New York, Florida, and Missouri.
"Sometimes it can be intimidating with the girls int here that can bend into a pretzel, and you're just sitting there like, 'Okay...just trying to keep my back straight,' and trying not to break anything," Fender said.
Source: Harris Interactive Service Bureau. Yoga in America. Yoga Journal. 2013.
Published by Medicaldaily.com