Buffalo Bills Cheerleader Handbook Sets Rules For How To Talk, Eat, And Even Wash Their Genitals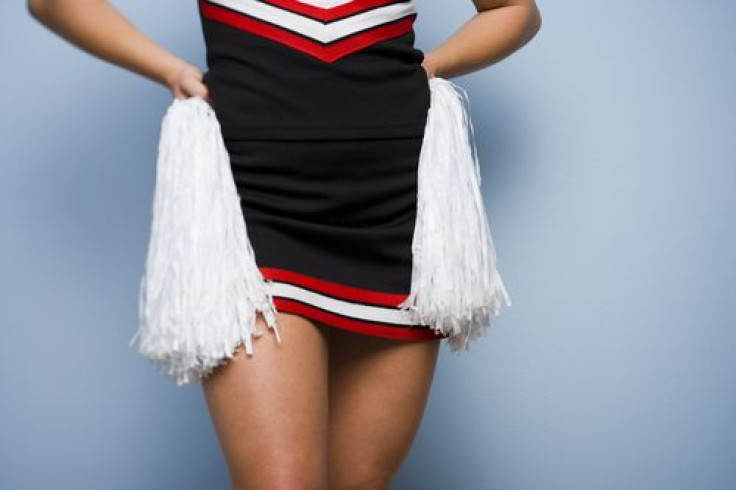 The Buffalo Bills cheerleaders, known as "Jills," have high standards to reach, according to their lengthy "NFL Buffalo Jills Cheerleaders Agreement & Codes of Conduct" provided by the organization — and they aren't even getting paid. The 2013-14 rule book provides a list of various beauty, hygiene, and social requirements the cheerleaders are expected to fulfill, which was released to Deadspin by a law firm representing five former Jills who are suing for alleged violations of multiple New York Labor Laws.
The list of NFL cheerleaders suing their respective teams grows, as the Jills sue Citadel and Stejon for giving them rules and regulations to comply, or face the threat of penalty. These conclave rules were neither what the cheerleaders expected when they first signed the contract, nor did they expect to not be paid for 840 hours of work, which required undergoing a "jiggle test" to see how fit they were. They were also subjected to other forms of sexual harassment, such as being ordered to sit on men's laps.
They were not paid for cheering on game day, attending practice, making personal appearances at events, and when they received tips during the mandatory Jills Golf Tournament, they were forced to turn them in to management.
The civil action was filed in a Supreme Court, which seeks reimbursement for the pay they were not given as well as financial coverage of their legal fees. When the cheerleaders experienced the unorthodox rules and were cheated of their pay, they were working for Citadel and Stejon, the management companies that the Bills have outsourced since 1986.
The emotional toll the women must've faced during their time spent cheering for the Buffalo Bills is incalculable. The Department of Labor determines the severity of the work violation if the conduct was physically threatening or humiliating, or an offensive verbal exchange, along with if it interfered with work performance and affected the employee's psychological well-being. Read some of the code of conduct rules the Bills cheerleaders were required to sign their name to and decide if they're violations.
10 Code of Conduct Rules from the Cheerleader Handbook:
ALWAYS shower after a workout and change undergarments.

Bread. Should be torn to eat and/or butter, not cut with a knife. Do not overeat bread at a formal setting.

Never debate politics, religion, or any other sensitive issues while dining.

Intimate areas: Never use a deodorant or chemically enhanced product. Simple, non-deodorant soap will help maintain the right PH balance.

When menstruating, use a product that's right for your menstrual flow. A tampon too big can irritate and develop fungus. A product left in too long can cause bacteria or fungus build up. Products can be changed at least every four hours. Except when sleeping, they can be left in for the night.

Do not use slang in conversations. Never use words/phrases such as: "like," "I seen it," "You's guys," "dude," "them guys," "pee," and "ain't."

Do not consume conversations and watch body language. Be aware of female companions and children. Always turn the conversation back to the other person. Never flirt!

Always say "excuse me" when you burp, sneeze, or cough. Even if you think there isn't anyone around.

Do not be overly opinionated about anything. Do not complain about anything — ever hang out with a whiner? It's exhausting and boring.

Watch other poor manners or nervous habits such as: nail-biting, knuckle/neck cracking, excessive sniffling, and too many arm movements.
Published by Medicaldaily.com