Burger King Is The New Black: Japan Stores To Offer Black Buns And Cheese For A Limited Time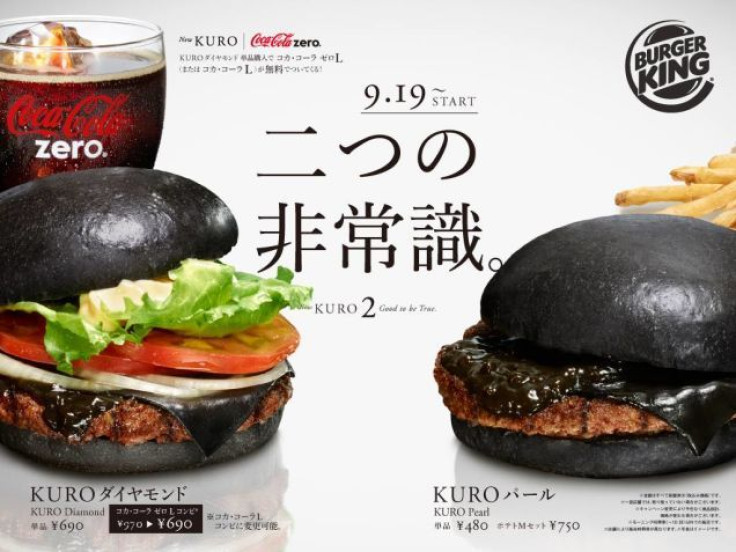 Hamburger buns made from bamboo charcoal and smothered in garlicky, squid ink ketchup sounds super delicious, right? Lucky for you (if you're living in Japan), you'll have a chance to order them from Burger King.
Starting Sept. 19, Burger King Japan will offer the "Kuro Burger" — a black cheeseburger in which the buns and cheese get their black hue from the bamboo charcoal and ketchup. Bamboo charcoal comes from bamboo plant parts and is burned at high temperatures in the oven. It also comes as a dust or powder, which is most popular to cook with in China.
Patrons will have the chance to order a plain Kuro burger, called the Kuro Pearl, or they can order a Kuro Diamond with all the fixings: mayonnaise, lettuce, tomato, onion, and ketchup. Both are served with fries and a drink.
According to Kotaku, McDonald's China was the first to offer their customers black buns. And BK Japan first followed suit when they offered the Premium Kuro Burger back in 2012, promising customers it would "punch them in the mouth with taste." It must have sold well if two new versions are on their way back.
But, black cheese? Why?
BK has just been making all sorts of headlines lately. First, they sort-of got rid of Satisfries in the United States. And to celebrate, maybe, they acquired Canada-based Tim Hortons for a whopping $11 billion. Some have speculated it's all a grand effort to evade taxes, but the jury's still out on whether or not that's true.
Published by Medicaldaily.com