C-Section Delivery Does Not Cause Autism, Instead Unknown Cause Leads To Increased Risk Of Both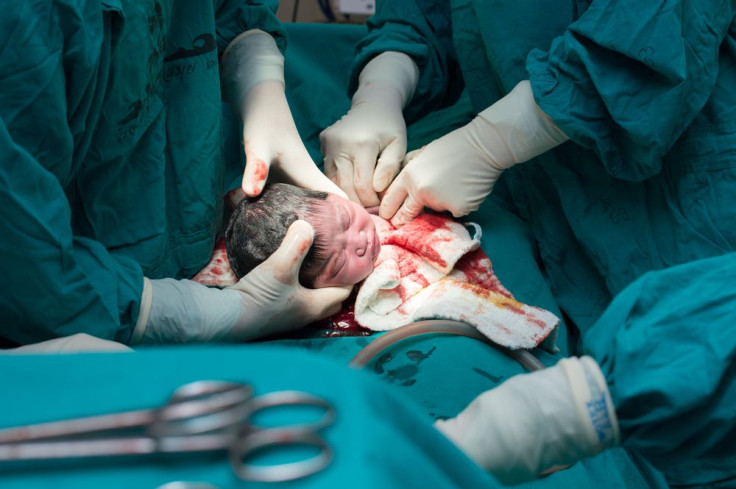 Many people wonder what causes the symptoms of autism spectrum disorder, characterized by an inability to connect to other people and repetitive, often unusual behaviors. A new study confirms previous findings — children born by cesarean section are about 21 percent more likely to be diagnosed with autism. However, after analyzing their results, Cork University researchers find this relationship does not mean cesareans cause autism.
Instead, they speculate some unknown genetic or environmental factors may lead to both — c-section delivery and the disorder.
Worldwide, autism spectrum disorder is thought to affect about 0.62 percent of all children, but in the United States experts calculate the national number as 1.5 percent. While it is known the condition follows genetic lines, scientists speculate there may be a link to perinatal factors, including a cesarean delivery. Some of the reasons believed to link autism and cesareans include the fact that these births involve exposure to specific types of anesthesia drugs, early-term delivery, and dramatic changes in stress response.
Led by Dr. Ali S. Khashan, of Cork University and the Irish Centre for Fetal and Neonatal Translational Research, a group of researchers set out to investigate the relationship between the mode of obstetric delivery and autism.
Consequences
The science team looked at data from the Swedish registry, focusing on all single, live births between Jan. 1, 1982 and Dec. 31, 2010. The researchers followed the children until whichever of these events came first: diagnosis of autism, death, migration, or the study end date (Dec. 31, 2011). The full cohort consisted of about 2.7 million children and precisely 28,290 or one percent of these children were diagnosed with autism.
Nearly 80 percent of the children had been born by unassisted vaginal delivery, with 6.1 percent by elective cesarean delivery, 6.5 percent by emergency cesarean section, and 7.3 percent by assisted vaginal delivery (use of forceps or a vacuum device).
After comparing and analyzing datasets, the researchers discovered children born by elective cesarean section were 21 percent more likely to autistic. Then, the scientists made further comparisons and calculations.
"Because the association between birth by cesarean section and autism did not persist in the sibling control analysis, we can conclude that there is no causal association," Khashan stated in a press release. Instead, he suggests an unknown genetic or environmental factor increases the risk of both c-section delivery and the disorder.
Source: Curran EA, Dalman C, Kearney PM, et al. Association Between Obstetric Mode of Delivery and Autism Spectrum Disorder A Population-Based Sibling Design Study. JAMA Psychiatry. 2015.
Published by Medicaldaily.com