Cain Denies Affair and Plans Campaign Review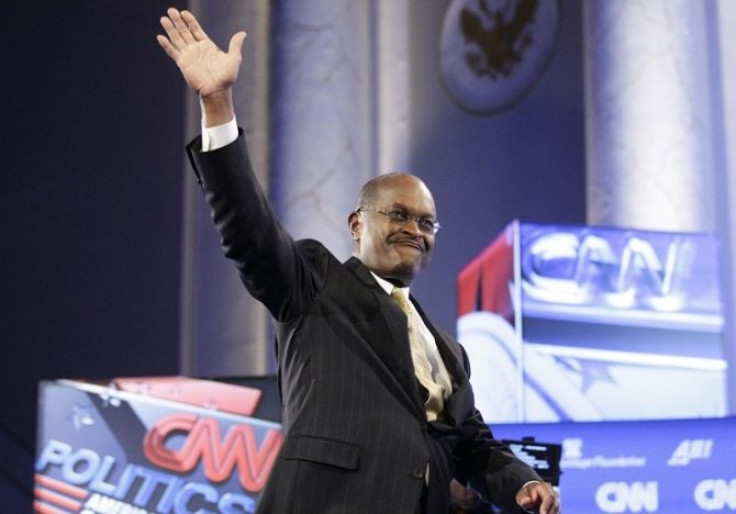 Down in the polls weeks after denying accusations of sexual harassment and now an alleged 13-year extramarital affair, Republican presidential candidate Herman Cain has told campaign aides he is reassessing his campaign as considers how to move forward.
The former CEO of Godfather's Pizza has denied infidelity allegations made Monday by Atlanta business woman Ginger White and also told aides of his reassessment plan.
has fluxed his candidacy and took a toll on his wife and family.
Cain's level of support among potential Republican voters in recent polls stands at an average 15.5 percent, behind that of second place Mitt Romney and first place Newt Gingrich, according to Real Clear Politics
His numbers have been progressively sinking since the allegations surfaced. Cain has refused to give up and has vowed to stay in the race.
As reported by the Associated Press, Cain told senior staff in a 10-minute mid-morning conference call on Tuesday he is going to review the campaign's strategy over the next several days, as the campaign examines "the impact of the newest allegations."
The AP said that one anonymous participant described the tone as positive but also said there was some uncertainty coming from Cain.
"He said obviously it's taken an emotional toll on his family, but he's moving ahead with the campaign," Steve Grubbs, Cain's Iowa campaign chairman and another person on the call, said, told The Associated Press.
"He said that they will be reassessing the campaign," figuring out how to move forward from the damage the allegations brought to his fundraising.
Grubbs told the AP the woman who accused Cain of having the affair with was just a friend and that the allegations she made are false.
"He said this lady was a friend, someone he thought was a friend that he was trying to help out financially and had been a friend for some period of time. But that nothing inappropriate occurred."
On Monday, White, 46 told Fox 5 Atlanta that her affair with Cain ended not long before he announced his candidacy.
After explaining that Cain bought her plane ticket for a rendezvous in Palm Springs, California she said "It was fun."
"It was something that took me away from my sort of humdrum life at the time. And it was exciting."
But Cain angry about the number of allegations that continue to weigh him down in his race for presidency denied all of them.
"Here we go again," Cain said to CNN.
"I didn't do anything wrong."
However the Associated Press reported that Cain's lawyer issued a statement which seemed to contradict Cain's denials. The Monday statement said Cain's words included "no such denial of the affair and suggested that the media - and the public - had no business snooping into the details of consensual conduct between adults."
White said that she decided to come forward after she saw Cain attack other accusers on television.
"It bothered me that they were being demonized, sort of, and being treated as if they were automatically lying, and the burden of proof was on them," she said.
"I felt bad for them."
She said she met Cain when he was president of the National Restaurant Association in the late 1990s in Louisville, Ky. She said they had drinks and he invited her to his hotel room.
White said Cain told her:
"You're beautiful to me and I would love for us to continue this friendship."
She says he then invited her to meet him in Palm Springs.
White has been accused of lying before as former business partner Kimberly Vay filed a libel suit as part of a larger business dispute with White, reported the AP.
Published by Medicaldaily.com