Cancer Fundraiser Leads To Random Acts Of Kindness, Proves The Internet Isn't Always Bad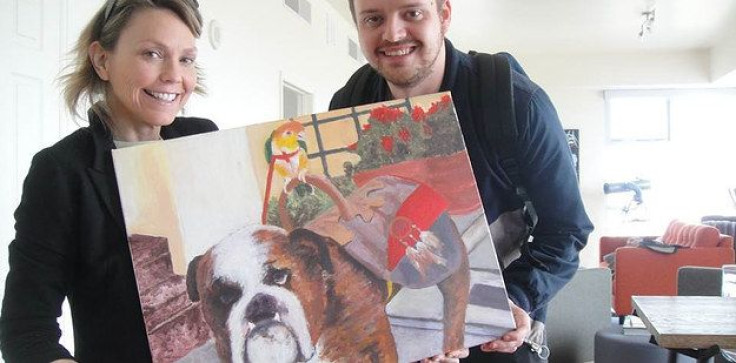 After Andy Leek, an advertising creative based in Brixton, London, lost his mother to cancer, he wanted to do something kind for someone else. He decided that kind thing would be to paint a portrait of the eBay user who bought a blank canvas he'd listed, no matter where they were in the world. The winner ended up being Laurel May Bond, from Las Vegas, Nev., — an artist and freelance journalist diagnosed with metastatic breast cancer.
"She was excited, full of positivity, her emails were witty, she loved the idea, and we immediately took shared ownership of the project," Leek told BuzzFeed UK. "We set up a charity page for people to donate in support of the project, with all the proceeds going to my mum's favorite charity, Compton Hospice." Bond paid $260 for the painting.
Only, Leek ran into some trouble booking his flight. He inquired about sponsorship opportunities with several airlines, each of them turning him down. It wasn't until Bond's friend Dave Richardson offered to donate some of the frequent flyer miles he'd racked up that Leek could afford to fly to Bond.
"It turned out that Dave had lost his mum at a young age to cancer, and had recently undergone treatment for skin cancer," he explained. "Later that night, I was transferring 100 pounds to a complete stranger, halfway across the world, so that he could book me a return trip to Las Vegas."
Leek told BuzzFeed that once he got to Vegas, he and Bond "instantly hit it off." And when he told Bond he was nervous he'd mess up her painting, she suggested he draw her dog Manchester instead. The two kept in touch after that, but in July of this year, Bond unfortunately lost her battle to breast cancer; Leek's portrait of Manchester was on display at her funeral.
"I didn't expect to find a creative partner to win the auction, but that's exactly what happened," Leek said. "I'm deeply, deeply honored to have co-created this with her. … The way that she dealt with her cancer was nothing short of inspirational: always positive, optimistic, and often successful in finding the humor in it."
Published by Medicaldaily.com