Carlos Beltran Injury: Cardinals Star Suffers Rib Contusion In Game 1 Of World Series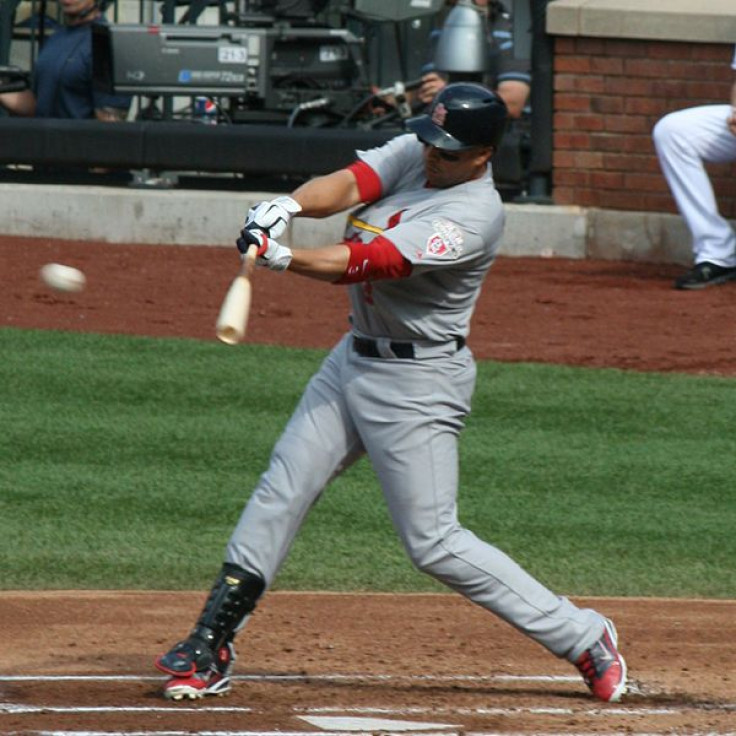 After 16 years of his Major League Baseball (MLB) career, St. Louis Cardinals right fielder Carlos Beltran reached his first world series only to strike out at bat and exit the game in the third inning at Fenway Park.
Beltran sustained a rib contusion on his right side after making an outstanding play to prevent the Boston Red Sox designated hitter, "Big Papi," from a grand slam in the second inning. The Cardinals star went full speed into the wall while tracking down Big Papi's long drive just as the ball was about to go into the bullpen. Beltran's terrific catch limited what could have been an even bigger scoring gap between the Cardinals and the Red Sox who were 5-0 in the second.
The right fielder showed signs of extreme pain as he held his right side following the play. Beltran completed the second inning and was sent to a local hospital in the third for X-rays and a CT scan to diagnose any possible rib fractures. Cardinals manager Mike Matheny and general manager John Mozeliak confirmed the tests for a fracture came out negative, according to Los Angeles Times reporter Bill Shaikin Twitter.
The Cardinals were aware of the impact that Beltran's rib injury could have on the player. Mozeliak would not speculate on how the player's rib contusion could affect him, but said, "We'll see how he looks tomorrow. At this point, we're hopeful he can play," USA Today reports.
According to the University of Minnesota Medical Center, a rib contusion is a bruise to one or more rib bones. These contusions may cause pain, tenderness, and swelling, and are often accompanied by a purplish discoloration. A sharp pain may be experienced with every breath the patient takes. Rib contusions can be mistaken for minor rib fractures, which may not be seen on a chest X-ray. Recovery time for rib contusions typically take anywhere from a few days to a few weeks. Patients are recommended to avoid any heavy lifting, strenuous exertion, or any activity that may cause further pain.
The impact of Beltran's injury is not known yet, but it could be significant for the Cardinals who heavily rely on their star right fielder.
"He's a huge player for our team. Everybody knows that,'' said Cardinals pitcher, Adam Wainwright, USA Today reports.
Wainwright felt his performance as a pitcher in game one of the World Series was not his best. Thursday will provide a fresh new start for the Cardinals team who is looking to win their second championship in the last three years. "Next time will be different. I'm very confident this team will give me the ball back again. The good thing about this start is I didn't show them anything I had. Everything I threw tonight was pretty garbage," Wainwright said.
The Red Sox proceeded to win game one in a 8-1 victory against the Cardinals.
"It's tough when somebody goes down like that," said Cardinals outfielder Shane Robinson, who moved over from center to right after the injury, the Boston Herald reports. "We can't make any excuses for him. We are going to fill in for him."
Beltran is an eight-time all-star that led St. Louis with 24 homers during the regular season and ranked third with 84 RBI.
Published by Medicaldaily.com