Changes To WIC Program Spur Healthier Food Options Among Urban Corner Stores In Baltimore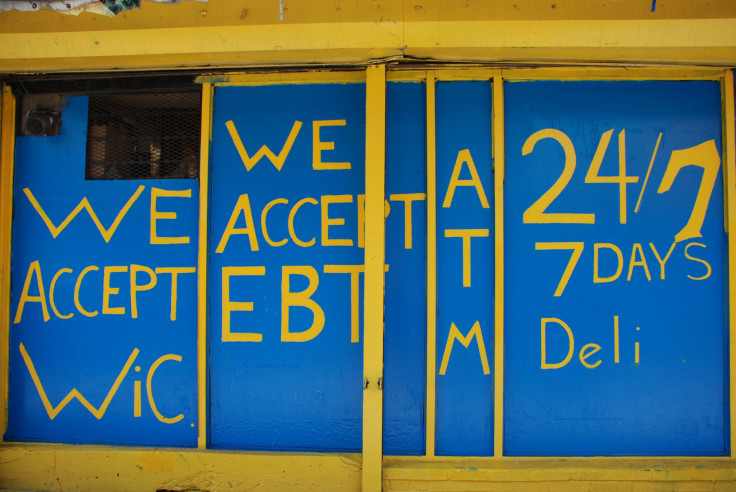 A little governmental push can go a long way towards providing the disadvantaged better food options, a new study published Monday in Health Affairs suggests.
The study authors found that a 2009 tweak in the Special Supplemental Nutrition Program for Women, Infants, and Children (better known as WIC) led to greater availability of healthier foods among stores in Baltimore, Maryland — particularly when it came to local corner stores and in residential areas with a black population of 60 percent or higher.
WIC is a federally-funded program that allows certain people, namely low-income pregnant or nursing women and children at high risk of poor nutrition, to temporarily supplement their income with a monthly voucher. The voucher allows the user to purchase WIC-approved food items from approximately 47,000 authorized retailers, often through a debit-like EBT (Electronic Benefit Transfer) card. In 2009, the WIC program ordered current and future retailers to begin stocking a greater variety of WIC-approved items, such as whole wheat bread or fruits and vegetables.
To test out the long term effects of this change, the study authors analyzed data taken from two separate surveys of food stores in Baltimore, conducted six years apart (2006 vs 2012). Using a 18 point scale which determined the availability of these aforementioned items (3 points for fruit, 4 points for vegetables, etc), the authors found that the average score of healthy food availability jumped from 7.06 in 2006 to 8.31 in 2012, with the majority of these improvements seen in black-majority neighborhoods. When the researchers accounted for other variables, they determined that the WIC policy change alone was associated with a 0.72 point increase among stores, and that later stores joining WIC saw an average 0.99 point increase.
As a guiding post, the average 2006 score of stores operating in black-majority neighborhoods was 6.4, versus the 8.19 score seen in white-majority neighborhoods and the 8.76 score seen in areas with no racial majority.
The changes, though modest, are especially profound given that local corner stores often represent the major source of nutrition for their impoverished residents. These residents are said to live in so-called food deserts — geographical areas in which supermarkets that might contain healthier foods are few and far between and whose residents have limited access to transportation.
"This study shows us that, at a policy level, we can have an impact on the availability of healthy food in communities of individuals who are underserved," said lead author Dr. Laura K. Cobb, senior technical adviser at the North American branch of the International Union against Tuberculosis and Lung Disease, in a statement. "It's not always practical to build new supermarkets, but this tells us we can impact healthy food availability in neighborhoods that need it the most by improving offerings at small corner stores." At the time this research was conducted, Cobb was a doctoral student at the Johns Hopkins Bloomberg School of Public Health in Baltimore.
While WIC or other similar programs obviously don't represent a permanent solution to food inequality, Cobb and her colleagues believe their findings point the way forward to options that can begin to bridge these gaps.
"Stores that carry a limited variety of food items may be more receptive to stocking healthier food than previously thought, particularly within neighborhoods with a majority of black residents," they concluded. "Policies targeting healthy food availability have the potential to increase availability and decrease health disparities."
Source: Cobb L, Anderson C, Appel L, et al. Baltimore City Stores Increased The Availability Of Healthy Food After WIC Policy Change. Health Affairs. 2015.
Published by Medicaldaily.com