How A Healthy Breakfast In The Classroom Impacts Childhood Obesity And Academic Performance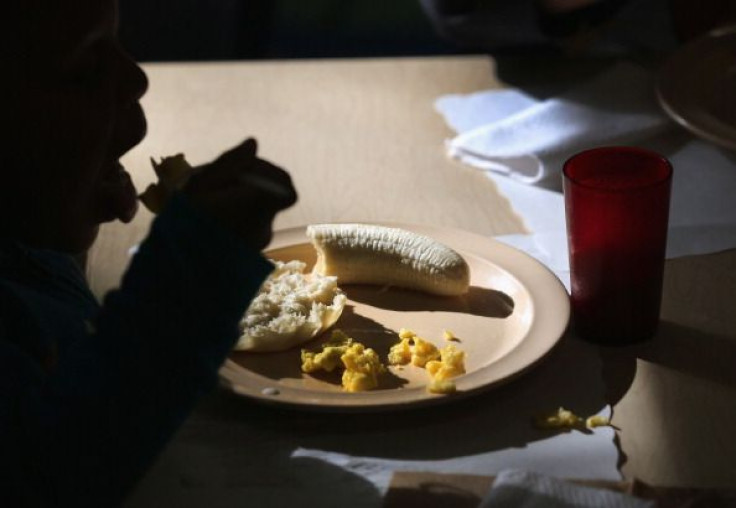 Breakfast has been called the most important meal of the day, and school breakfast advocates argue that without it, kids won't perform as well in school. A team of New York University researchers who set out to test whether this is true have made additional progress studying how different factors affect kids' school performance. Their findings, published in the Journal of Policy Analysis and Management, focused on the federally funded School Breakfast Program that's been providing free breakfast to school kids for fifty years.
"There's been a long-term focus on test school, curriculum, and pedagogy," the study's co-author Amy Ellen Schwartz, director of the NYU Institute for Education and Social Policy, told Medical Daily. "What's interesting to me about all of these other interventions is that this is about finding other factors within the schools. School lunch and school breakfast programs are huge programs and we should be studying this as well."
Similar to the school lunch programs, the breakfast program aims to reduce food insecurity, improve nutrition, and facilitate learning. However, the School Breakfast Program differs in that it serves the breakfast inside the classroom at the start of the day instead of in school cafeterias before class begins. Advocates hope the in-class approach will encourage participation in school breakfast programs. New York City has offered free breakfast to all students since 2003, but this year has expanded the program to 400 of the city's 1,800 public schools — that adds up to 30,000 students every school day.
"We didn't just look at breakfast in the classroom," Schwartz explained. "We looked at different types of dimensions that have been implemented in New York City around childhood obesity. The idea is to look at a bunch of different kind of factors and try to figure out what evidence there is that something works."
And it did work. Schwartz and her research team looked closely at how the program affected childhood obesity levels and academic performance in roughly 200 public elementary and middle schools that offered breakfast in some of their classrooms. While the program is highly welcomed by most parents, critics have raised concerns over whether eating a breakfast at home and a second time inside the classroom would affect children's weight. The concern eventually drove the Bloomberg administration to temporarily halt the expansion of the breakfast program when an internal study found students were more likely to eat two breakfasts — one at home and another when they arrived at school.
It turns out, kids that were served breakfast in the classroom every morning had no greater risk for obesity than the kids who didn't eat breakfast in the classroom. "Some people are really excited about it and think it's a great idea while some folks had some concerns about obesity," Schwartz said. "I hope these results put their worries to rest."
Next, they looked at academics. Did eating breakfast in the classroom have any effect on their attendance, math and reading test scores? The researchers observed such a small effect they deemed it statistically insignificant, however they could definitively say that eating in the classroom did not hurt students academically nor did it take time away from the teacher's lesson.
"The notion that hunger reduces your academic performance seems pretty appealing, but they're insignificant," Schwartz said. "The results say to me let's go back in a few years when they've expanded the program some more and we have more data to get a sharper estimate of how the breakfast program affects academic performance. These outside dimensions are important stuff and have been understudied for quite some time. It's a complicated issue with lots of different parts."
Next, Schwartz and her team plan on looking at how the condition of a school's buildings and physical environment affect academic performance. Schwartz concluded: " I'm excited about us trying to make a difference in kids' success by making sure they're well-nourished, but we need a lot more research on it."
Feeding Young Minds
Being able to provide nutritious meals for children each day opens doors up for an opportunity during key growth periods. According to registered dietitian and author of the Smartee Plate e-book series for children Jennifer Glockner, a healthy balance of protein, carbohydrates, whole grains, healthy fats, fruits, and veggies is important for providing vitamins, mineral, and antioxidants that help the brain develop and the body grow properly.
"I believe that hunger can hinder academic performance," Glockner told Medical Daily. "Low blood sugar may lead to lethargy and lack of concentration and alertness. Also, the mere fact of being hungry is distracting and some kids may become 'hangry' While this new study did not confirm improved academic performance, previous studies showed that such programs may improve math and reading skills in kids."
The morning meal breaks the body's overnight fast, which causes the metabolism to slow down and blood sugar to drop. According to Glockner, eating a healthy breakfast, which many don't get at home, is especially important for kids and adolescents. The breakfast program can help fill in the gaps of nutrition that many children miss on a daily basis.
"Breakfast is a way to kick start metabolism and refuel the body with glucose," Glockner explained. "Breakfast is also an opportunity to provide kids with the necessary daily nutrients for health and development, promoting wellness and preventing disease. There is evidence that kids who eat breakfast are less likely to become overweight or obese. Teaching children to eat breakfast is a great lifelong tool, empowering them to establish good eating habits from a young age. "
Source: Schwartz AE, Corcoran SP, and Elbel B. The Effect of Breakfast in the Classroom on Obesity and Academic Performance: Evidence from New York City. Journal of Policy Analysis and Management . 2016.
Published by Medicaldaily.com