Halloween 2016 Weight Gain: Kids Will Consume Over 3,000 Calories Of Candy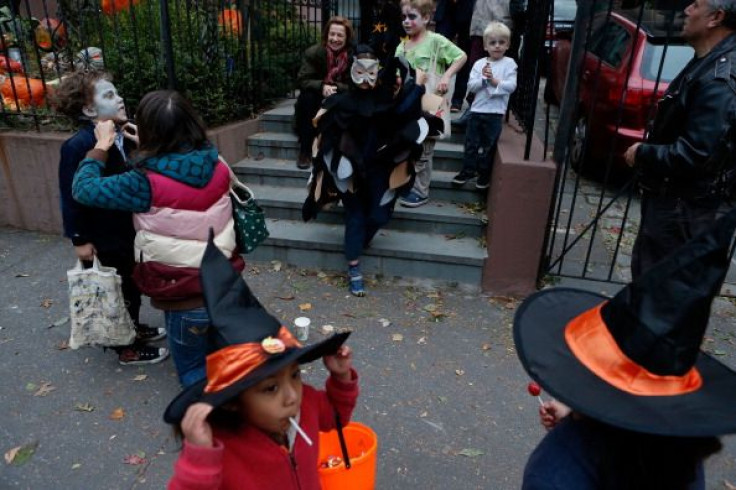 Trick or treat! For over 100 years, children have spent Halloween night going door-to-door, ringing doorbells, and then receiving sugary treats, according to History Channel.
New research has revealed that children will consume about 3,190 calories just this year from Halloween candy as a result of trick-or-treating, The Daily Mail reported. Additionally, parents are expected to consume an extra 1,710 calories each from candy.
Researchers polled 2,187 British parents with at least one child under the age of 11 about their Halloween celebrations. Participants answered questions like 'what do you enjoy most about Halloween, as an adult?' They were also asked to estimate how many calories they think that their children consumed over the fall holiday, and average combined responses came to 3,190 calories.
"Excessive sugar consumption is a major factor in the rising obesity levels we are seeing across the country, particularly in youngsters," Melanie Davies, co-founder of the Leicester Diabetes Centre, told The Daily Mail.
"Type 2 diabetes is a serious condition linked to lifestyle and obesity, which if not managed properly, can lead to devastating complications, including blindness, amputation, stroke and heart disease," she said. "The number of people with type 2 diabetes is also going up dramatically and it is also very worrying to see more and more children being diagnosed with the condition. We need to take action."
Childhood obesity has more than doubled in children and quadrupled in adolescents in the past 30 years, the Centers for Disease Control and Prevention reported.
Global childhood obesity rates are set to drastically increase over the next few years, according to The Daily Mail. Around 268 million children — aged between 5 and 17 years old — will be overweight by 2025, which has been estimated by the World Obesity Federation.
Read more:
Bad Halloween Candy: Find Out Which Candy Is OK To Splurge On And Which Should Be Avoided At All Costs
Halloween Candy With A Message? Anti-Vaccine Parents Stick Propaganda On Wrappers
Published by Medicaldaily.com